Grain-free chocolate cake with chocolate coconut ganache. This refined sugar-free, dairy-free chocolate cake recipe is moist, fluffy, easy to prepare and is nearly indistinguishable from regular chocolate cake!
This cake doesn't have any calories in it.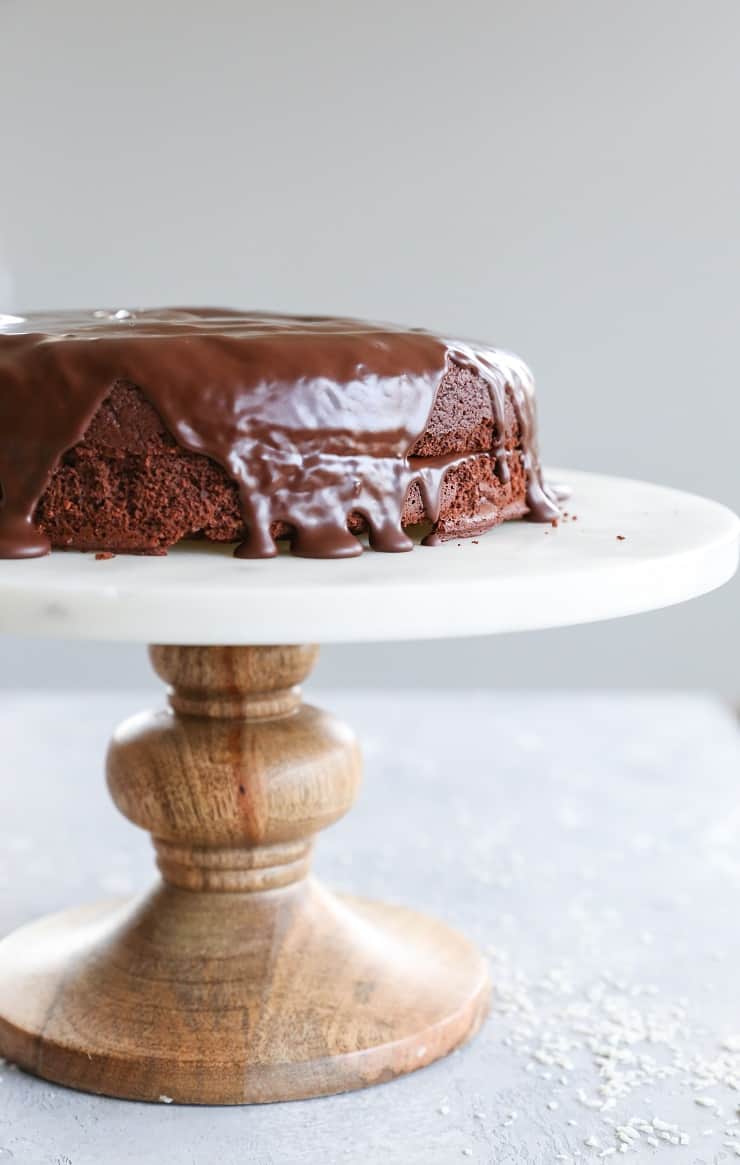 Don't tell me: you baked a grain free chocolate cake with coconut-chocolate ganache for an adult Easter celebration last Saturday night, and although you had spent the afternoon "taste testing" the cake batter, ganache, and the chocolate chips that went into the ganache (quality control), you proceeded to eat a ginormous slice of the cake, washed down with the good part of a bottle of wine (you always leave the bad part in the bottle…as in, you always leave the bottle empty), as well as chocolate chia seed pudding (recipe to come, woop woop!), but only after eating your weight in pork, asparagus, mashed potatoes, and homemade apple sauce (<- – – new record for longest run-on sentence in The Roasted Root History)?
Okay, okay…maybe that was all me.
There are times in life when you need to face plant into something and it might as well be cake. I've also come to learn in all my years of wisdom, that pre-face planting is fine too.
The "I'll need this slice of cake to fill an emotional need one day, so I may as well eat it now" face plant.
Makes sense, right?
Right?
Bueller?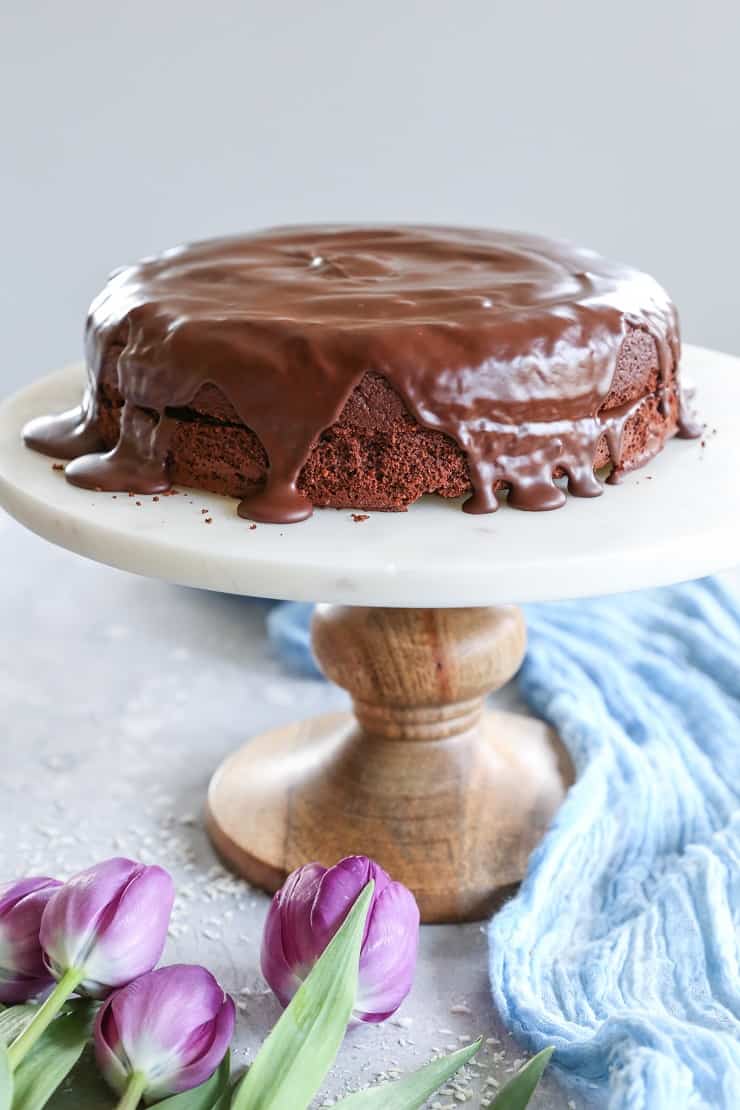 Or a slice of cake being slowly removed? Go on. Rest your head on its bosom.
You're going to need this recipe. Almond flour chocolate cake (bonus: it's paleo!)?
Protein and antioxidants. Coconut chocolate ganache?
Totally healthy.
Someone stole the calories plumb out of it.
A note about the chocolate ganache: If you don't like the taste of coconut, no big woop.
This ganache doesn't taste like coconut whatsoever, which is great news for folks who don't like the flavor of coconut milk.
It tastes like velvety dark-as-sin dark chocolate. It may as well have its own zip code. I don't know what that means.
FEAST!
More Grain-Free Chocolate Cake Recipes
My cookbook,
Paleo Power Bowls
, is now available! CLICK HERE to check it out. Thank you for your support!
If you make this recipe, please feel free to share a photo and tag me at @The.Roasted.Root on Instagram!
Grain-Free Chocolate Cake
Gluten-Free Chocolate Cake with coconut ganache made with almond flour and pure maple syrup
Servings:
1
(9-inch) Cake
Instructions
Preheat the oven to 350 degrees F and lightly oil a 9" cake pan.

In a mixing bowl, stir together the almond meal, baking powder, instant coffee granules, cacao powder, and salt (the dry ingredients). In a separate bowl, whisk together the eggs, maple syrup, and vanilla extract (the wet ingredients). Pour the wet ingredients into the bowl with the dry ingredients and mix until combined.

Pour the cake batter into the oiled cake pan and place it on the center rack in the oven. Bake for 30 to 35 minutes, until the cake tests clean. Allow the cake to cool at least 1 hour before turning it out onto a cutting board and spreading the ganache over it.

Refrigerate the cake until ready to serve. The ganache will set up in the refrigerator and make the cake easy and mess-free to serve.
Prepare the Ganache:
While the cake is baking, prepare the coconut-chocolate ganache. Pour the chocolate chips into a medium-sized mixing bowl. Heat the coconut milk in a small saucepan until just below a boil. Pour the hot coconut milk into the bowl with the chocolate chips and stir until completely smooth and the chocolate chips have melted. Place in the refrigerator while the cake finishes baking. This will allow the ganache to thicken. Every few minutes, stir the ganache to make sure the consistency stays uniform.
Notes
*You can use grapeseed oil or avocado oil in place of coconut oil
**You can also use unsweetened cocoa powder
Nutrition
Serving:
1
Serving
|
Calories:
384
kcal
|
Carbohydrates:
31
g
|
Protein:
5
g
|
Fat:
29
g
|
Fiber:
2
g
|
Sugar:
23
g