Healing Gingered Butternut Squash Soup with Beet Slaw is a clean and healthy meal that boosts the immune system and is anti-inflammatory.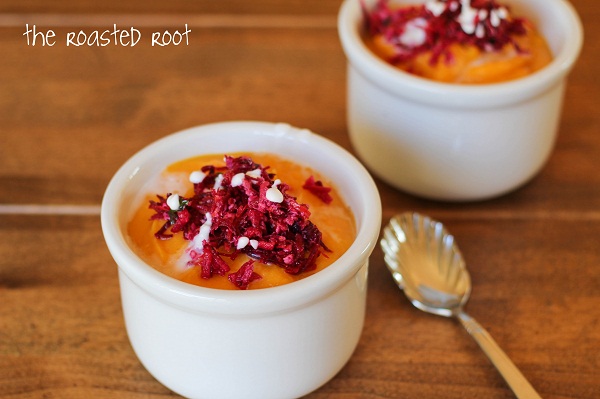 This butternut squash soup and the beet salad that went on top of it were intended as a cold busting, soothing, healing anti-inflammatory meal.
My boyfriend and his brother were sick with a cold last week. My bf's brother, being a very health-conscious individual who seeks natural remedies for ailments, made a beet salad that he found on a paleo website.
It was delicious! I wanted to put it in a blender and make a smoothie out of it. I refrained in order to put it on the roasted butternut squash soup I made, but don't be surprised if you see the salad in smoothie-form soon.
The cool, sweet nutty beet salad went well with the warm creamy gingery butternut squash soup and added a nice texture element.
This time of year, squash, apples and/or sweet potatoes should be in everything. Everything, I tell you. They're all nutritious, filling, and smell so freaking good when you're cooking with them!
The added benefit is they're chock full of vitamins to keep the doctor away or comfort the sick. A thick roasted butternut squash soup with a beet salad on top? A nice cleanse to heal the body and a dern great dish!
Gingered Butternut Squash Soup with Beet Slaw
Easy, creamy butternut squash soup with ginger and cinnamon is a delicious vegan recipe
Ingredients
For the Butternut Squash Soup
1

medium-sized butternut squash

1

tablespoon

fresh ginger

grated

1/2

teaspoon

ground cinnamon

1

teaspoon

salt or to taste

1

cup

coconut milk

full-fat recommended

4

cups

vegetable or chicken broth
Instructions
To Make the Soup:
Preheat the oven to 375 degrees. Cut butternut squash in half length-wise, scoop out the seeds and lightly drizzle the flesh with olive oil and salt. Place squash in a casserole dish cut-side down and bake for 50 to 60 minutes until flesh is very soft and juices are seeping out.

Allow squash to cool and once cool enough to handle, scoop the flesh out and place it in a blender (discard the skin). Add the remaining ingredients to the blender and blend until completely smooth. Depending on the size of your butternut squash, you may need to add more broth or coconut milk to reach desired consistency.

Pour the soup into a pot and heat to a low boil. Remove from heat and serve with beet salad and a drizzle of coconut milk on top.
To make the Beet Slaw:
Put beets and carrots into food processor.

Chop until finely grated, Remove to a serving bowl. Grate orange peel over beets and carrots. Without washing the food processor, place apples in with the juice of the orange. Pulse to grate and remove to the serving bowl.

Place sliced ginger and walnuts in the processor and pulse. Remove to bowl.

Add coconut, olive oil, parsley, seeds, and sea salt and mix. Allow to sit for flavors to blend.
Notes
Big thanks to Jason for the Beet Slaw recipe
Nutrition
Serving:
1
serving
|
Calories:
201
kcal
|
Carbohydrates:
48
g
|
Protein:
4
g
|
Fat:
1
g
|
Fiber:
5
g
|
Sugar:
23
g