Gluten-free flourless peanut butter cookies made with only a few basic ingredients. This grain-free, dairy-free, refined sugar-free peanut butter cookie recipe is a healthier approach to the classic cookie!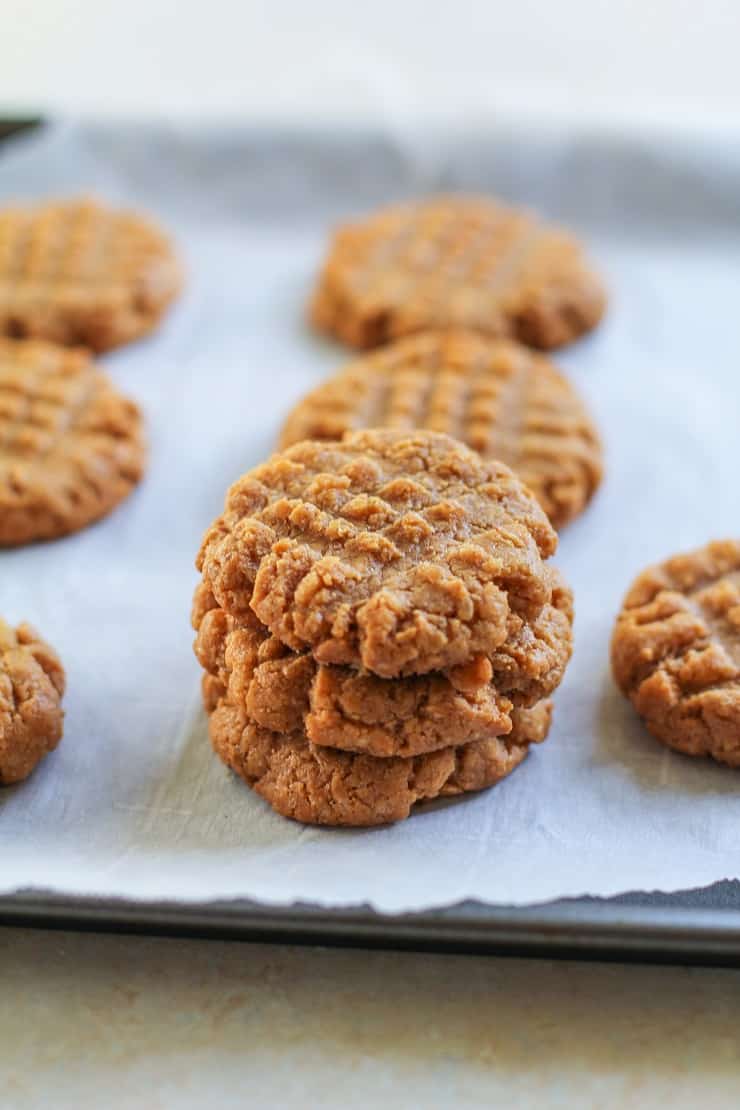 Do you ever think to yourself, "If I don't get a peanut butter cookie right now, I'm going to throw myself on the ground like a limp ragdoll and just.lay.there?"
Because while it doesn't hit often, when the craving for peanut butter cookies hits, nothing can stop that freight train. Except for peanut butter cookies.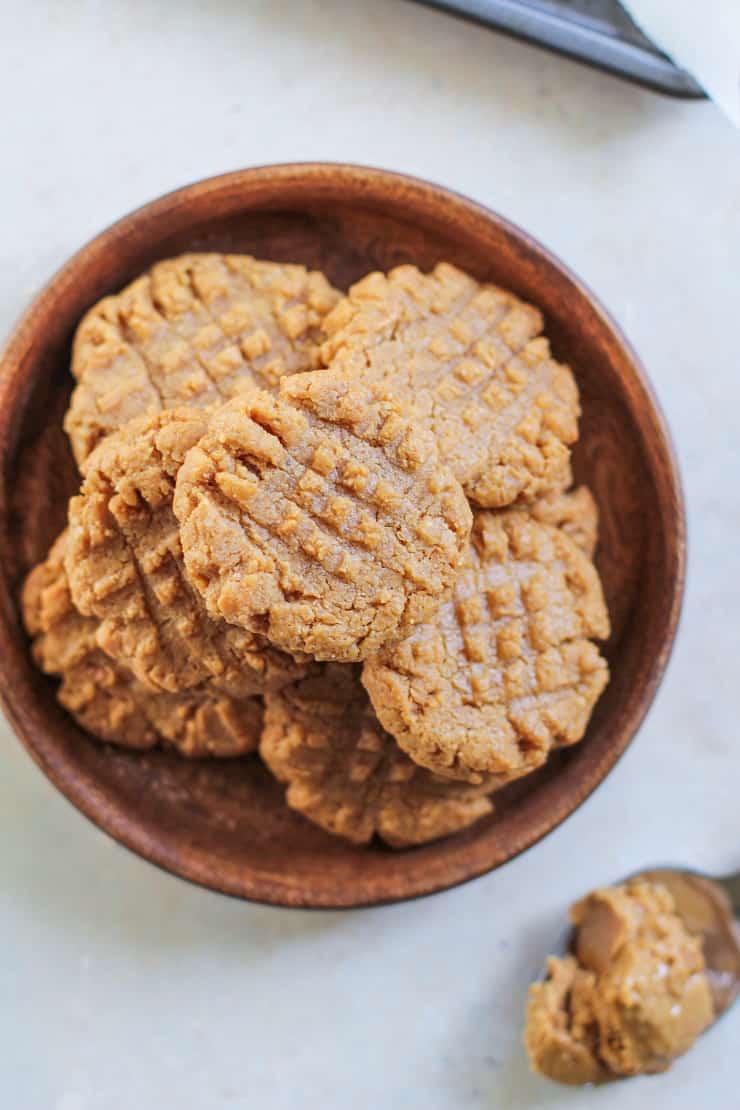 I kind of shocked myself at how strongly I desired to post this recipe. These days, I don't eat a uuuuuge amount of peanut butter, not because I don't wholeheartedly unabashedly relish it (I do!), but because I typically choose a different (read: less inflammatory?) nut butter such as almond or cashew. I posted these Gluten Free Peanut Butter Cookies a number of years ago, and the recipe here is very similar to that.
How to Make Flourless Peanut Butter Cookies
Simply add all ingredients to your stand mixer (or use a mixing bowl and hand mixer) and beat until well-incorporated. Bake, then wait patiently for the cookies to cool before snuggling them with your tongue.
I kept the recipe naturally sweetened using coconut sugar and pure maple syrup, but you can also replace both with one cup of cane sugar (or ½ cup granulated cane sugar and ½ cup brown sugar), or your favorite granulated zero-sugar sweetener, such as Stevia, Swerve, or Monk Fruit Sweetener. You have options!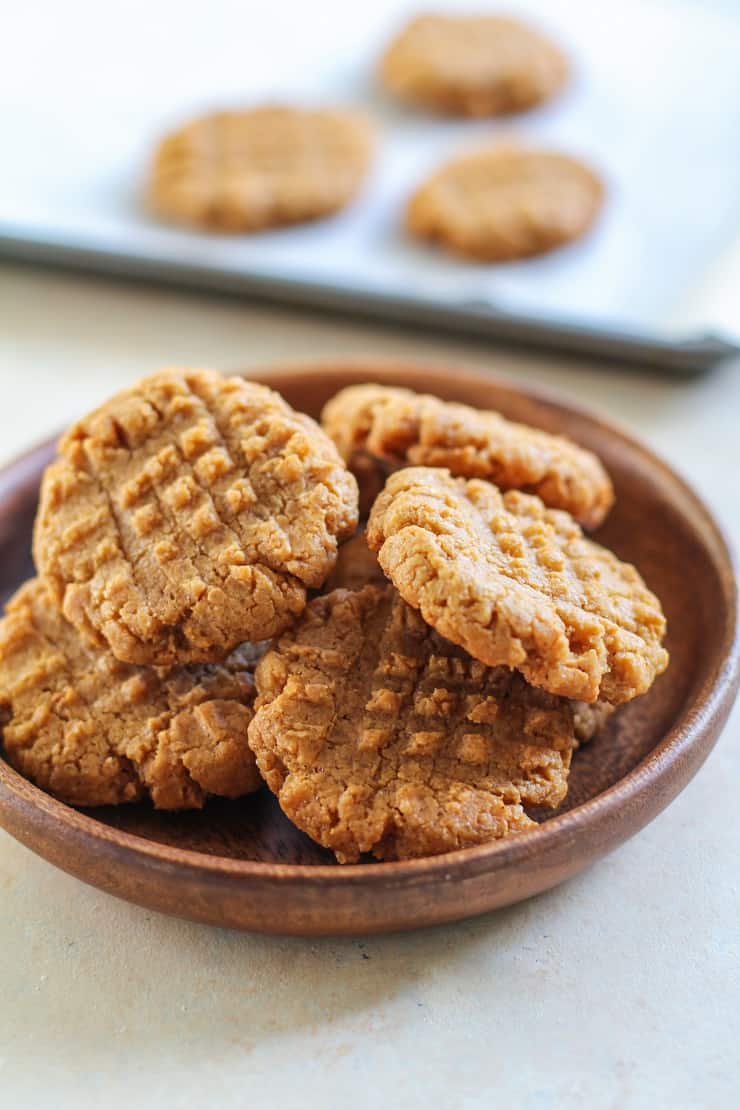 At a minimum, all you need for this recipe is 1 egg, ⅔ cup coconut sugar (or granulated sweetener of choice), and 1 cup of unsweetened unsalted peanut butter (or almond or cashew butter if you so choose). You can add in some fine tuning elements like pure vanilla extract, sea salt, and baking soda…even some cinnamon!…but you can definitely get by with just the essential 3.
Do note that the cookies need to rest once they're out of the oven, or they will fall apart if you try to take them off the baking sheet too soon. This patience element is the only difficult part of the whole process!
Peanut buttaaaaaah!
Flourless Peanut Butter Cookies
Flourless peanut butter cookies made with only a few ingredients are so simple to make you'll want to bake batch after batch!
Instructions
Preheat the oven to 350 degrees F.

In a mixer or a mixing bowl, combine all of the ingredients until well-incorporated.

Roll 1-inch sized balls out of the dough and place them on a lightly-oiled or parchment-lined baking sheet.

Using a fork, gently make two impressions in the dough, flattening out the balls just slightly.

Bake for 8 to 10 minutes or to desired level of crisp. For chewier cookies, bake 7 to 8 minutes, and for crispier cookies, bake 10 to 11 minutes.

Allow the cookies to cool on the cookie sheet at least 10 minutes before removing them with a spatula. Since these cookies do not contain flour, they need some time to "set up" or else they will fall apart easily. Once they are set up, they're stable!
Nutrition
Serving:
1
of 10
|
Calories:
209
kcal
|
Carbohydrates:
20
g
|
Protein:
5
g
|
Fat:
13
g
|
Sugar:
17
g