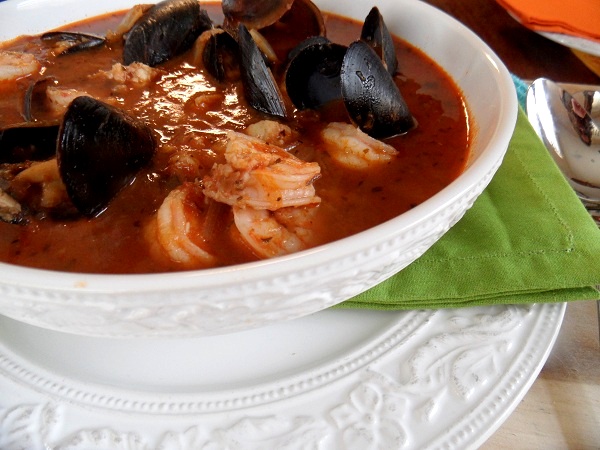 Let's go somewhere we've never been. You name it, that's where we are going. Away from the hustle and bustle, far from cell phone towers, down to the ocean and cobblestone cottage streets; an unrealistically remote place with thick culture, air warm with laughter and no room for ego. Take a walk with me by the sea, where we can meander around the fish market and pick up some fresh catch.
Next, we can ride bikes through the tiny quaint village, filling our baskets with fresh produce and wine. We will mosey the streets, sipping coffee, talking to locals until the sun begins to retreat and so do we – to a small cabin where the only space that matters is the kitchen. Let's crack open a bottle of wine, tear some bread off a baguette and make cioppino, embraced by casual, natural conversation.
In case you have never tried cioppino, it is an Italian-American dish with its roots from San Francisco. Traditionally, cioppino is a seafood stew that includes the catch of the day (this could mean crab, lobster, mussels, clams, white fish, etc, etc.) with a tomato-wine sauce. You can compare it to the Italian cacciucco or the French bouillabaisse.
On this episode of Cooking with Julia, all of the hard work is already done for us. You and I both love cooking from scratch, right? Right. But I have a recipe for you that uses an already-made sauce that has a bigger, fresher taste than any sauce I have made in my own kitchen. Bring on the wine and cheese, let's start cooking – our meal will be ready in less than 30 minutes (we make Rachel Ray proud here).
If you haven't tried Kissino Spaghetti sauce yet, I wholeheartedly recommend it. Dennis Casino prides himself on maintaining high quality in his five different sauces. There are no preservatives, no added sugar and they are all gluten-free. Casino uses a burgundy wine to cut the acidity instead of using sugar – this gives the sauces a full-body flavor without the sweetness that you experience in other sauces. All the vegetables that are in the sauces are fresh, not canned or frozen and are added to the 8-hour slow cooked sauces at just the right time so that they maintain their textural integrity.
The second you begin cooking with this sauce, the aroma of burgundy and herbs fills your kitchen and all of the flavors of Italian countryside are transported right to your home. Dennis himself will giggle and shrug his shoulders as he takes a bite of pasta with his own Putanesca sauce and say grinning "it really is good, itsn't it?" Generation after generation of Casinos have cooked up and perfected this sauce; Dennis brought it to you and now you have the easiest and best cioppino recipe at your finger tips.
Ingredients:
1 25-ounce jar Kissino Lite Marinara Sauce (or your favorite marinara sauce)
1 large yellow onion, finely chopped
2 large cloves garlic, minced
2 tablespoons olive oil
½ cup red wine
2 cups vegetable stock
1/8 teaspoon ground cayenne pepper (optional)
1 bay leaf
1 pound mussels, cleaned
1.5 pounds raw shrimp, peeled
1 pound hard white fish, such as halibut, catfish or tilapia
Serves four heaping portions
To Make:
First, prep the seafood. Scrub and rinse the mussels well in cold water. Peel the shrimp and remove the tails (this is optional; some people prefer to leave shells and tails on). Chop the fish into 2" pieces.
In a large stock pot, heat the olive oil over medium and add the onion. Sauté about 5 minutes. Add garlic, sautéing until onion is translucent. Add the marinara sauce and fish/chicken stock to the pot, cover and bring to a low boil, about 5 minutes. Pour in the wine and add the bay leaf and cayenne pepper. Turn heat to medium low and simmer covered another 8 minutes.
Add the mussels and cook until mussels just begin to open, about 5 minutes.
Next, add the fish, re-cover and cook about 3 minutes.
Finally, add the shrimp, cover, and cook only long enough for the shrimp to turn pink and the fish to cook all the way through, about 8 minutes.
Serve in a large bowl and enjoy!