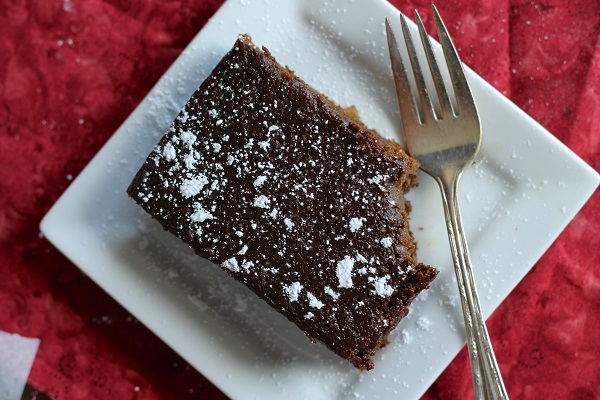 Getaloadofthat! Who DOUBLE gingers a cake full of holiday cheer for you to enjoy in your cozy jammers while it's a winter wonderland outside? That girl would be Stephie!
Last week, I announced I will be having some of my blogger friends guest posting over the next month and a half. First up is Stephie, from Stephie Cooks!
Stephie, her mother and I are great friendsicles and it's all because of Al Gore…errr….I mean…the internet. One day, the three of us will be driving along, singing "ooh ee ooh ahh ahh ting tang walla walla bing bang" on our way to eat something that, no doubt, has sweet potatoes in it (note: I wrote this line before I read Stephie's line below about sweet potatoes. We must be kin).
Tell you the truth, I would attribute a great deal of our growth as friends to Twitter. Kind of like a right-Tweet-right-time sorta sccenario. When I was first getting to know Stephie, she tweeted something along the lines of, "No, Flo Rida, I will not blow your whistle." My knee-jerk reaction was to fall out of my chair while declaring out loud, "this girl's my jam!" From that moment on, I knew Stephie was mine to keep.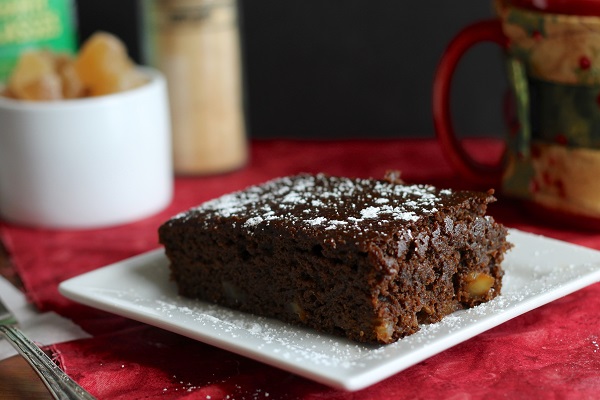 Long story short, Stephie is an amazing friend, talented cook, and I am so happy she's here to share this INSANELY mouth watering gingerbread cake with you. Welcome, my dear!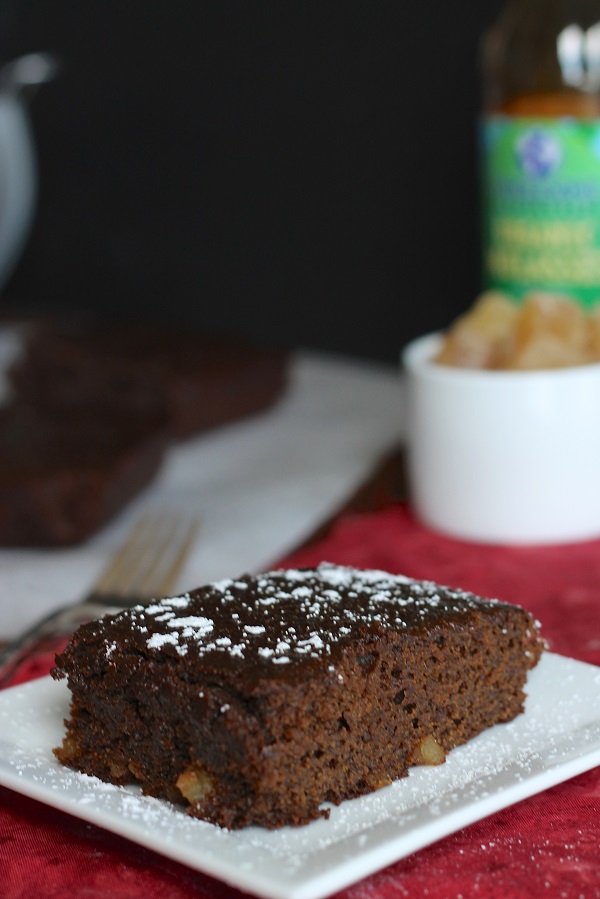 Hellooooo there, Roasted Rooters! Before we get to cake, can we take a moment to talk about how much we love Julia? You love her as much as I do, right? Because I adore this girl to the moon and back – twice. Yeah, that's a whole lot for someone I have never gotten to meet in person! One of these days, our Chicago/California paths are going to intersect and boy oh boy, will that day be filled with lots of kale (from her), cake (from me), and sweet potatoes (from both of us).
And now, I must inquire: Are you on team Pro-Gingerbread or Meh-Gingerbread?
Personally, I have always been on team Pro-Gingerbread. I love it. Gingerbread cookies, gingerbread cake, gingerbread houses (which are, admittedly, generally less edible after they've been sitting out for 3 weeks, but at least they still smell charming)…I will take it all. After conducting an unofficial poll, other people seem to either join me in my gingerbread love or they are quite blasé about it. I suspect that those on team Meh-Gingerbread have just never had very good gingerbread.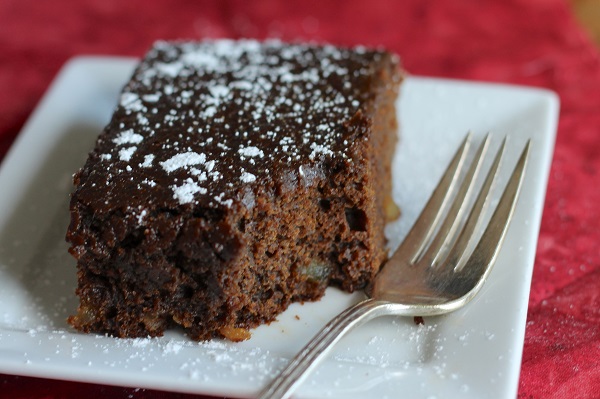 I'm going to go ahead and say that this cake could convert those who are ambivalent about the subject. Let's go ahead and bring them over to our team. (I'm assuming that, since we are now friends, you are also now firmly on team Pro-Gingerbread. Friends stick together, amiright?) My Double Gingerbread Cake is dense and moist without being overly sweet. It has deep, rich flavor from the molasses, highlighted by the spice of the ground ginger and the occasional zip from the pieces of candied ginger. It's classic, yet rich and complex. And, with half whole-wheat flour and half applesauce in place of butter, the holiday guilt factor is reduced just a tad. It's a cake for serving at a holiday party, packaging up as a hostess gift, or eating by yourself alongside a cup of tea and a good book (the book is for reading, not for eating, please). It really is a cake for any occasion.
So, who will you try to convert?
Adapted from Aunt Bea's Delightful Desserts
Double Gingerbread Cake
Double Gingerbread Cake is a crazy flavorful gingerbread fix in the form of delicious fluffy cake! Make and share it during the holiday season!
Ingredients
¼

cup

unsalted butter

melted

¼

cup

unsweetened applesauce

½

cup

granulated cane sugar*

1/3

cup

molasses

½

cup

buttermilk

1

egg

¼

teaspoon

baking soda

1 1/2

teaspoon

ground ginger

1

teaspoon

ground cinnamon

1/2

cup

plus 1 tablespoon all-purpose flour**

½

cup

white whole wheat flour

½

cup

finely chopped candied or crystallized ginger
Instructions
Preheat oven to 350 degrees. Grease an 8x8-inch baking pan, and line with parchment paper. Set aside.

In a small bowl, stir together the candied or crystallized ginger with 1 tablespoon of the all-purpose flour. This will prevent the ginger pieces from sticking together and help keep them from all sinking to the bottom of the cake.

In a large bowl, stir together the melted butter, applesauce, sugar, and eggs until light and creamy. Add the molasses and buttermilk.

In a separate bowl, whisk together the flours, baking soda, ginger, and cinnamon. Add the dry ingredients to the wet, and stir until just combined. Fold in the ginger pieces.

Pour batter into the prepared pan. Baked for 25-35 minutes, until the center is set and a toothpick inserted into the middle comes out with only a few crumbs clinging to it.

Remove from oven and allow to cool in the pan. Using the parchment as a sling, remove the cake from the pan and cut into pieces. Serve dusted with powdered sugar or with lightly-sweetened whipped cream.
Notes
Adapted from Aunt Bea's Delightful Desserts
*Use coconut sugar instead of cane sugar.
**Replace all-purpose flour with your favorite gluten-free flour blend.
Nutrition