Creamy polenta with feta, caramelized onions, peppers, and mushrooms – a hearty side dish or meal! Add Italian sausage for a rich and filling date night extravaganza.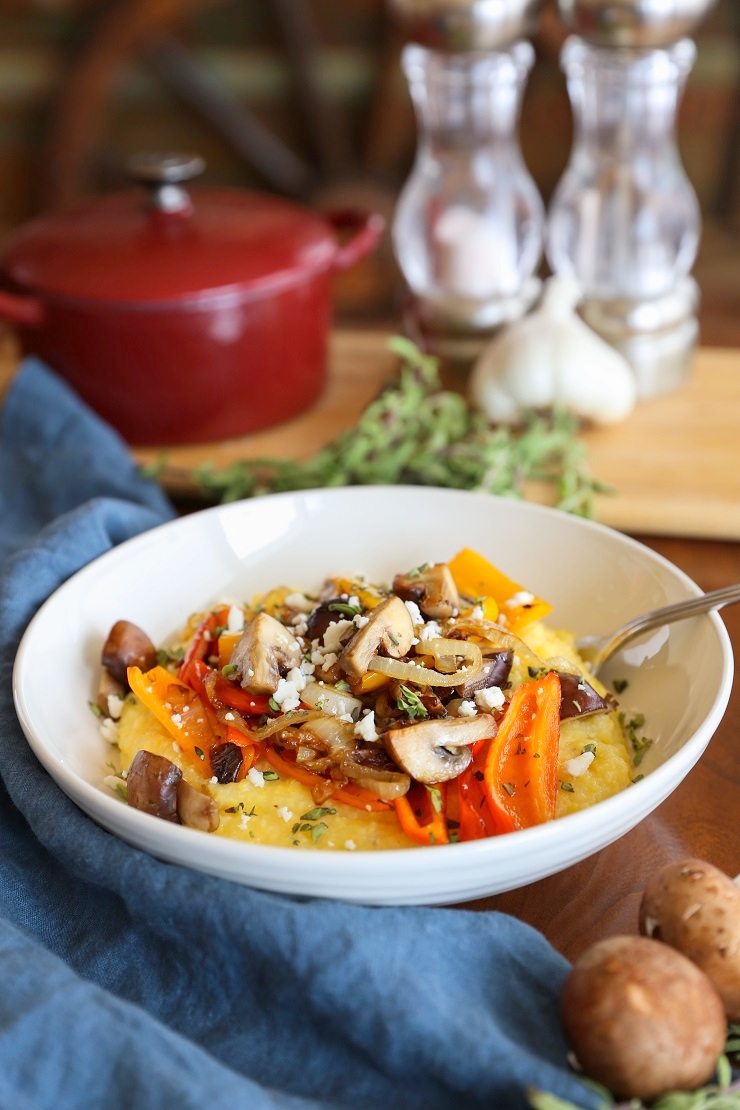 Most of the time, I get so excited about the food that I neglect to tell you what's going on behind the scenes. So quick little update: The boyfriend, one of our hooligan friends, and I are spending the better part of the month in Wyoming.
We made the 10-hour drive on Monday, and are here adulting in the snow, relaxing next to the fire, putting whisky in our coffees, and of course doing our fair share of actual work, because: balance. The first recipe I whipped out when we got here was this creamy polenta.
Actually, it was inspired by sausage. Wanna hear the story? You've got time, right? It's a short one.
We had taken the easy decision to make sausage for dinner, and in figuring out what to make to go alongside the sausage, I crash landed on this creamy polenta with caramelized onions, peppers, and mushrooms. I had pulled a load of turkey Italiano sausage out of the ice box, thawed it, made the polenta in the meantime, then promptly discovered the sausage was too freezer burned.. And I was too lazy to slip n' slide to the store to rectify the situation. True story. It was icy out.
Bygones.
So we had fish tacos for dinner. From a local restaurant. And saved the polenta for later sausage adventures.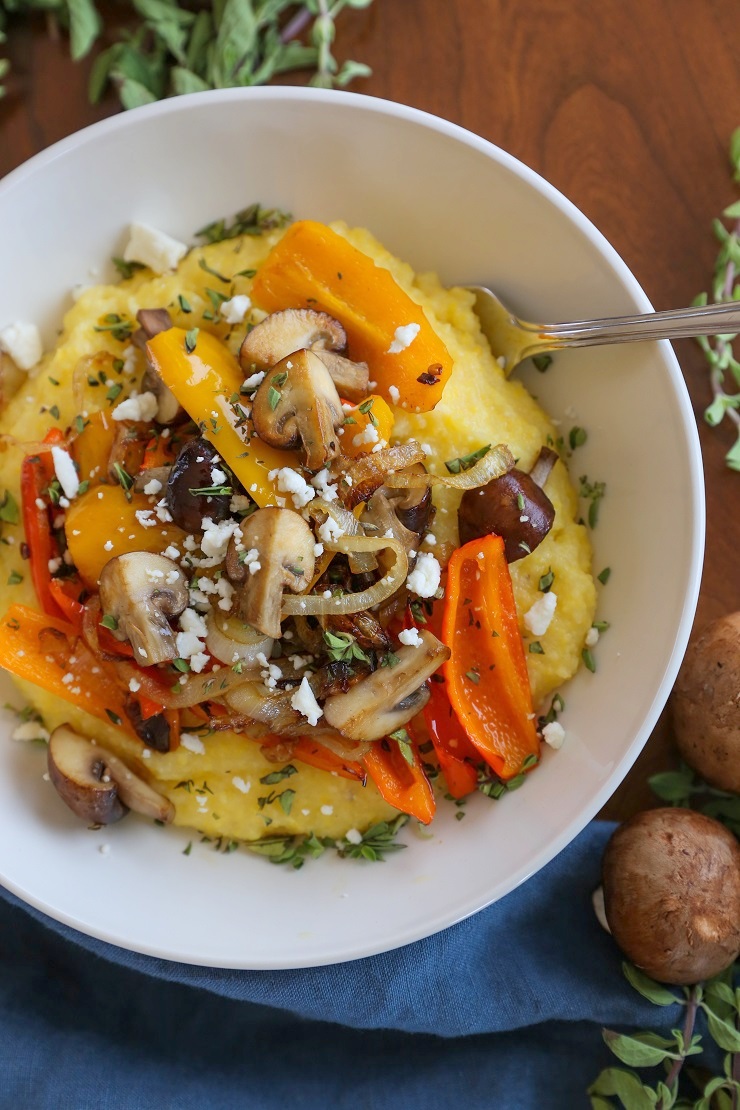 This polenta is perfectly presentable sans the sausage sitch. Can you dig? Let it be a side dish, let it be a main dish, let your un-frostbitten sausage partake in the action… Let your lack-of-laziness and un-icy road conditions carry you forth to the store. Let this be dinner.
Secret, secret, I've got a secret! I put straight-up feta cheese in this polenta. You can do parm. Or gruyere. Or vegan cheese. Or ricotta. Whatever's your jam. Secret part deux: I used copious amounts of butter. This is what makes polenta polenta. This is what makes romance possible. This is what makes life worth tasting. I'll stop.
All things considered, this super pretentious appearing recipe is by all accounts and measures a completely affordable, easy, and downright humble affair. You can make it for Valentine's Day and your date would never know that it cost a buck 82.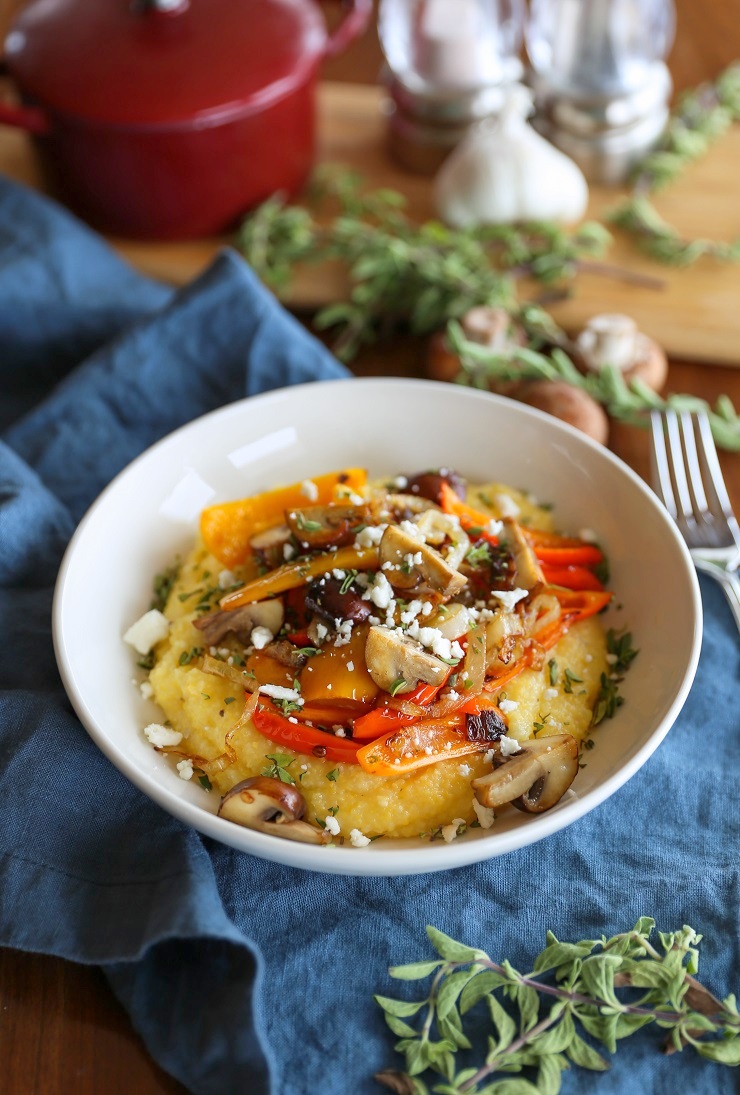 Let's this. Let's this the crap out of this.
Creamy Polenta with Caramelized Onions, Peppers, and Mushrooms
Creamy polenta with veggies makes for a treat of a meal!
Ingredients
CREAMY POLENTA
6

cups

water

1/2

teaspoon

sea salt

2

cups

polenta

4

tablespoons

unsalted butter

1/2

cup

feta cheese

or cheese of choice
CARAMELIZED ONIONS, PEPPERS, AND MUSHROOMS
3

tablespoons

olive oil

1

large yellow onion

, thinly sliced

8

sweet peppers

or 1 bell pepper

3

cups

baby bella mushrooms

, quartered

2

tablespoons

fresh oregano

, chopped

feta or parmesan for serving
Instructions
PREPARE THE VEGETABLES
Heat the olive oil over medium-high and add the onion. Saute, stirring occasionally, until onion begins to brown on the sides, about 10 minutes. Reduce the heat to medium-low and continue cooking, stirring occasionally until onion has almost caramelized, about 20 minutes.

Add the peppers and mushrooms (increase the heat if necessary) and cook until peppers and mushrooms have softened and turn golden-brown, about 8 minutes. (Note: you can prepare the polenta while the vegetables are cooking).
PREPARE THE POLENTA
Heat the water in a deep saucepan to a full boil and add the sea salt. Gradually add the polenta, stirring constantly. Add the butter and continue cooking at a simmer, stirring constantly, until polenta is thick and creamy, about 20 to 30 minutes. Taste polenta for flavor and add more sea salt and/or cheese to taste.

Serve polenta with caramelized onions, peppers, and mushrooms on top, along with a sprinkle of feta (or parmesan cheese) and chopped oregano.
Nutrition