Gluten-Free Sweet Potato Breakfast Cookies made with coconut flour and gluten-free rolled oats. These healthful treats are naturally sweetened and perfectly healthy for breakfast or snack!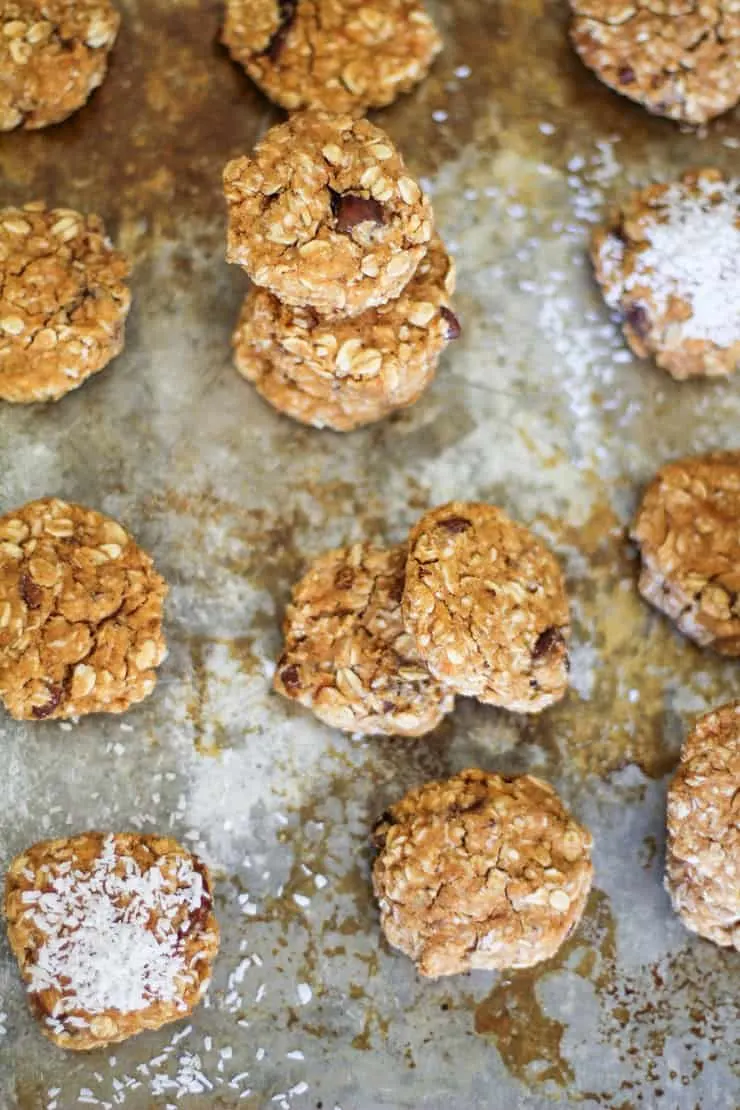 Some weekends are quiet.
Some weekends, you marinate on your thoughts as the snow gracefully falls.
You tell yourself, "what happens outside, stays outside. This is a quiet weekend. This is the weekend we don't leave the house."
You let your car get buried.
You don't even worry about clearing the snow off of it, knowing full well it will turn into a heavy iceberg in t minus 12 hours.
We're having a quiet weekend, we don't worry about icebergs on our cars. And we're pretty adamant about not stepping foot outside of the house. At all. Not even a twinkle toe out the door.
We're living in holy sweatpants.
By holy, I mean hole-ly, as in hole-ridden sweatpants…none of my sweatpants are divine, unfortunately, they're just very old. Holy sweatpants, Batman…with our Ray Bans, our dad's old football sweatshirt, and our hair all a-flutter.
Quiet weekends are not attractive weekends. Our cats still love us.
But quiet weekends make for great cooking and baking. On a quiet weekend, when there is an iceberg on your car, you make cookies.
And these coconut sweet potato cookies? These are the best and the worst thing you could do to yourself.
Best because in the healthy gluten free cookie realm, these guys are chairman. They are also magically delicious and soft. Like little muffin rounds. Or baby scones. Or what say you.
Worst because you will not make it out of the kitchen without eating a third of the batch straight out of the oven. Your mouth will be burned, your taste buds will die; all is fair in the game of love and war.
You can choose to be patient and allow the cookies to cool, or you can choose to eat…the choice is yours. Only your cat is watching.
Can we sing a doo-wah-diddy about these sweet potato cookies?
They're made with coconut flour, sweet potato, coconut milk, oats, pecans, dates, and are naturally sweetened with maple syrup.
I should call these energy cookies. Quick, let's eat 10 of them and then go do some sumo dead lifts!
Please don't leave me.
Since everyone talks about coconut products boosting your metabolism and being an anti-obesity food, I like to think you're doing yourself a favor by eating 6 of these.
It's like you're un-doing the eating-of-the-cookie whilst eating the cookie. If you can't take that to the bank, well…then I don't know what else you can take to the bank.
Aside from losing weight while you're eating 6 cookies at 10:00pm, you will wake up feeling full. And this is fine, because it just means you don't have to make breakfast.
Or, if by happenstance you have the metabolism of a wolverine and you do wake up hungry after said late-night cookie session, you can eat more cookies for breakfast.
If you love these cookies, also check out my 3-Ingredient Oatmeal Cookies.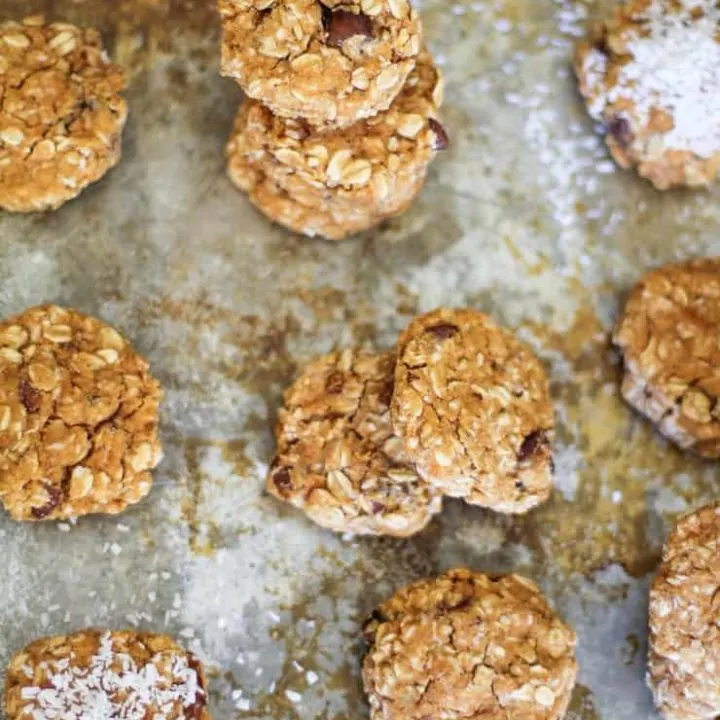 Coconut Sweet Potato Cookies
Cookies for breakfast? Get it! These Coconut Sweet Potato Cookies are healthy enough for snack and breakfast.
Instructions
Preheat the oven to 350 degrees F.
In a mixing bowl, whisk together the first six ingredients.
In a seperate mixing bowl, stir together the remaining ingredients.
Pour the dry mixture in with the wet, and mix well.
Form small discs with your hands (coconut flour does not rise or spread, so the cookies will remain in the same shape and size you form them to) and place the dough discs on a lightly-oiled baking sheet.
Bake for 20 minutes (no joke), or until the cookies feel firm when poked and have browned slightly.
Notes
*Poke holes in your sweet potato using a fork. Wrap it in foil, and roast in the oven at 375 degrees F for 60 minutes or until sweet potato is very soft.
Nutrition Information
Yield

25
Serving Size

1 of 25
Amount Per Serving
Calories

103
Total Fat

5g
Unsaturated Fat

0g
Carbohydrates

13g
Fiber

2g
Sugar

7g
Protein

2g