Easy 30-Minute Chicken Pad Thai comes together in a flash and can be made any night of the week for a delicious takeout fakeout meal in. This healthy chicken Pad Thai recipe is perfect for meal prep or any time you have a craving for Thai noodles.
This post is sponsored by Annie Chun's.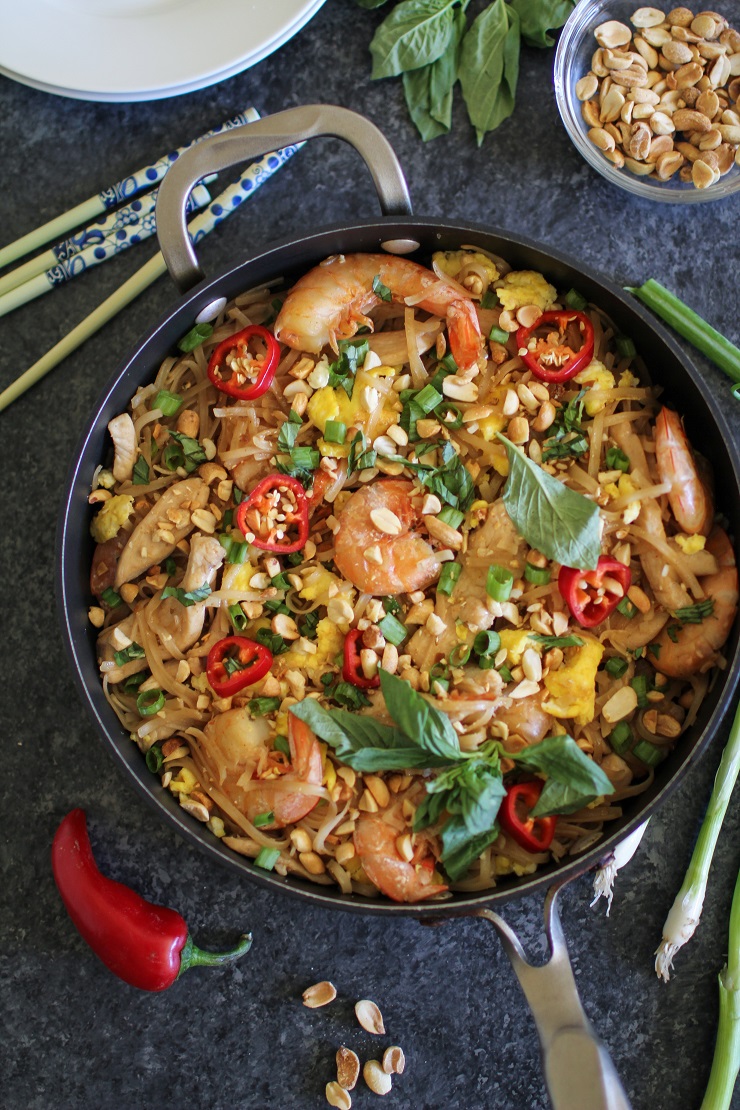 Back in my high school days, I had a torrid love affair with all foods Thai in general, and chicken pad thai in particular.
Going out to Thai food was an experience in and of itself, as I welcomed the brightly decorated, inviting atmosphere with the barrage of warm scents from spices, ginger and garlic, and relished every bite of my wildly flavorful meal, alongside a nice chilled glass of Thai iced tea.
My very first Thai food experience was with – you guessed it – Pad Thai – in my early teens.
The second I tried the noodle dish, my mind space was jettisoned into an alternate universe – an experience I never thought I would be able to replicate at home.
I became obsessed – Pad Thai to me was as pizza is to most teens – an epic treat.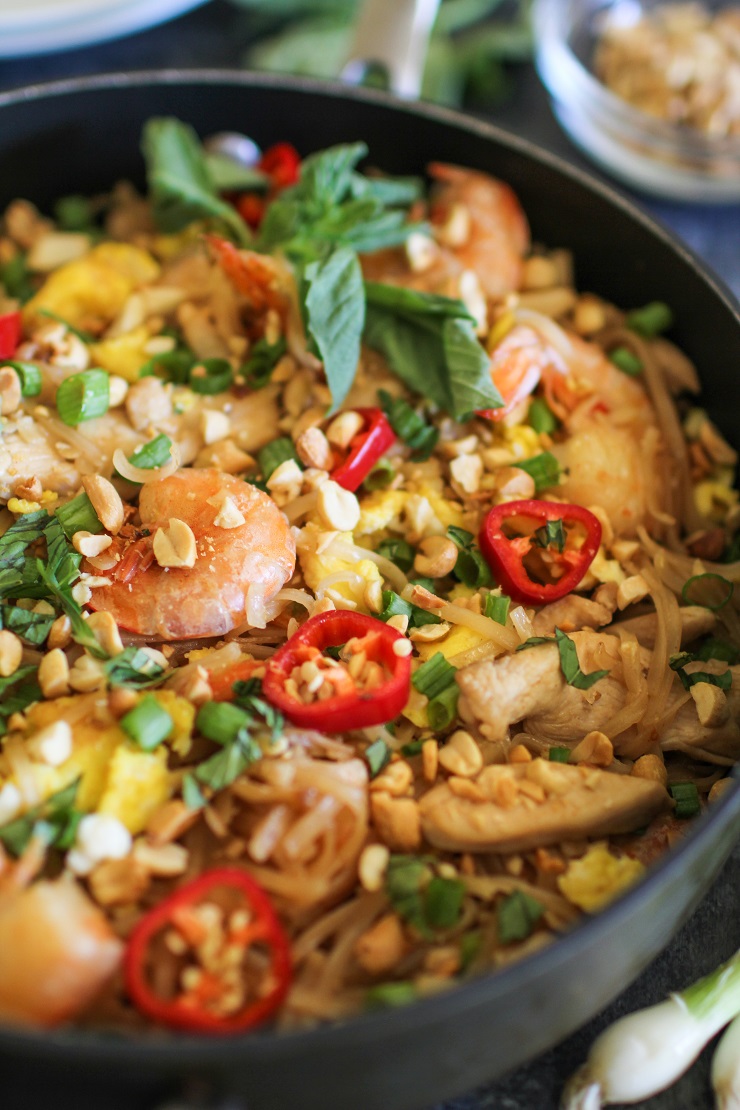 Although nothing beats an otherworldly authentic Thai meal, I've become decent at replicating ethnic dishes using easy-to-find ingredients.
Sure, if you lack specific key ingredients, the depths of flavors are difficult to nail down in some dishes, but you can come pretty close to mimicking your favorite Thai inspired meals, plus you can also tailor the dishes to your dietary needs and palate.
I used Annie Chun's Pad Thai Rice Noodles for this recipe, and they turned out marvelously! They are gluten-free, vegan, and are perfect for any ethnic-inspired noodle dish, or salad – hot or cold!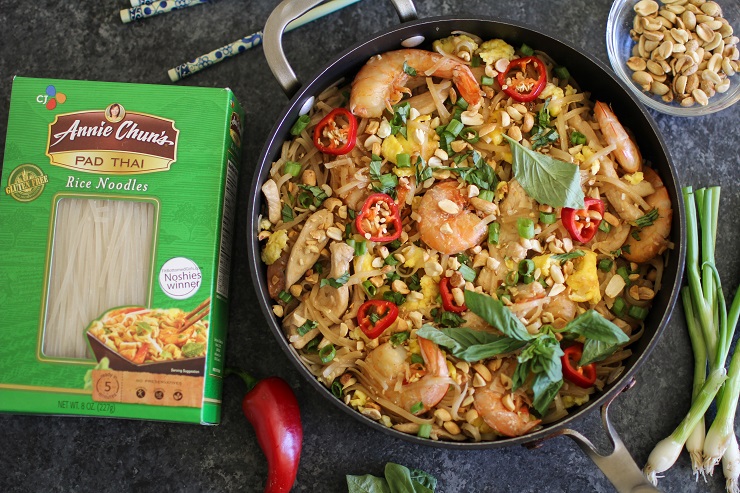 Tips and Tricks:
My trick to cooking these noodles perfectly is bringing a pot of water to a boil on the stove and removing it from the heat before adding the noodles.
I let the noodles sit for 8 minutes on the dot, then strain them and rinse them under cold water, giving you the perfect al dente noodles. Preparing this recipe using one package of noodles yields enough pad thai for 4 very hungry individuals, or up to 6 mildly hungry individuals.
One of the key components to succeeding at any ethnic dish is making a good sauce. Let's discuss.
Pad Thai Sauce:
Preparing sauce for pad thai is super easy and only requires a few ingredients, but there are multiple ways you can go about it.
A typical authentic pad Thai sauce includes fish sauce, lime juice (or rice vinegar), cane sugar (or brown sugar), and sometimes tamarind paste.
Because I avoid using cane sugar in my cooking whenever possible, and haven't gone on a search for tamarind paste just yet, I prepared the sauce using fish sauce, rice vinegar, pure maple syrup, and liquid aminos.
The idea is to find the perfect balance between tangy, salty, sweet flavors.
You can 200% take the traditional approach, or make your own concoction depending on your own taste.
In addition, you can also easily use low-sodium soy sauce in place of the liquid aminos.
Some folks are fish sauce-averse, so if that's you, increase the liquid aminos (or soy sauce), and decrease the fish sauce.
I've been known to add a couple tablespoons of teriyaki sauce to my pad thai in order to help with the caramelization effect, so following suit is definitely an option as well.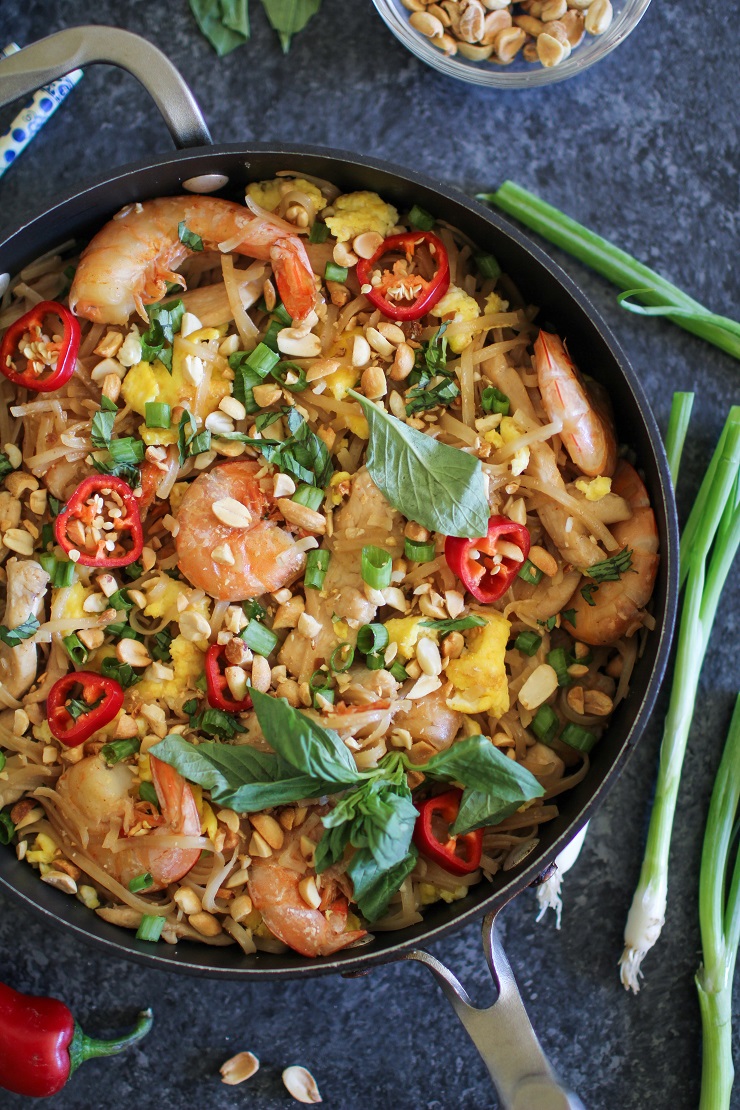 How to Make Chicken Pad Thai:
A major bonus feature to this chicken pad Thai recipe is it can easily be prepared in under 30 minutes, as long as you're cool with multi-tasking.
I start by cooking the chicken and shrimp, and prepare the noodles while the proteins are cooking. I also chop everything I need for the remainder of the recipe as well as prepare the sauce while the proteins and noodles are heating.
Once the proteins are cooked, I simply toss everything in the skillet (cooked noodles included), and allow everything to cook together for a few minutes.
This multi-task approach may seem like a bit much if you're new to chicken pad Thai, but after a few rounds, it's just the easiest and quickest takeout fakeout meal ever!
Recipe Adaptations:
To make this dish spicy, be sure to include some (or all) of the seeds from the thai chili. In order to keep it mild, omit the chili altogether.

Omit the shrimp or the chicken, and/or add pressed tofu if desired. I enjoy the combination of chicken and shrimp in pad thai, but you can take any animal protein route you'd like by subbing in pork, beef, white fish, etc.

Add in more egg if desired or omit the egg altogether.

You can use any cooking oil in place of the peanut oil – I just like the flavor the peanut oil adds to the dish.

If you have a peanut allergy, you can add chopped cashews instead of peanuts so that you still get the nutty crunch (also obviously use a different oil in place of the peanut oil, such as coconut, avocado, olive, or canola).
Enjoy your delicious Thai Chicken Pad Thai any night of the week!
My cookbook,
Paleo Power Bowls
, is now available! CLICK HERE to check it out. Thank you for your support!
If you make this recipe, please feel free to share a photo on Instagram and tag @The.Roasted.Root!
Chicken Pad Thai
Chicken Pad Thai comes together quickly and makes for an amazingly flavorful, comforting meal!
Ingredients
1

Tbsp

avocado oil

2

tablespoons

peanut oil

avocado oil, or canola oil

1

pound

boneless skinless chicken

cut into strips

1/2

pound

raw shrimp

peeled and deveined

3

cloves

garlic

minced

1

red Thai chili

seeded and finely chopped, optional

Pinch

cayenne pepper

optional

2

large eggs

well beaten

1

8-ounce package Pad Thai rice noodles

4

green onions

chopped
For Serving:
1

cup

bean sprouts

optional

½

cup

chopped unsalted peanuts

Fresh basil

chopped (or cilantro)

Lime or lemon wedges
Instructions
Heat the avocado oil and peanut oil in a large skillet or wok over medium-high heat. Add the chicken and cook until browned on all sides. Add the shrimp and continue cooking until both the chicken and shrimp are cooked through but are still tender (Note: if necessary, cover the skillet with a lid to help cook the chicken and shrimp). Once cooked, drain the liquid from the skillet and place it back on the stovetop over medium-high heat.

Add the garlic, thai chili, sea salt, and green onion to the skillet with the chicken and shrimp. Saute until fragrant, about 2 minutes.

While the chicken and shrimp are cooking, prepare the noodles. Bring a pot of water to a boil, then remove it from the heat. Add the uncooked noodles and allow them to sit for 8 minutes. Drain, rinse with cold water.

Heat a small skillet over medium-high and add just enough oil to coat the surface. Pour in the beaten eggs and scramble to desired done.ness. Set aside until ready to use.

Add all of the ingredients for the sauce to a small bowl and whisk until well-combined.

Add the cooked noodles and sauce to the skillet and toss to combine. Allow the mixture to come to a full boil and continue cooking, stirring occasionally, until the liquid has burned off and the noodles begin to stick to the pan and caramelize. Add in the scrambled eggs and toss to combine.

Serve chicken pad thai with chopped peanuts, bean sprouts, fresh basil, and lemon or lime wedges.
Nutrition
Serving:
1
Serving (of 4)
|
Calories:
527
kcal
|
Carbohydrates:
51
g
|
Protein:
46
g
|
Fat:
16
g
|
Fiber:
4
g
|
Sugar:
2
g