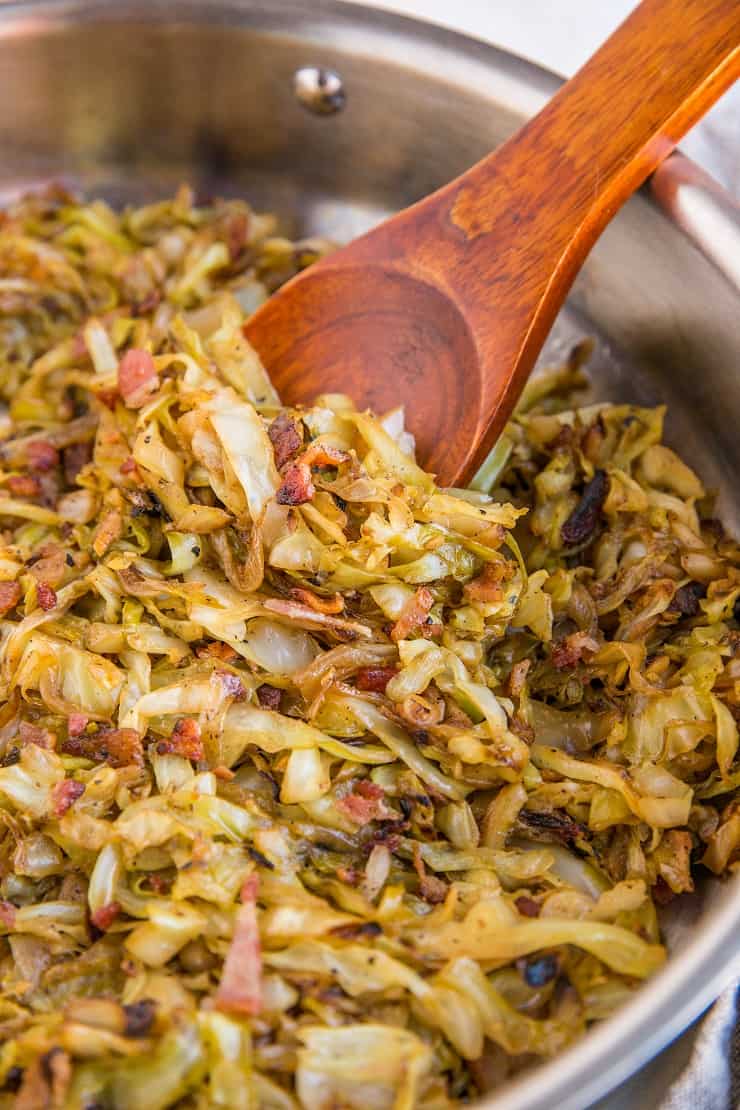 Caramelized Cabbage with bacon is a flavorful, addicting healthy side dish perfect for serving with just about anything. Caramelizing Cabbage will turn even the biggest Cabbage naysayer into a believer!
This easy cabbage recipe is paleo, keto, whole30, easy to prepare, and a crowd pleaser!
We've all had caramelized onions, but have you ever tried caramelized cabbage?
Truth be told, I couldn't tell you whether or not caramelized cabbage is a thing. I dreamt it up one day while I was thinking about making a cabbage stir fry and caramelized onions were simultaneously on my mind.
I thought it brilliant to slowly cook sliced cabbage until it was softened yet slightly crispy and deeply golden-brown for a crazy flavorful approach to the otherwise bland vegetable.
And it's so easy to prepare! If you can caramelize an onion (which we will be doing in this recipe, too), then you can caramelize a cabbage!
The way I see it, caramelized cabbage can be used in all sorts of ways – as a straight up vegetable side dish, a condiment, topping for sandwiches, burgers, steak, or chicken. I would even use it in burritos, grilled cheese sandwiches of breakfast sandwiches. Go wild!
Cabbage is neutral in flavor, making it ideal for dishes using big bold flavors like onion, garlic, and bacon. It doesn't take much to spruce it up and make it extra palatable.
Let's dig deeper!
Read More

about Caramelized Cabbage with Bacon (Keto, Paleo, Whole30)