Caramelized shallot and sautéed mushrooms nestled in red wine, getting frisky all up on a turkey burg caressed with Swiss cheese, sandwiched between hot crispy fresh buns.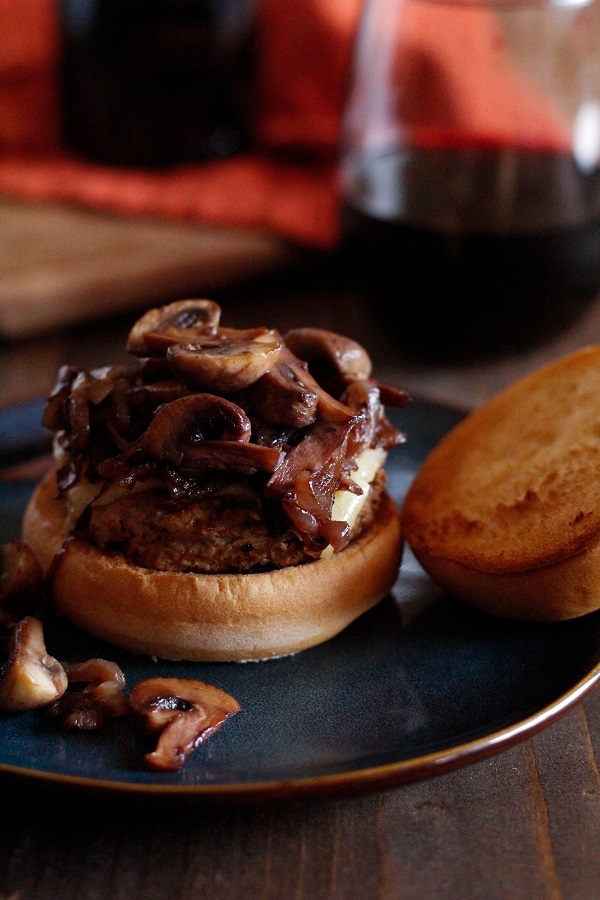 Every Tuesday, my girlfriends and I get together and cook up turkey burgers. Aside from the juicy burgs, Turkey Burger Tuesdays consists of copious amounts of sweet potato fries, girl chatter, and wine. We do sometimes change it up and make something un-burger-esque, but we enjoy experimenting with different burger add-ins and toppings.
For last week's Turkey Burger Tuesday, I was in the mood for something swanky, but was in need of some burger inspiration. I poked around Cooking Light's archive of healthy grilled burgers and was drawn to their Cheddar Cheeseburger with Caramelized Shallots. I settled on that recipe as my burgspiration and added a splash of red wine to the shallots. Because I had a whole basket of mushrooms sitting in my refrigerator, I figured that needed to happen, too. With the red wine…too.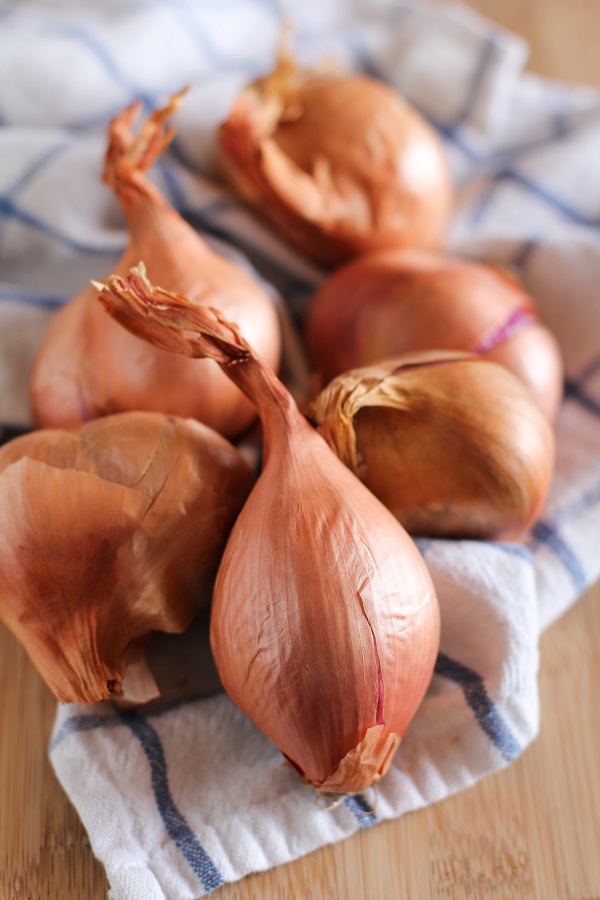 The shallots take a hot minute to caramelize, but while they're busy getting all delectable, you can multi-task by sautéing the mushrooms and preparing the turkey burgers.
Got a load of these shroomages and shallots: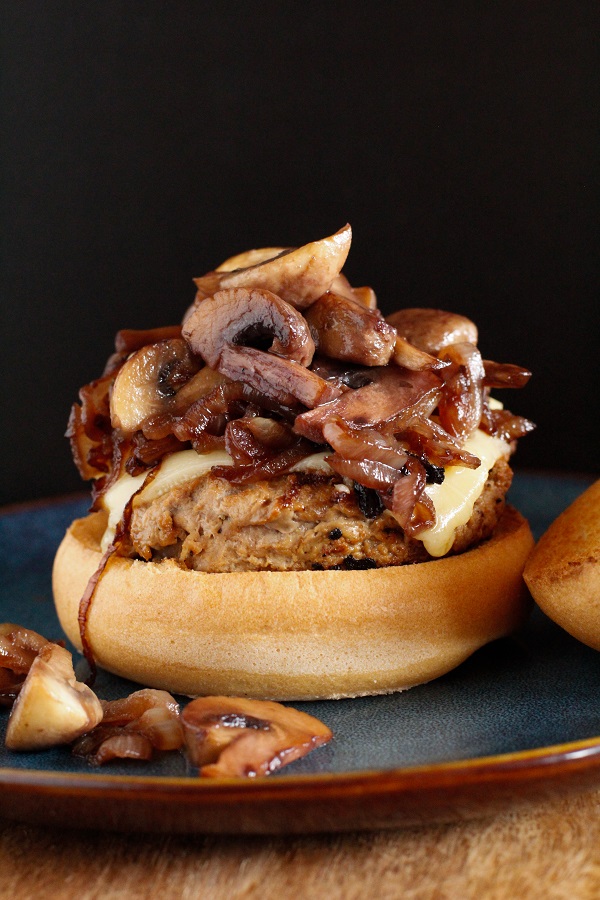 These turkey burgers are so very satisfying. They have all the flavors and textures a great burger should have and really give you something to sink your teeth into. I made the burgers in a cast iron skillet, but if you're grill-endowed, I recommend firing it up! The smokey char flavor would go excellently with the red wine caramelized shallots and sautéed shrooms. The girls and I tend to go bun-less on Turkey Burger Tuesdays, but I found these gluten-free rolls at my local grocery store and decided to give them a whirl as burger buns.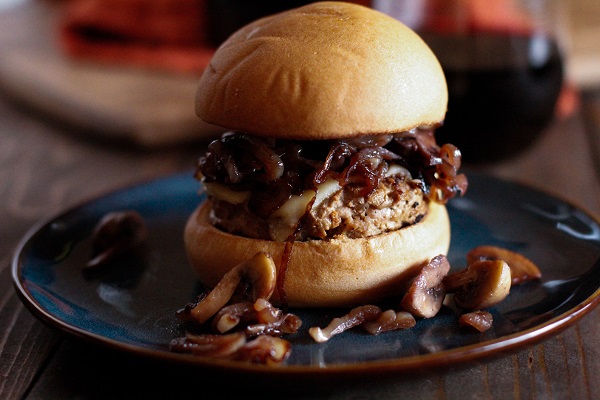 Have I mentioned you should serve these burgers with 1800 pounds an appropriate portion size of sweet potato fries and a couple bottles glasses of wine?
You should.
Make these succulent burgs.
Caramelized Shallot and Mushroom Turkey Burgers
Insanely delicious burger recipe, here we come!
Servings:
4
1/4-pound burgers
Ingredients
For the Caramelized Shallots:
2

tablespoons

grapeseed oil

3

cups

shallots

thinly sliced (about

3

tablespoons

red wine

I used malbec
For the Sautéed Mushrooms:
2

tablespoons

grapeseed oil

8

ounces

white mushrooms

chopped

1

tablespoon

red wine
For the Turkey Burgers:
1

egg

lightly beaten

1

tablespoon

worshestershire sauce

1

teaspoon

dried oregano

1

pound

ground turkey meat
For Serving:
Swiss cheese

Hamburger buns
Instructions
Caramelize the shallots
Add the oil to a cast iron skillet and heat to medium.

Add the shallots and cook, stirring every couple of minutes until they begin to caramelize, about 20 minutes. Note: the shallots should cook at a golden-brown hue and shouldn't burn – if they begin cooking too quickly, lower the heat.

Add 3 tablespoons of red wine and continue cooking until all of the wine has burned off, and shallots are completely caramelized, about 5 to 8 minutes.

Set aside until ready to use.
Cook the mushrooms:
Add the oil to a sauté pan and heat to medium-high.

Add the mushrooms and cook, stirring frequently, until they turn brown and water is seeping out, about 5 to 8 minutes.

Add 1 tablespoon of wine, a sprinkle of salt, and continue cooking until much of the water has burned off and mushrooms are soft, but al dente, about another 1 to 2 minutes.
Make the turkey Burgers:
Heat a cast iron skillet to medium-high with enough oil to generously coat the surface (or fire up the grill).

In a mixing bowl, lightly beat the egg and add the rest of the ingredients for the burgers. Mix everything together well. The meat will be very wet and mushy, but that's okay.

Form 4 burger patties and place them on the cast iron skillet (or grill), cooking them until the sides of the burger begin to firm up and turn brown. Carefully flip the burgers and continue cooking until they feel firm when poked and are cooked through.

Place slices of swiss cheese on top of the burgers and cook until melted.

Serve with caramelized shallots and mushrooms on a toasted bun.
Notes
You can prepare the shallots and mushrooms in the same pan by adding the mushrooms once the shallots are almost done.
Nutrition