The weather here in the Reno-Tahoe area made the quick transition from hot and sunny last week to windy and cloudy over the weekend. The leaves on the aspen trees have already begun turning color, there has been less daylight and cooler temperatures on my evening walks, pine needles are falling from the trees, and the general atmosphere seems quiet and relaxed.
This can only mean one thing: fall is fastly approaching. Le sigh…autumn…I'm holding on to the last bits of warm summer weather with all my might, but I look forward to beautiful, peaceful fall. Plus, nothing beats a hot bowl of chili, a warm sweater, and a glass of red wine.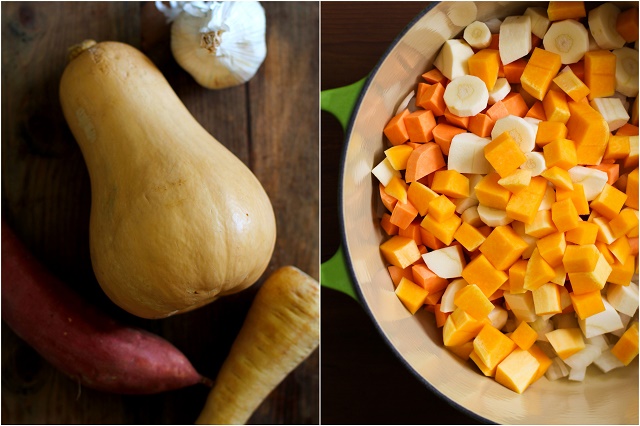 One of my favorite parts about this time of year from a culinary standpoint is the abundance of available produce. Not only can we enjoy the last bits of vibrant summer fruits and veggies, but the hearty, carby, comfy fall squash are making their way into the produce section as well. Although the warm weather still calls for crisp and refreshing meals, I can't help but pick up butternut and kabocha squash, along with heaps and heaps of sweet potatoes to put together carbolicious warmly-spiced meals.
Which brings me to my next point: This chili, locked and loaded with comforting vegetables like parsnips, sweet potato, butternut squash, and mushrooms (and even a pear!), is a cozy meal for those chilly evenings this time of year. I added full-bodied red wine, as well as a touch of cinnamon and ground cocoa powder to add richness to the satisfying dish. Sound strange does it? You'll just have to taste it to believe it!
I used Noble Vines 337 Cabernet Sauvignon for this chili, which comes from Lodi, CA – just a few hours' drive from where I live. The wine has black cherry, blackberry and cassis flavors, as well as sweet herbs and black pepper. For you meat lovers, Noble Vines Cabernet would be the perfect pairing for your pork, baby back ribs, and/or roast turkey. And to my fellow cheese lovers: this cab would be great with anything aged or smoked, such as parmesan, asiago, smoked gouda or mozarella, or blue cheese.
While I typically enjoy my wine with food, I've found Noble Vines are completely drinkable on their own…on your couch…with a friend…after a long day of work…on a Wednesday. Because delicious. They're also what I would consider to be a big bang for your buck wine, meaning they're priced super reasonably for the quality you're getting.
Generally, I love cooking with wine as well as sipping on the wine I cook with during the preparation process…and of course when I sit down to enjoy the fruits of my labor, I indulge in a heavy pour. When all's said and done, the house smells magnificent and my belly and heart are full of satisfaction from the relaxing meal.
With football season right around the corner, I'm envisioning this chili as the perfect healthy tailgating food. It's super shareable, nice and filling, and will prevent your friends from becoming pantry pirates when they get hungry in the middle of the game. Simply whip up a batch of your favorite homemade cornbread, and you've got yourself the whole nine yards (<- get it? Nine yards? Football jokes? I try).
You can replace the kidney beans with pinto beans, black beans or chickpeas, and/or substitute the sweet potato and parsnip for regular potato and carrot. ALSO: why not try acorn squash or kabocha squash instead of (or in addition to) the butternut squash? Finally, if you aren't trying to make this a vegan meal, you can use chicken broth instead of vegetable broth. Point is: you can make this delicious stew your own. Just be sure to add the wine!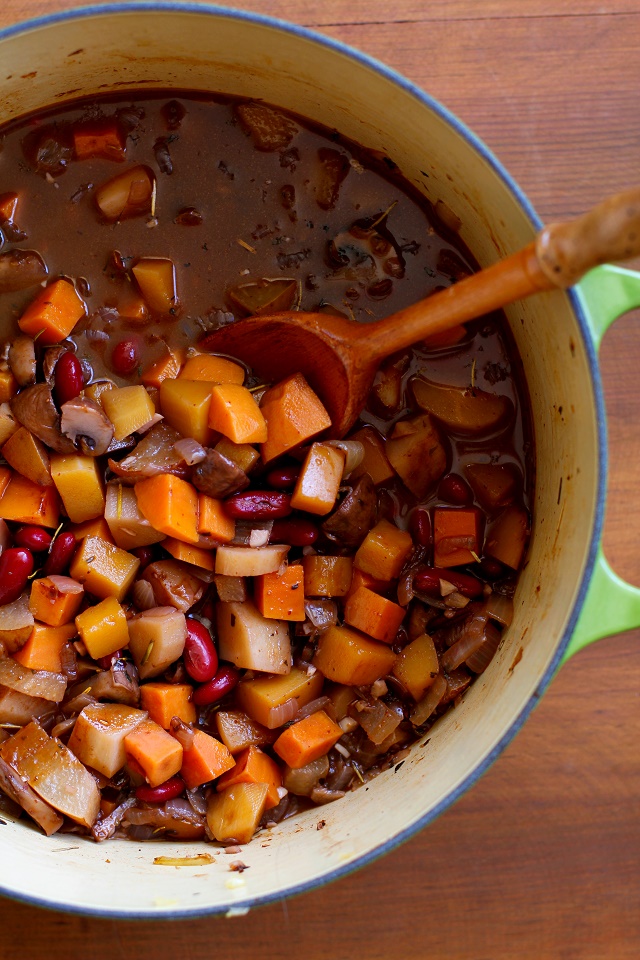 A quick note about wine and vegan/vegetarian cooking: While there is no added meat or dairy in this recipe, it is important to note that the recipe is technically only vegan or vegetarian if you use a vegan or vegetarian wine. Some winemakers use milk or animal-based agents during the winemaking process, so if you follow a strict vegan or vegetarian diet, be cognizant of the type of wine you add.
Get those veggie carbs!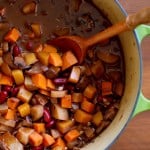 Warmly-Spiced Butternut Squash and Root Vegetable Chili with Pears
Print
Ingredients
3

tablespoons

olive oil

1

yellow onion

diced

1

inch

medium sweet potato

peeled and chopped into ½- pieces

1

large parsnip

peeled and chopped

½

inch

small butternut squash

peeled and chopped into ½- pieces (2 cups)

2

cups

mushrooms

chopped

3

cloves

large garlic

minced

1

large pear

peeled and chopped

1

tablespoon

chili powder

1

teaspoon

unsweetened cocoa powder

1/8

teaspoon

ground cinnamon

2

teaspoons

Herbs de Provence*

2

teaspoons

sea salt

or to taste

1

ounce

can kidney beans

14-

1

cup

Noble Vines 337 Cabernet Sauvignon

2

cups

vegetable broth
Instructions
Add the olive oil, onion, sweet potato, parsnip, butternut squash to a large pot or Dutch oven and heat to medium-high. Cook for 8 minutes, stirring occasionally.

Add mushrooms, garlic, pear, chili powder, cocoa powder, cinnamon, herbs de Provence, salt, and saute 3 minutes, stirring occasionally.

Add the kidney beans, wine and vegetable broth and bring to a full boil. Reduce the heat, cover, and simmer 10 to 20 minutes, or until vegetables are soft.

Serve heaping portions of chili with rice and your favorite chili toppings
Recipe Notes
*or Italian seasoning
Disclosure: This post is sponsored by Noble Vines. I was compensated for my time and effort, but as always, all thoughts, feelings, and opinions are my own. Thank you for supporting the brands that support this site.