Blanched Kale Salad with Sesame Dressing, Figs, Hard-Boiled Egg and Avocado makes for a flavorful, nutrient dense, light vegetarian meal.
Blanch thy kale!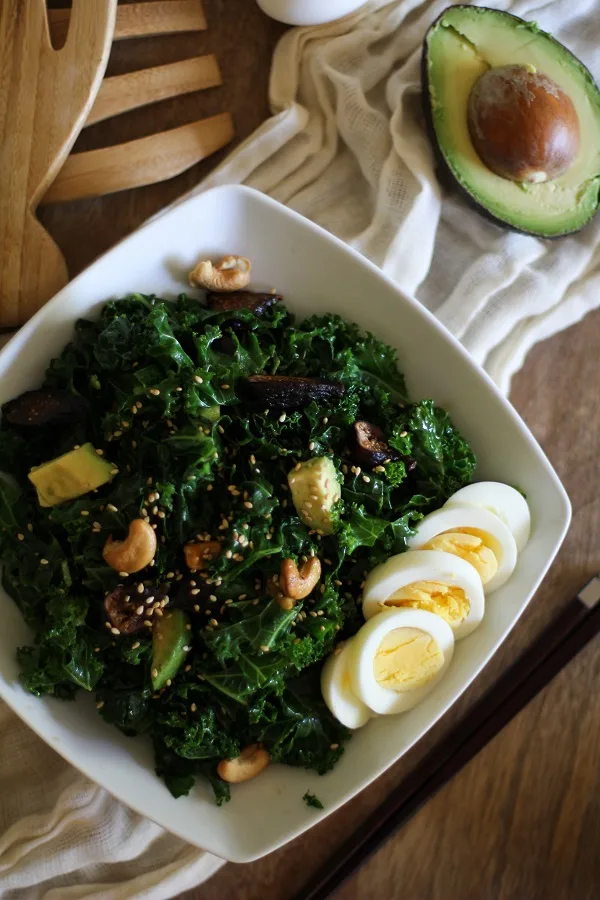 It's the final countdown!
do do do dooooo do do do dodo doooo…do do do doooooo, do do do do do do doooo dodo doooo do…
Sorry.
Okay, it's not really the final countdown. It's the countdown before the countdown. It's the pre-countdown countdown.
What are we counting down?
The days until my cookbook, Let Them Eat Kale! is released. 13! 13 days, my friends!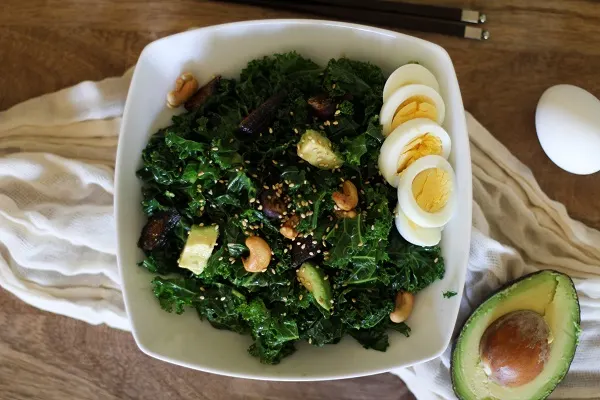 I'm feeling so giddy, clammy, pitted out, and rambunctious that all I want to do is distract you from my nervousness by showing you YouTube videos.
But I won't do that. I'll stay on task, put my adult ADD in check, and just remind you that on July 1, cookbook #2 will be born unto this earth, and that the contents of cookbook #2 are bonkers yummy. And healthy.
See? That was easy. No minimal youtubing necessary.
Have you ever eaten a salad with chopsticks? Yeah, me neither.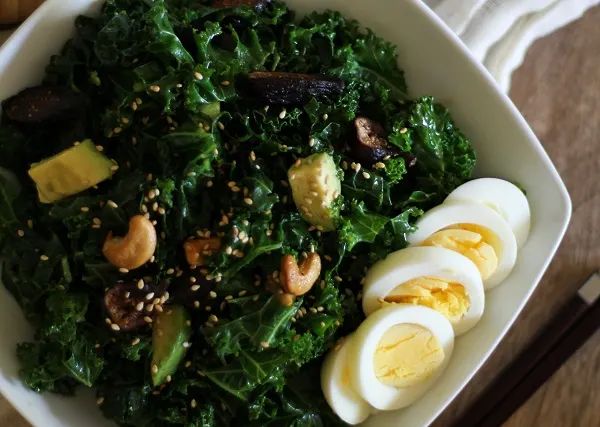 In Let Them Eat Kale!, I talk about the various methods for cooking (or not cooking) kale and incorporating it into your recipes. One of those methods is blanching. Blanching is the process of flash cooking a food in boiling water and then immediately transferring it to an ice bath to stop the cooking.
Blanching kale helps soften the tough fibers and makes it easier to chew. Most people do not care for raw kale, so blanching is a quick and easy way of making the leafy green more palatable.
For this salad, I blanched up some kale and added a tricked out sesame dressing to it. Have you ever used sesame oil for salad dressing?
It's great (if you like sesame oil)!
I combined sesame oil with liquid aminos (which can be replaced with low-sodium soy sauce), ginger, and maple syrup.
What happens is a sensorymatic esoteric hailstorm of bangarangedness. Okay, what really happens is your salad tastes like sesame dressing. That's what's real.
I had some dried figs staring at me on the counter, roasted cashews gawking at me in the pantry, and a ripe avocado all back of the refrigerator bus.
So I threw them all in the salad bowl and the rest is history. Plus, I added hard-boiled egg because I'M OBSESSED WITH HARDBOILED EGGS!! Sorry. That was brash.
What I'm trying to get at here is twofold: #1: Make the salad. #2: Let Them Eat KALE!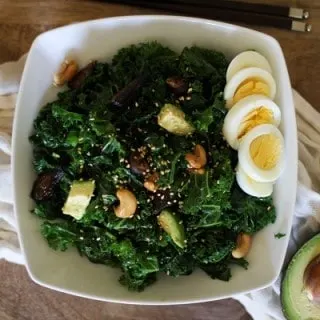 Blanched Kale Salad with Sesame Dressing, Figs, and Avocado
A nutrient-dense blanched kale salad with hard-boiled egg, cashews, figs, and avocado makes for a lovely light vegetarian meal.
Ingredients
1 head curly kale
1 tablespoon sesame oil
1 tablespoon fresh lemon juice
1 tablespoon liquid aminos*
1 teaspoon pure maple syrup
1 teaspoon fresh ginger, peeled and grated
8 dried figs, chopped
½ avocado, peeled and diced
¼ cup roasted cashews
2 hardboiled eggs, peeled and chopped
Sesame seeds for garnish
Instructions
Rinse the kale leaves, remove the stems and give the leaves a rough chop.
Place the leaves in a steamer on the stove and steam for 2 to 3 minutes, just until wilted, but still slightly crunchy. Immediately remove from heat and transfer to an ice bath until cold. Strain the leaves into a colander, pat dry, and set aside or refrigerate until ready to use.
In a small bowl, whisk together the sesame oil, lemon juice, liquid aminos, maple syrup, and ginger with a fork until well combined.
Add the kale and remaining ingredients to a serving bowl and pour the sesame dressing over it. Toss everything together and serve with sesame seeds on top.
Nutrition Information
Yield

2
Serving Size

1 of 2
Amount Per Serving
Calories

407
Total Fat

26g
Unsaturated Fat

0g
Carbohydrates

37g
Fiber

9g
Sugar

21g
Protein

12g