A recipe roundup of the internet's Best Thanksgiving Turkey Recipes. From varying cooking methods to types of ingredients, this post has it all! Let's dive into the world's finest turkey this holiday season!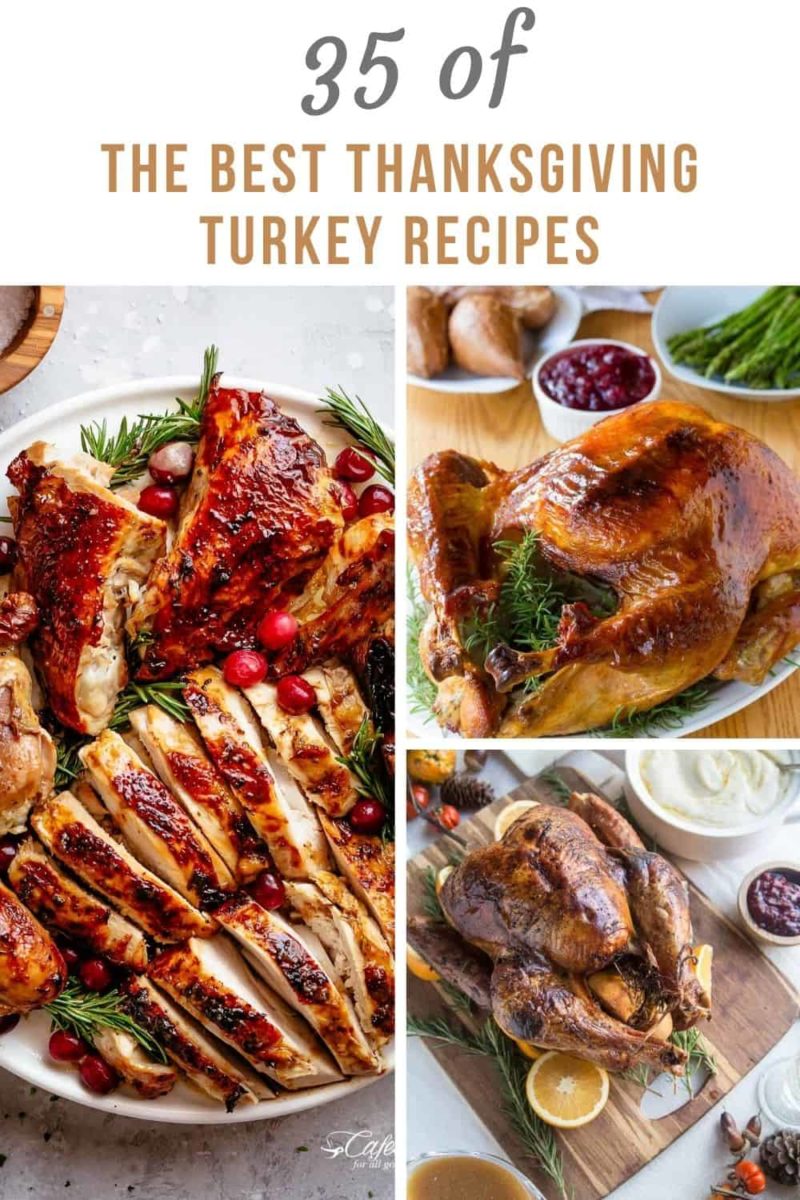 Looking for the ultimate BEST Thanksgiving Turkey recipe? You're in the right spot!
Turkey can be oddly stressful for so many of us, but it doesn't have to be!
It seems as though folks are preparing for the holiday season early this year, so I thought I would provide many recipes for you to gawk at and consider so that you have plenty of time to plan your menu.
I have compiled the most mouth-watering, goof-proof, crowd-pleasing, delicious turkey recipes from around the web and have placed them right here for your choosing.
Whether you're looking for a roasted turkey recipe, smoked turkey, spatchcooked, air fryer, or even Instant Pot or sous vide, we have options!
If you aren't in the business of roasting a whole turkey this year, no sweat! I have included numerous recipes for turkey breast only. This is ideal for folks who are serving fewer people, but still want the iconic turkey experience, and for those trying to keep prep time to a minimum.
There are also recipes for turkey without brining, turkey with a brine, stuffed, not stuffed, glazed, not glazed, you name it! Check out these sultry, amazing turkey recipes and make your selection based on the result you're looking for.
Enjoy!
xo
Oven Roasted Turkey Recipes:
Herb and Butter Roasted Turkey with White Wine Pan Gravy from Halfbaked Harvest Keeping it classic, this Herb and Butter Roasted Turkey is a traditional take on the Thanksgiving centerpiece. Herbs and butter. Nothing fancy, nothing overdone. Just classic, simple and delicious flavors.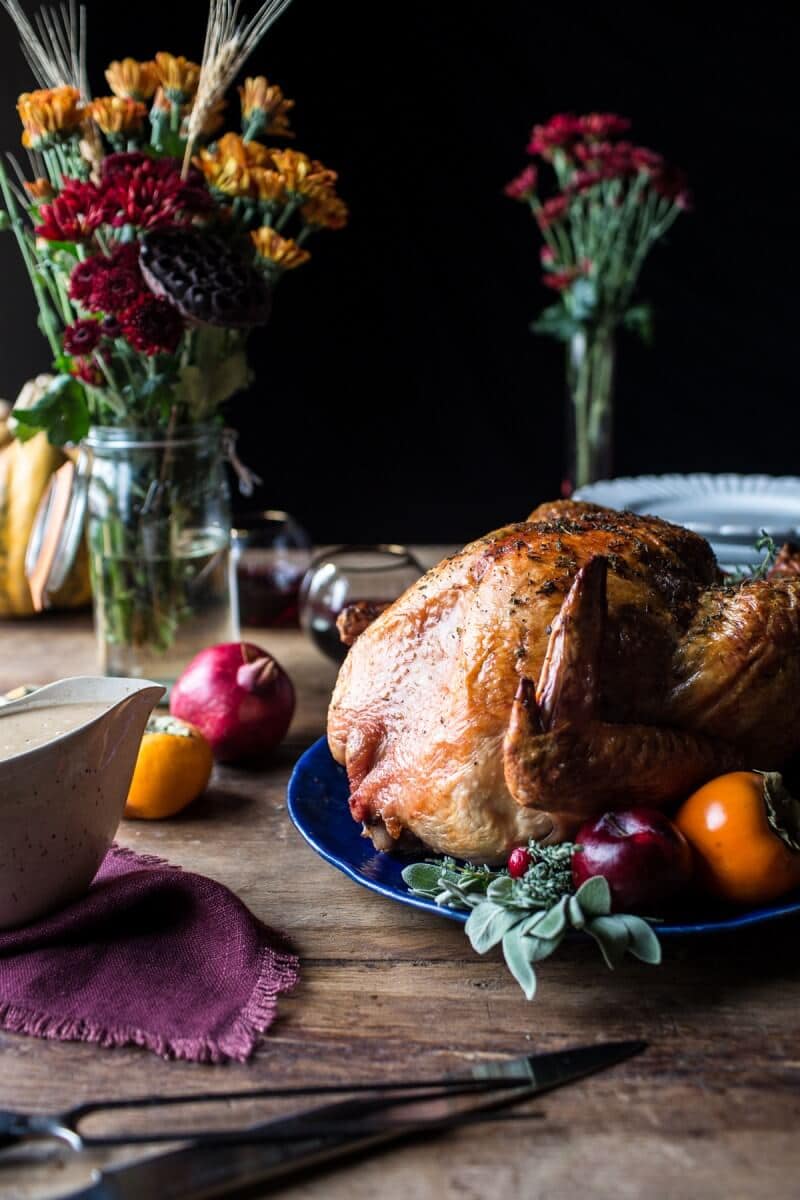 Dry Brine Turkey with Orange Rosemary Herb Butter from Perry's Plate Dry brining is like wet brining without the water. It's more like a seasoning rub that you leave on the bird for a few days before cooking — at least 3 days and up to 4-5 days. This recipe uses salt, black pepper, and coconut sugar for the dry brine and includes a rosemary herb compound butter for roasting.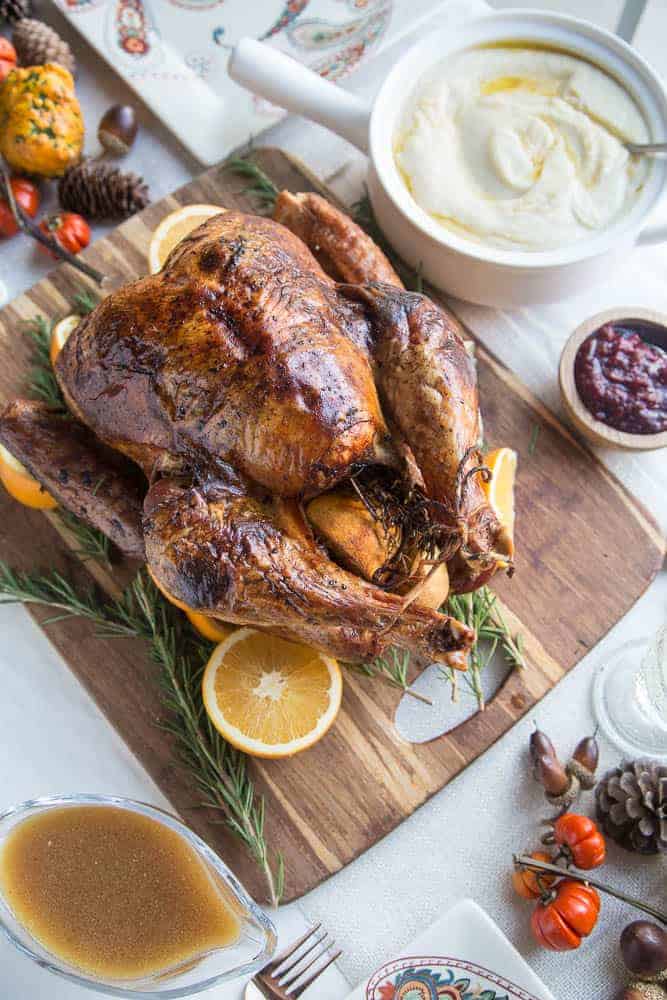 Orange Ginger Glazed Turkey from The Roasted Root – Sweet, zesty flavorful turkey with aromatic orange and ginger flavors is a wildly amazing changeup from classic Thanksgiving flavors. If you're looking for a different spin on the holidays this year, this recipe is for you!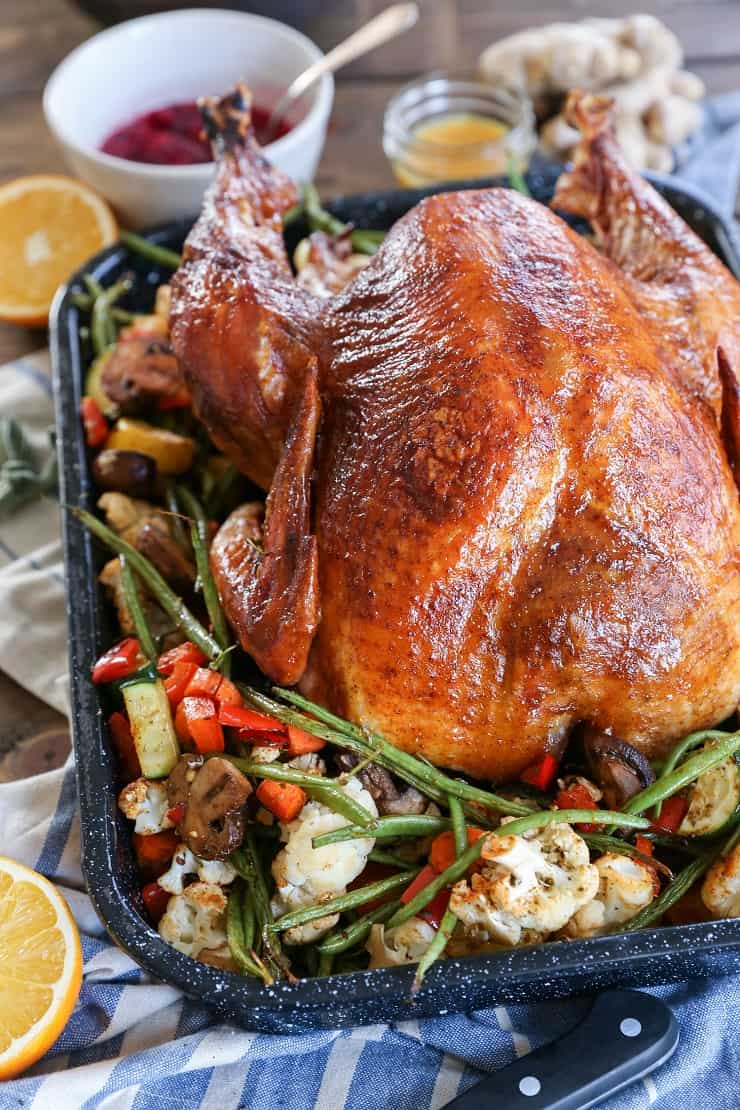 Tart Cherry Cranberry Glazed Turkey from Running to the Kitchen – A changeup from the ye old classic flavors, this recipe is ultra enticing and a unique Thanksgiving turkey recipe! The slightly sweet and sticky glaze gives the bird tons of festive flavor!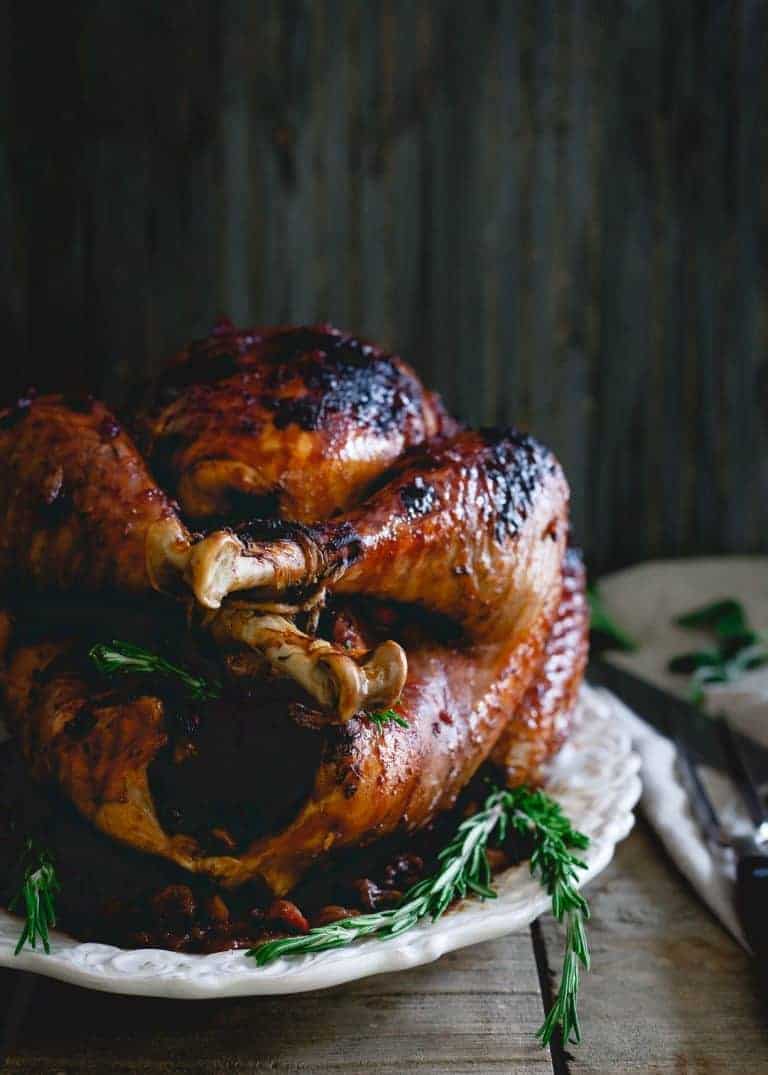 How to Roast a Turkey – The Easy Way from Everyday Maven – A beginner's guide to roasting a Thanksgiving turkey using a wet brine and a dry rub (or using either/or method). This easy method results in amazing tender turkey!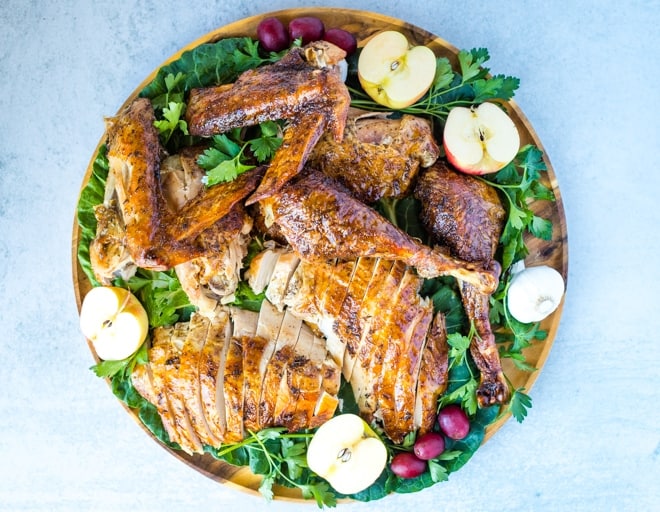 Roast Turkey with Citrus, Herbs and Za'atar from Little Ferraro Kitchen Amazing Thanksgiving citrus and herb roast turkey, seasoned with loads of aromatic za'atar, citrus zest and fresh herbs and then slathered with butter making it juicy and flavorful. You don't want to miss this otherworldly take on turkey!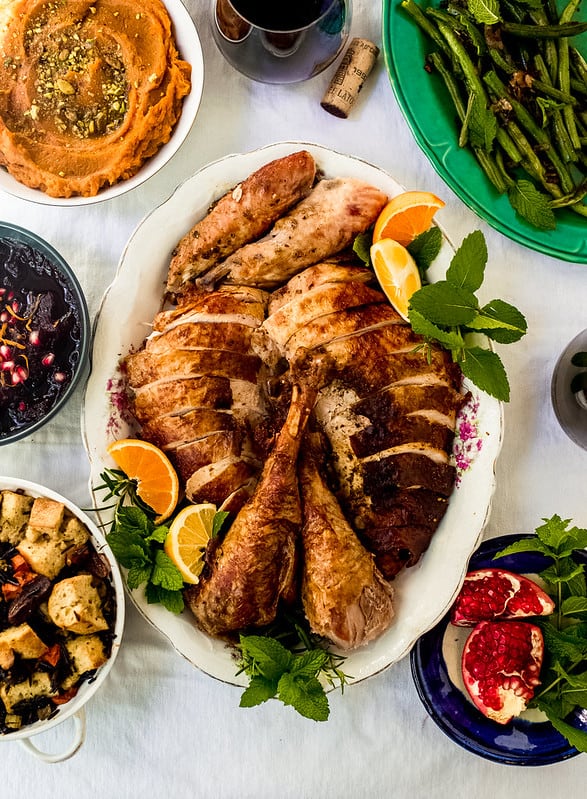 Cranberry Jalapeno Honey Baked Turkey from A Spicy Perspective A sweet and spicy approach to your holiday meal! The most amazing turkey brine and glaze recipe, that produces a golden glistening juicy turkey with a crispy crust!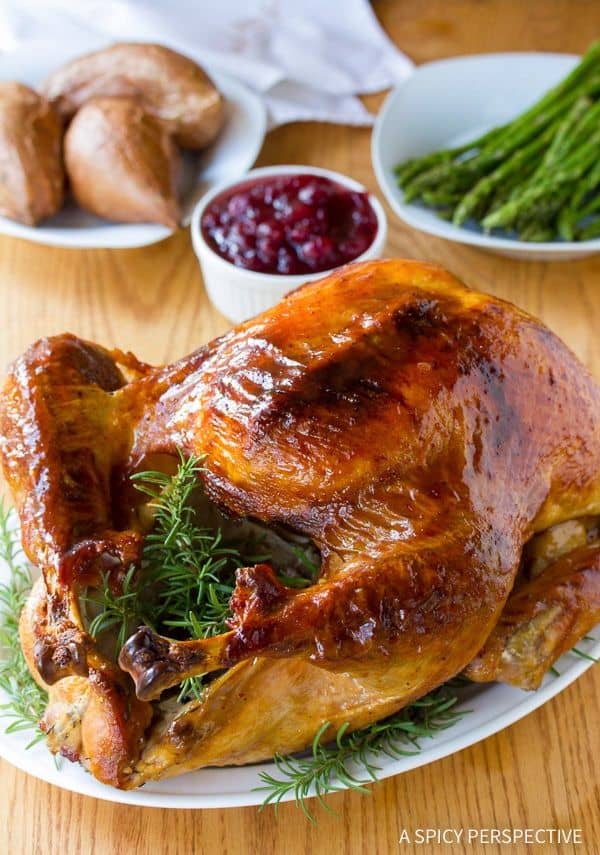 Dry Brine Turkey with garlic Butter Rub from Valerie's Kitchen – The process of dry brining a turkey creates an incredibly tender, juicy result with beautifully browned, crispy skin. This Dry Brine Turkey with Garlic Butter Rub will make a gorgeous centerpiece for your holiday table.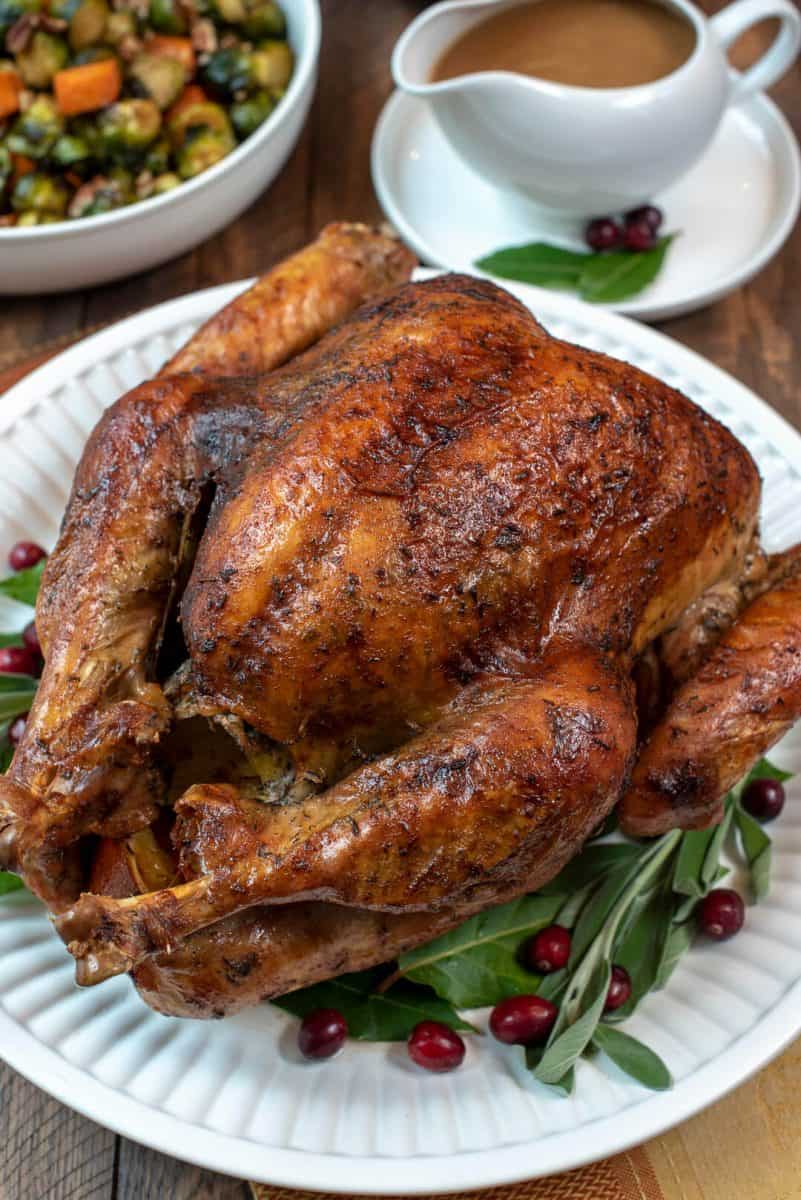 Garlic Herb Butter Roast Turkey from Cafe Delites – Garlic herb butter roast turkey recipe (without a brine!) is succulent and tender on the inside with a golden, buttery skin and so much flavor! Dried out breasts and meat are a thing of the past with this perfect Turkey Recipe. Slathered with a garlic herb butter then oven roasted to get the most perfect, juicy meat and golden brown skin.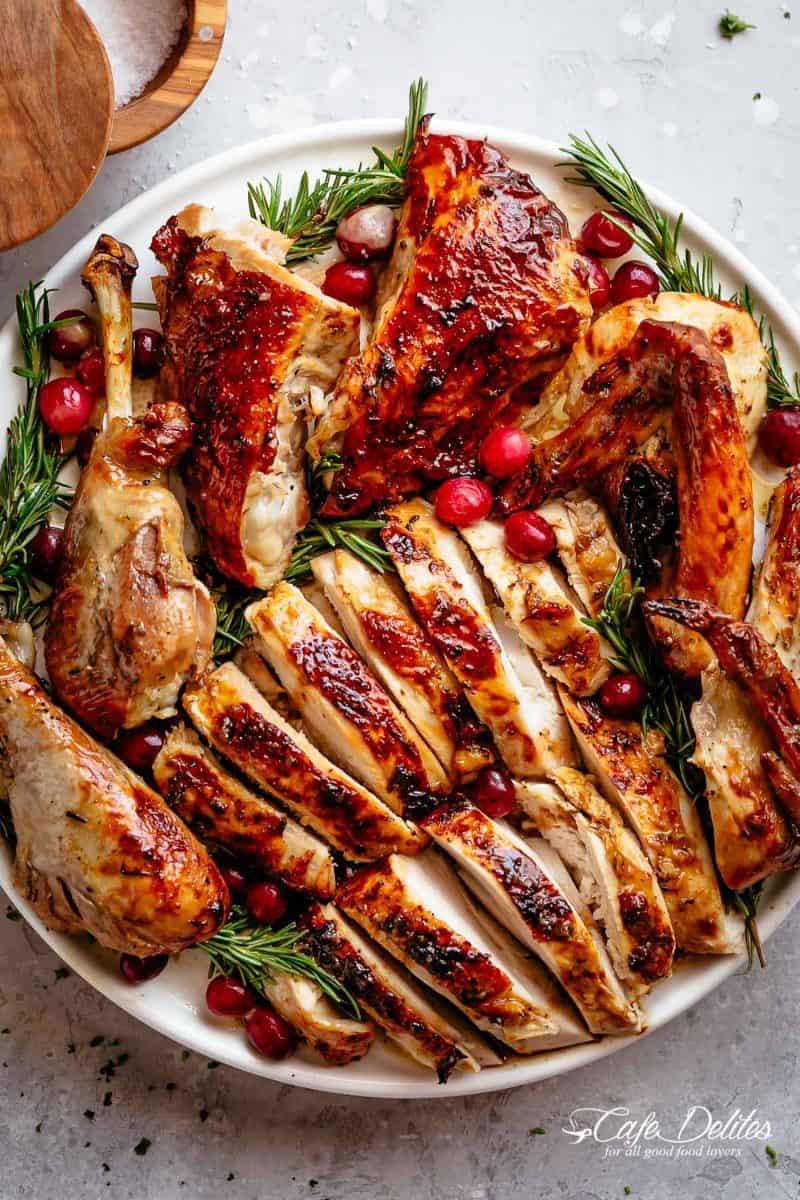 Roast Turkey with Apple Cider Brine from Flavor Mosaic – The secret to this amazing turkey recipe is the Apple Cider Brine and lots of butter. Bringing the turkey in an apple cider brine, then roasting it with plenty of butter and seasoning results in a delectable texture and tons of flavor.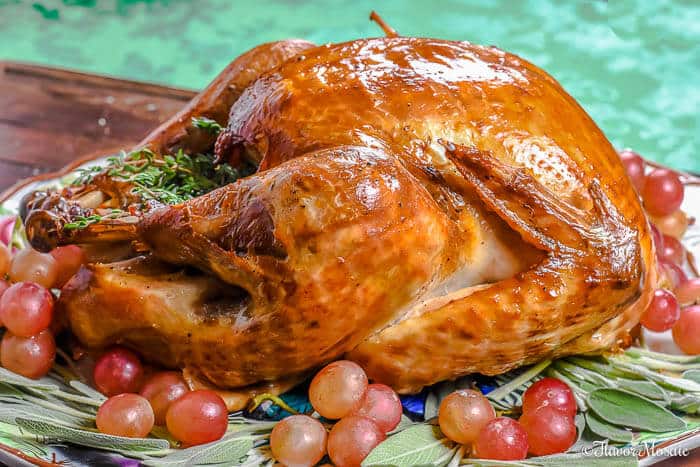 Easy Garlic Herb Oven Roasted Turkey from NeighborFood – A classic approach to your Thanksgiving centerpiece! This recipe provides the ultimate guide to roasting a turkey from start to finish and includes a video!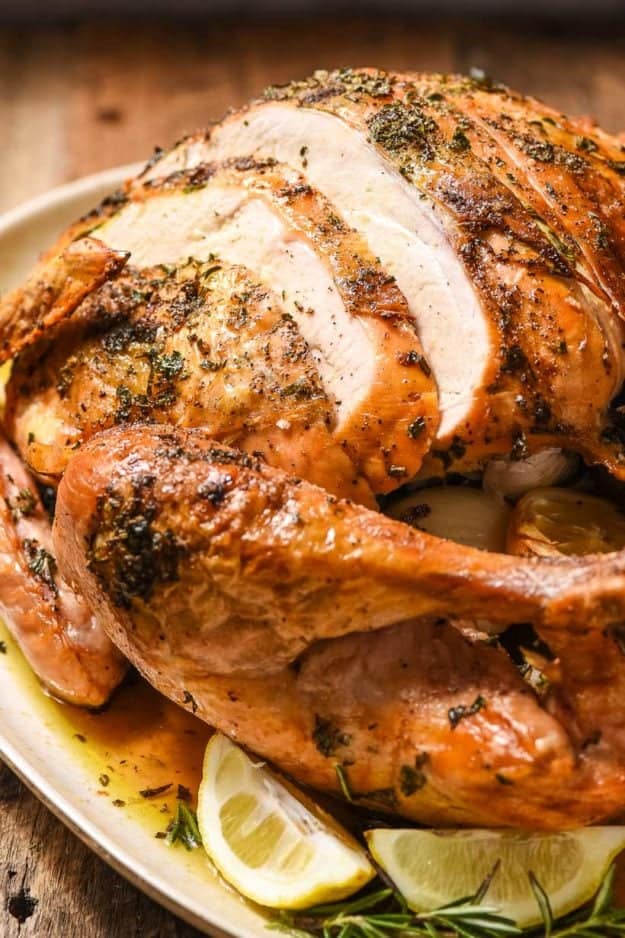 Dry Brined Orange Rosemary Roasted Turkey from Flavor the Moments – Dry Brined Orange Rosemary Roasted Turkey is the easy way to brine your turkey with no messy liquid and the crispiest skin ever!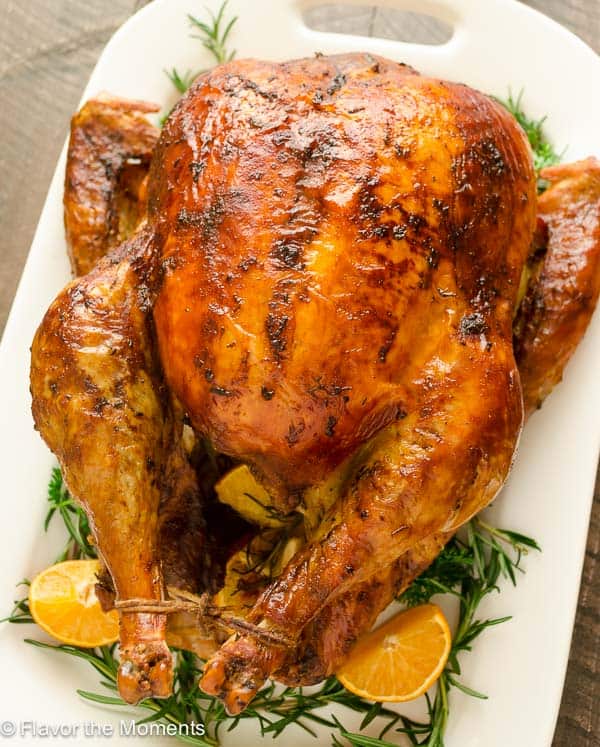 Easy Roast Turkey from Boulder Locavore – No brining or advance prep is needed for this super easy turkey recipe! This recipe post includes everything you need to know about cooking a Thanksgiving turkey, AND includes a unique tip!: flipping the turkey half-way through! Check it out to learn how to make turkey the easy way.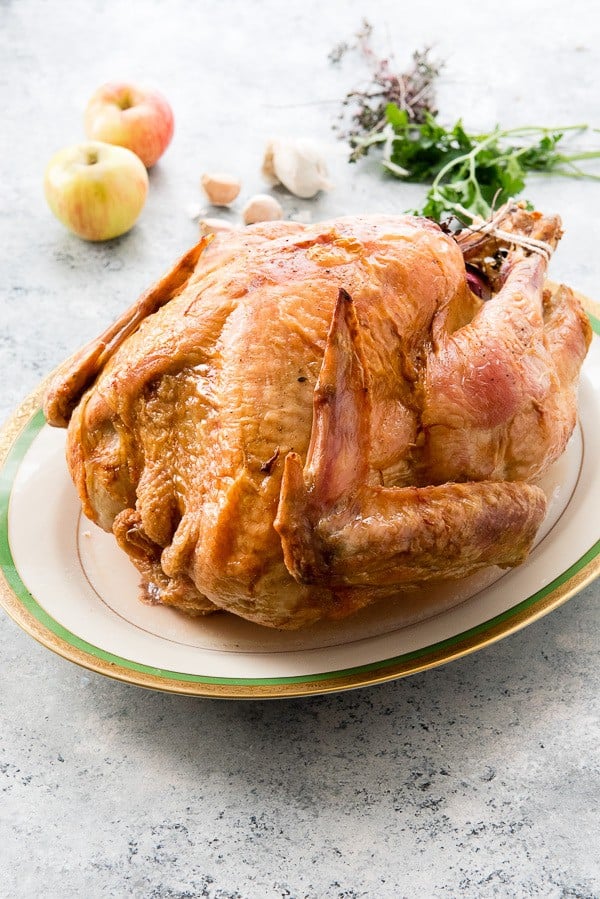 Smoked Thanksgiving Turkey:
Perfect Smoked Turkey Recipe from Salt and Pepper Kitchen – Why smoke a turkey? The main reason to smoke your turkey is it will taste fantastic. And it will taste like a Thanksgiving turkey: the smoky flavor won't overwhelm the bird's natural delicate flavor, and the flesh will retain tenderness moisture much better than with roasting. It's also at least as easy as a roasted bird, and takes little or no more time.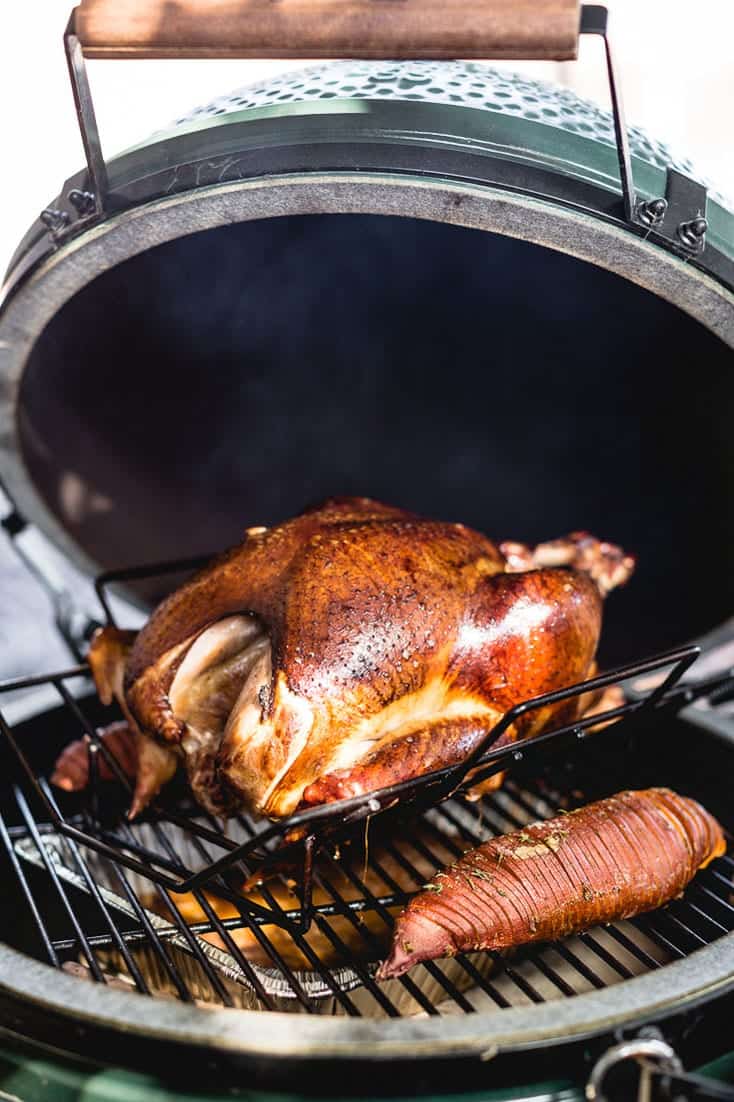 Smoked Turkey Recipe from Dinner at the Zoo – This smoked turkey recipe is a whole turkey that's coated in homemade spice rub then slow smoked to tender and juicy perfection. A super easy and impressive holiday main course that won't take up any oven space!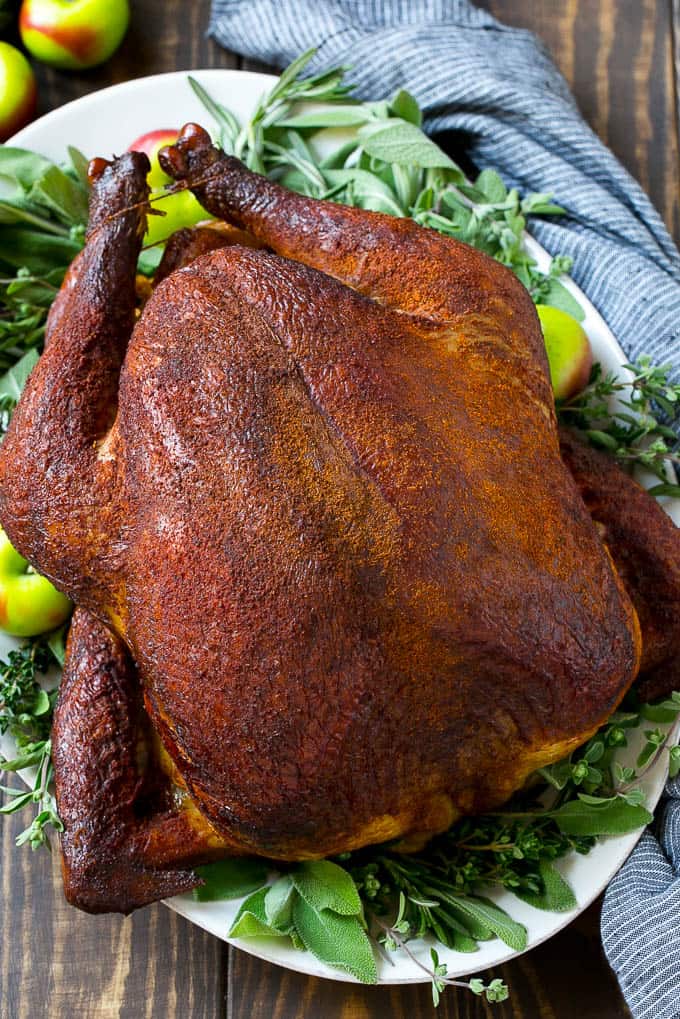 Smoked Turkey Recipe and Dry Rub Recipe from That Guy Who Grills This Smoked Turkey Recipe will be holiday dinner game changer! Smoking turkey on low heat in a smoker results in very deep flavor with the most delectable outer crust!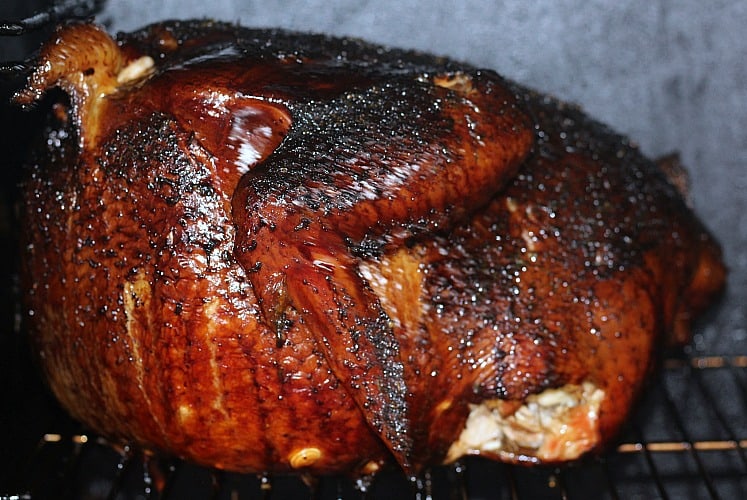 Cajun Smoked Turkey from Out Grilling is loaded with flavor. A great addition to any holiday meal or great to make ahead for sandwiches. Easy to make at home and so much tastier than what you will find at the deli.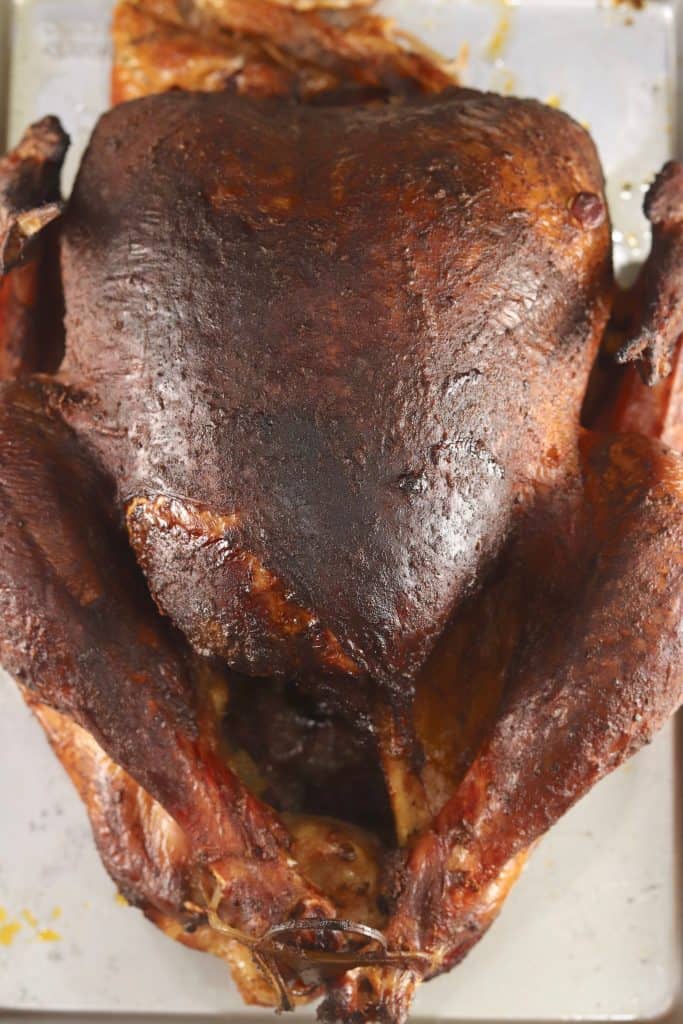 Turkey Breast Only:
Herb Roasted Turkey Breast from Salt and Pepper Kitchen – Roasting just the turkey breast is a delicious and pain-free alternative to cooking a whole turkey. Brining it first guarantees tons of flavor and juicy turkey in every bite!!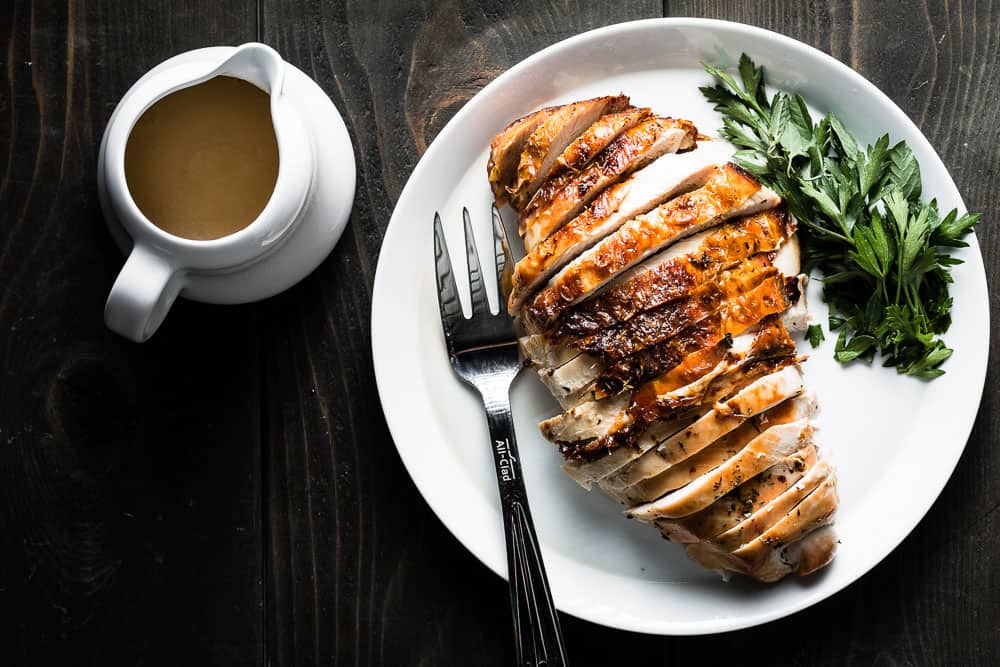 Instant Pot Turkey Breast from Recipes From a Pantry – With this recipe for Instant Pot Turkey Breast with Garlic Butter Gravy you can make moist and juicy turkey and gravy in less than an hour! So easy and so delicious, you will not only want to make this for Thanksgiving but all year long as well.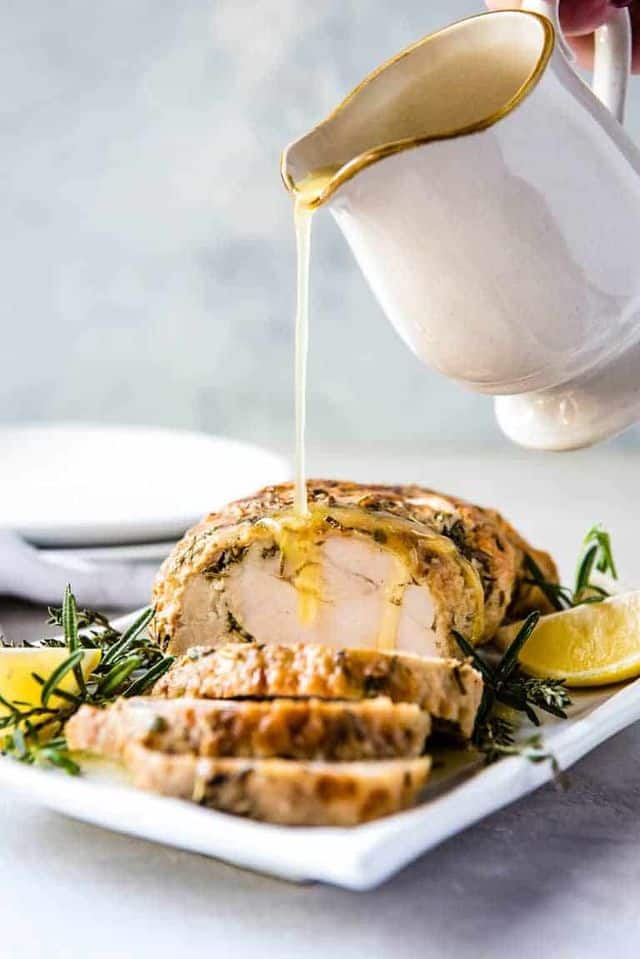 Air Fryer Turkey Breast from Recipes from a Pantry – Air frying a turkey breast results in incredibly moist, juicy turkey, and so easy to make! Perfect for both busy midweek meals and holiday celebrations.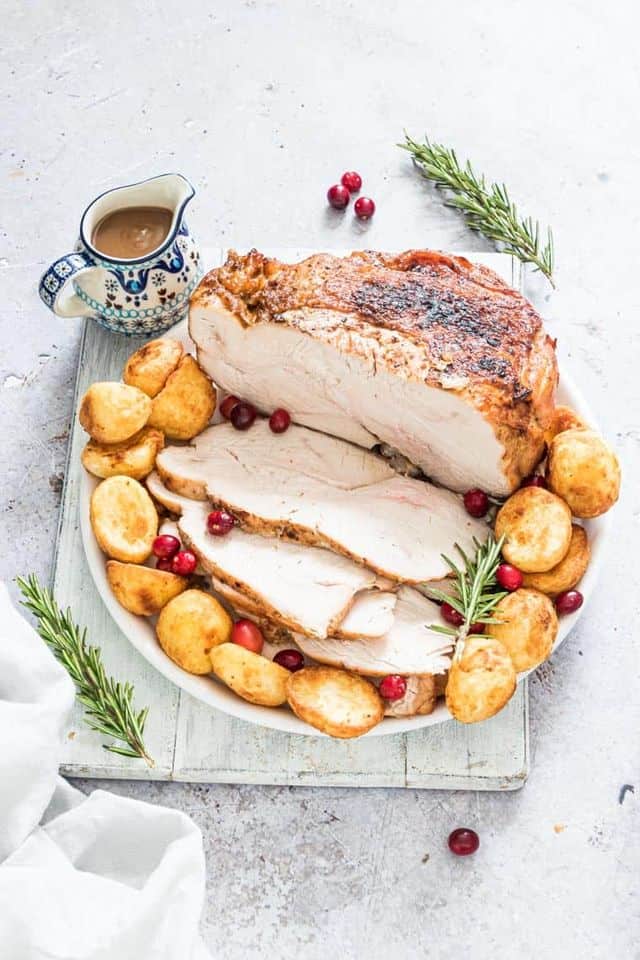 Garlic Herb Maple Roast Turkey from Nutmeg Nanny – This garlic herb maple roast turkey is packed full of flavor with just a touch of maple syrup sweetness. It's the perfect addition to any holiday table!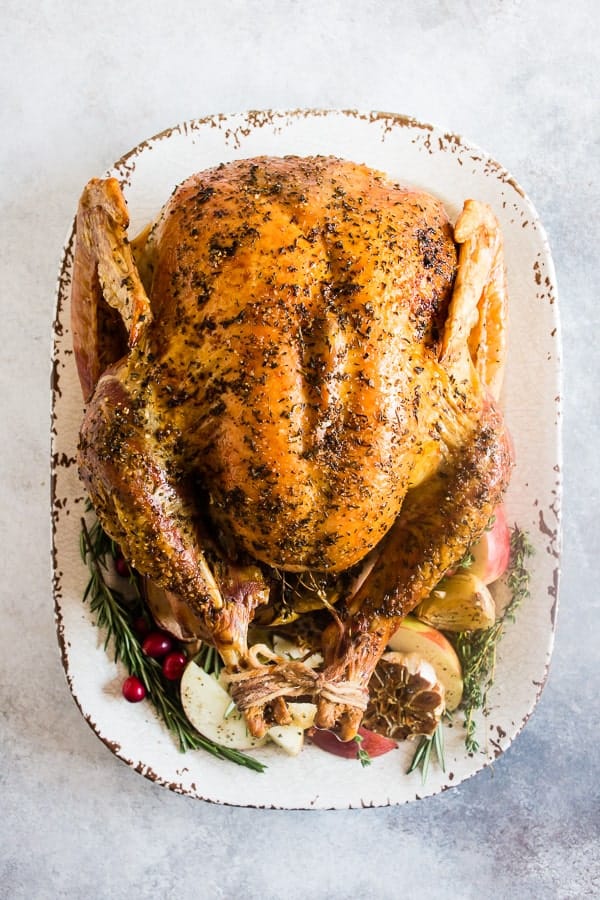 Instant Pot Turkey Breast from Boulder Locavore – Instant Pot Turkey Breast is easy, fast, full of flavor and so juicy! A special trick crisps the skin and makes this a fantastic way to enjoy turkey any time of the year.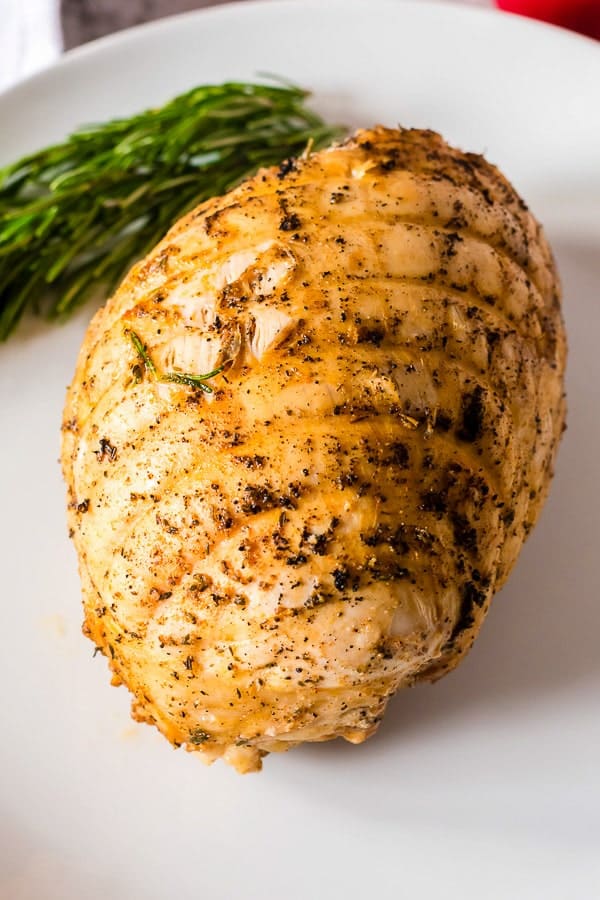 Oven-Roasted Turkey Breast from Wonky Wonderful – This Oven Roasted Turkey Breast Recipe with butter, dried herbs, garlic powder and onion powder is perfect for those small holiday menus. If you're hosting a small Christmas or Thanksgiving Dinner, this butter and herb turkey breast will be perfect!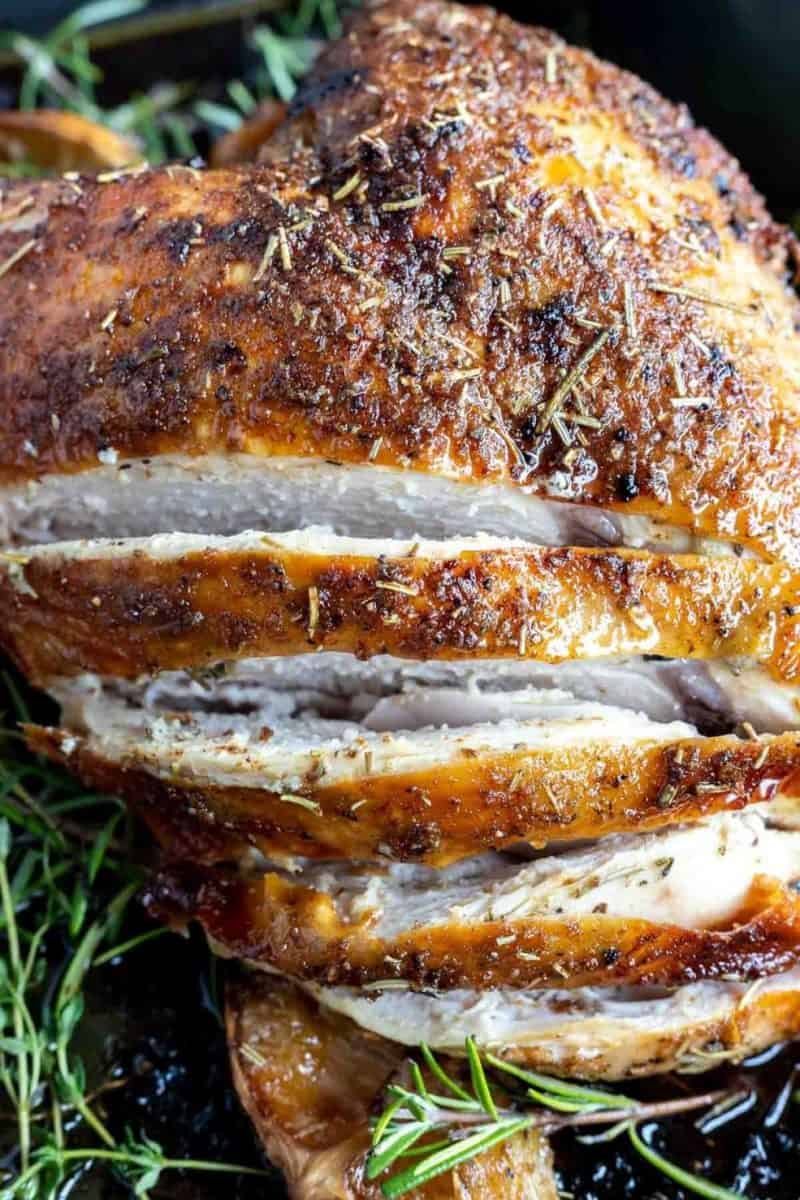 Easy Roast Turkey Breast from Cook Eat Paleo – only a TWO ingredients are needed for this amazing turkey breast recipe! Using duck fat and sea salt, we end up with a flavorful breast that couldn't be any easier to prepare!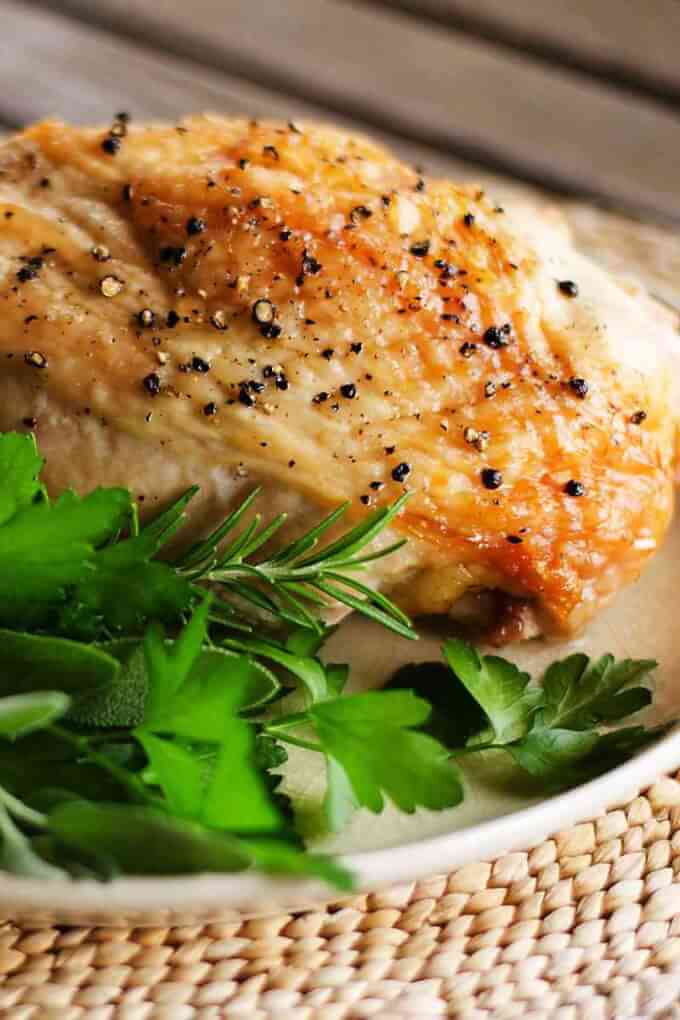 Air Fryer Turkey Breast from Tasty Air Fryer Recipes – Keep this Air Fryer Turkey Breast Recipe handy for the holiday season. This turkey breast cooked in an air fryer is a goof-proof and delicious way to prepare turkey for smaller holiday feasts.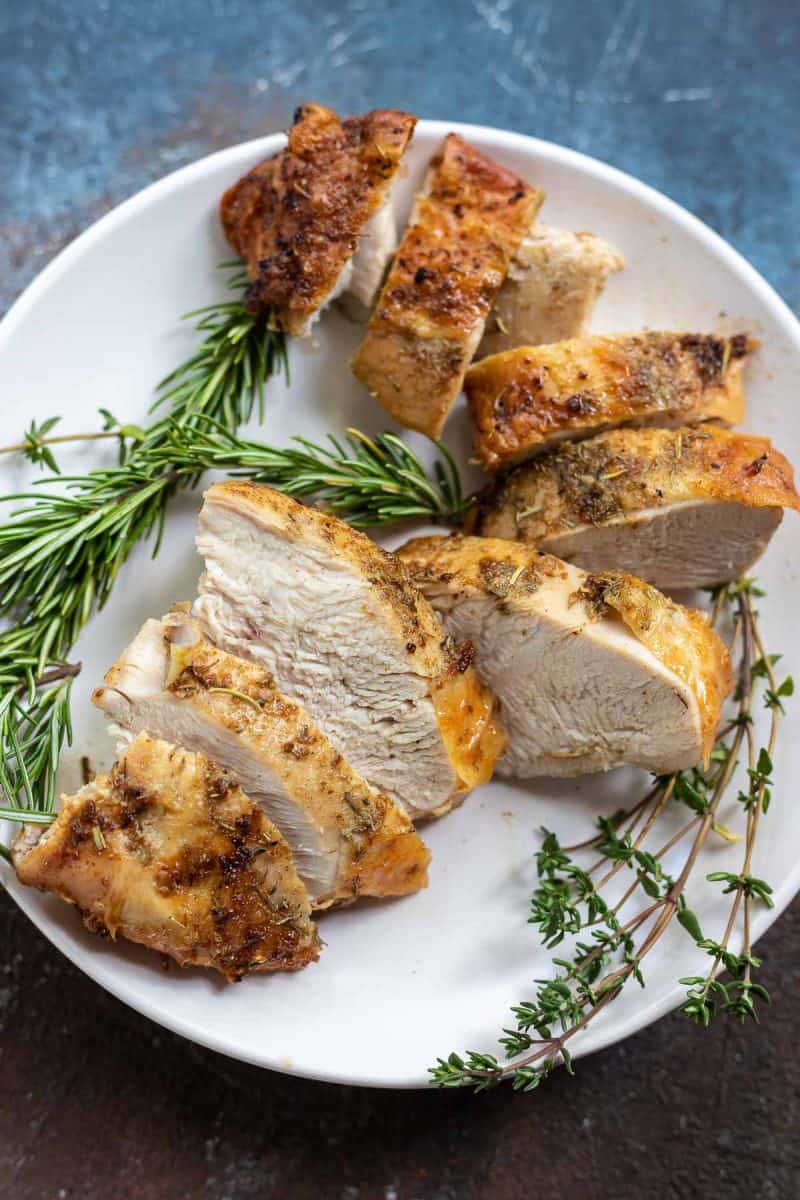 Crock Pot Turkey Breast from Allergy Awesomeness – Thanks to the slow cooker and generous seasonings, this Crock pot Turkey Breast not only makes the main dish for your Thanksgiving, but the amazing juices make the simplest blender onion mushroom gravy.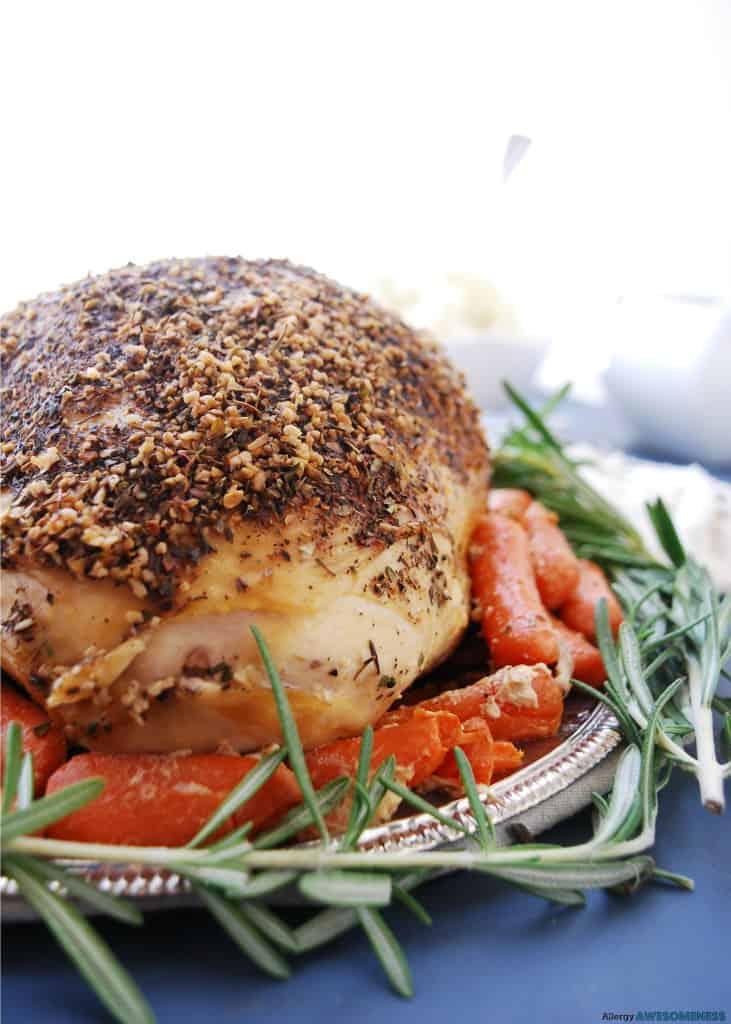 Bacon-Wrapped Turkey Breast with Wild Rice Stuffing and Cranberry Apple Chutney from Iowa Girl Eats – If you are feeding a crowd this year, keep this Bacon-Wrapped Turkey Breast recipe in your back pocket for a festive meal this season. You'll love it!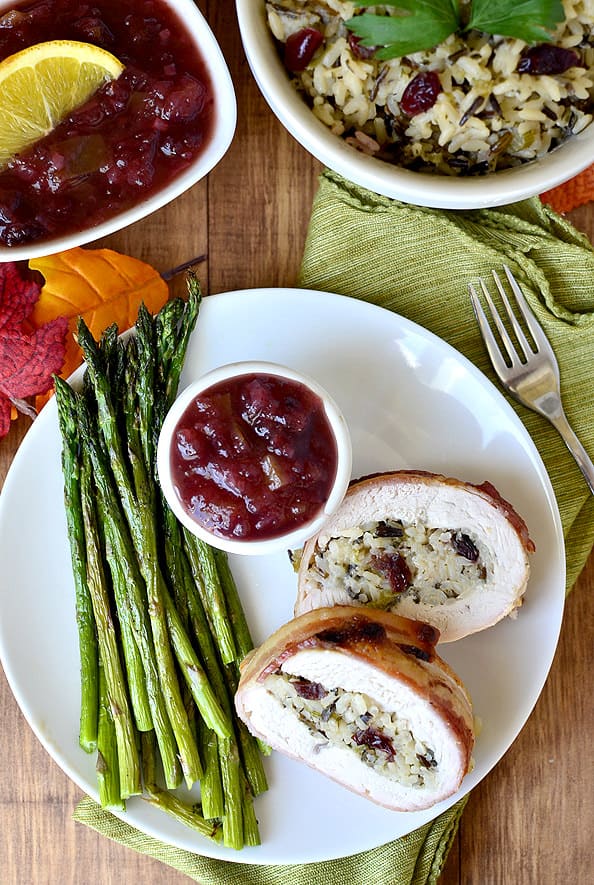 Crock Pot Turkey Breast with Herbs from Mom on Timeout – This Crockpot Turkey Breast recipe is hands down, the most amazing turkey you will ever eat! Juicy, tender, succulent and bursting with flavor, this easy recipe is a necessary addition to your holiday feast!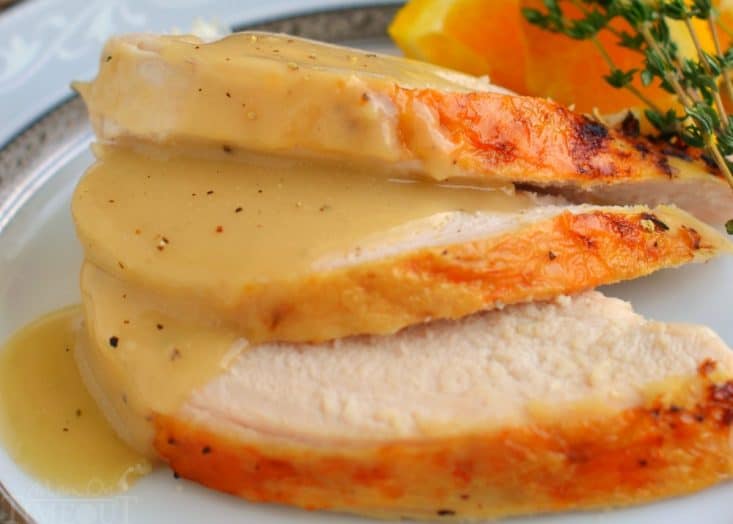 Instant Pot Frozen Turkey Breast from The Blond Cook – So incredibly moist and tender, this Instant Pot Frozen Turkey Breast (and gravy!) is prepared in a fraction of the time than traditional baking.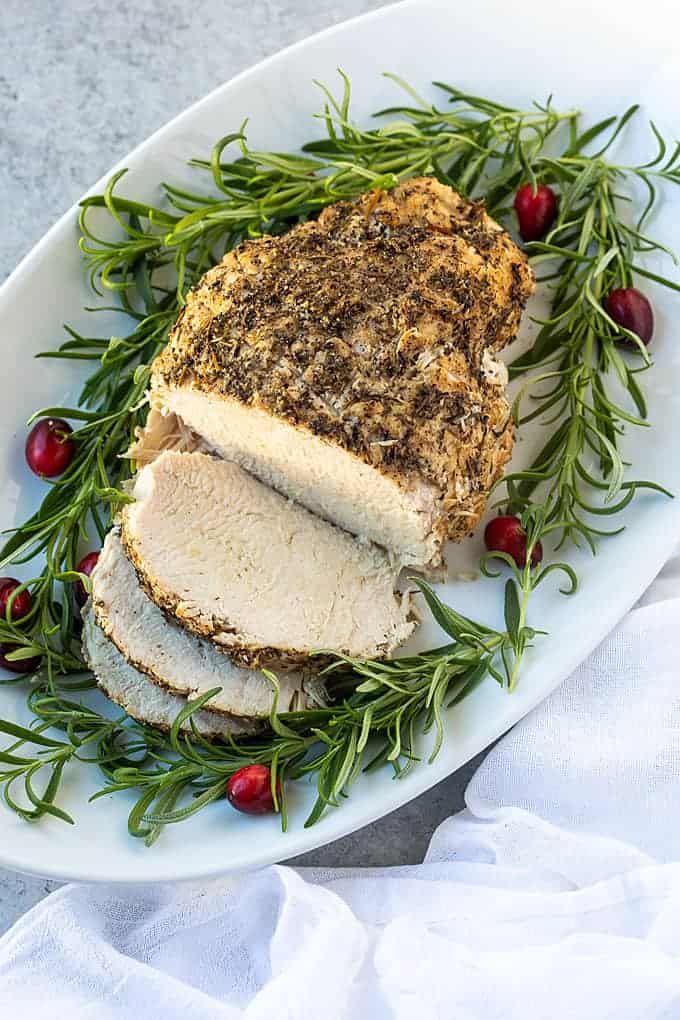 Grilled Brown Sugar Tenderloin from A Farmgirl's Dabbles – This Grilled Turkey Tenderloin with Brown Sugar and Whole Grain Mustard recipe is tender, flavorful, and easy to make! Perfect for Thanksgiving and summer grilling! Plus, turkey tenderloin is lower in fat than dark meat, so it's a great option for those trying to keep it lower in calories or fat.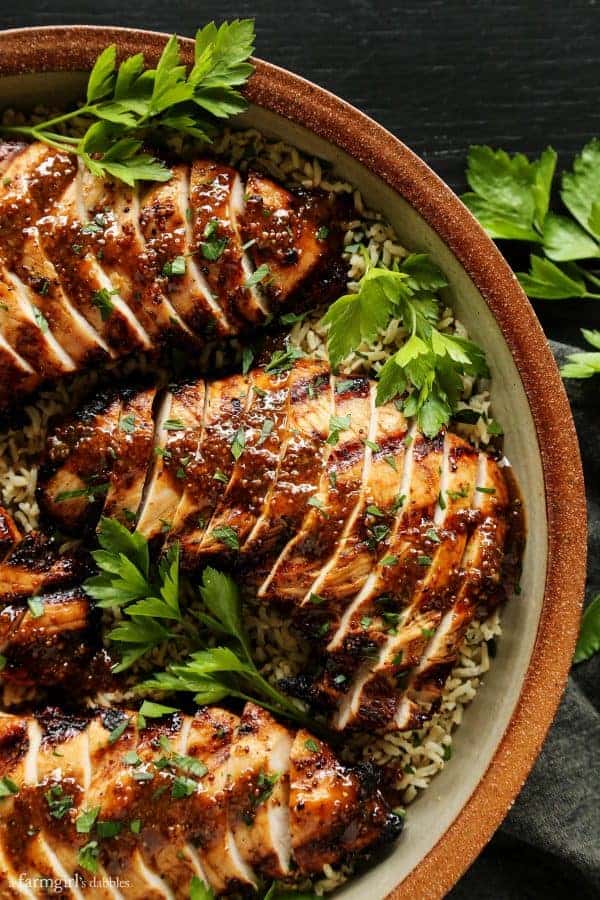 Spatchcooked Turkey:
Perfect Spatchcook Turkey from Flavor the Moments – an easy spatchcock turkey recipe, giving you the most evenly cooked turkey in about an hour and a half!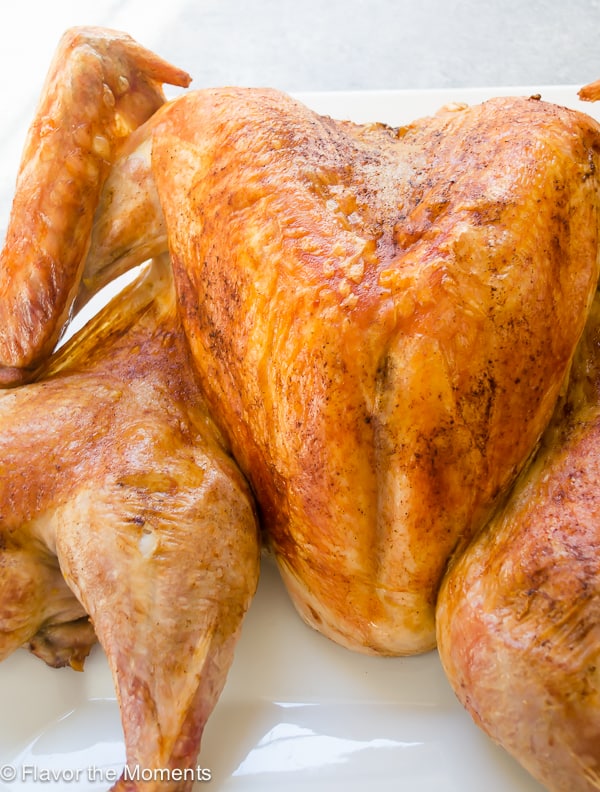 Orange and Sage Spachcooked Turkey from Family Spice – Butterflying a turkey takes a little muscle, but there is plenty of crispy skin in this Orange and Sage Spatchcocked Turkey. And the cooking time gets cut in half, too!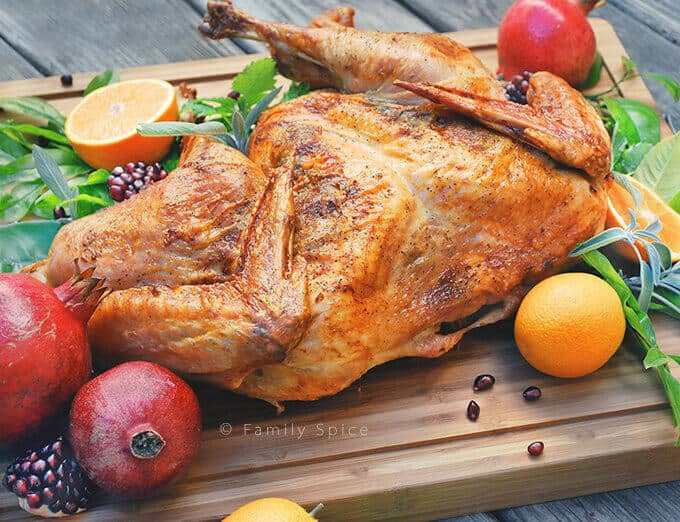 Spatchcook Grilled Turkey with Cider Gravy from Garlic and Zest – Want a delicious, super-moist turkey that doesn't require a 5 gallon brining bucket? This easy dry brine turkey is the answer. Instead of soaking in liquid brine, an easy 4-ingredient turkey rub infuses the bird with flavor and moisture — and all you need is a sheet pan. Plus, this bird cooks in about half the time.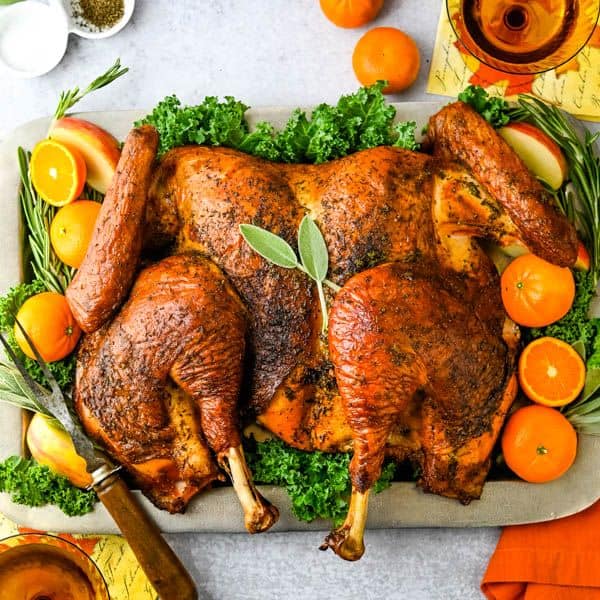 Sous Vide Turkey:
Sous Vide Turkey from Fit Foodie Finds -This sous vide turkey is the most tender and delicious turkey you will ever taste! If you're looking to free up your oven on Thanksgiving, then this is the perfect turkey recipe for you.
Sous Vide Turkey from The Moonlit Kitchen – With sous vide cooking, you get immense control over the exact inner temperature of the meat. Here we slowly heat the meat up to 150 degrees F and let it render there for a while. The wings, legs, and thighs will cook exactly as "hot" as the breasts, ensuring that nothing ends up overcooked.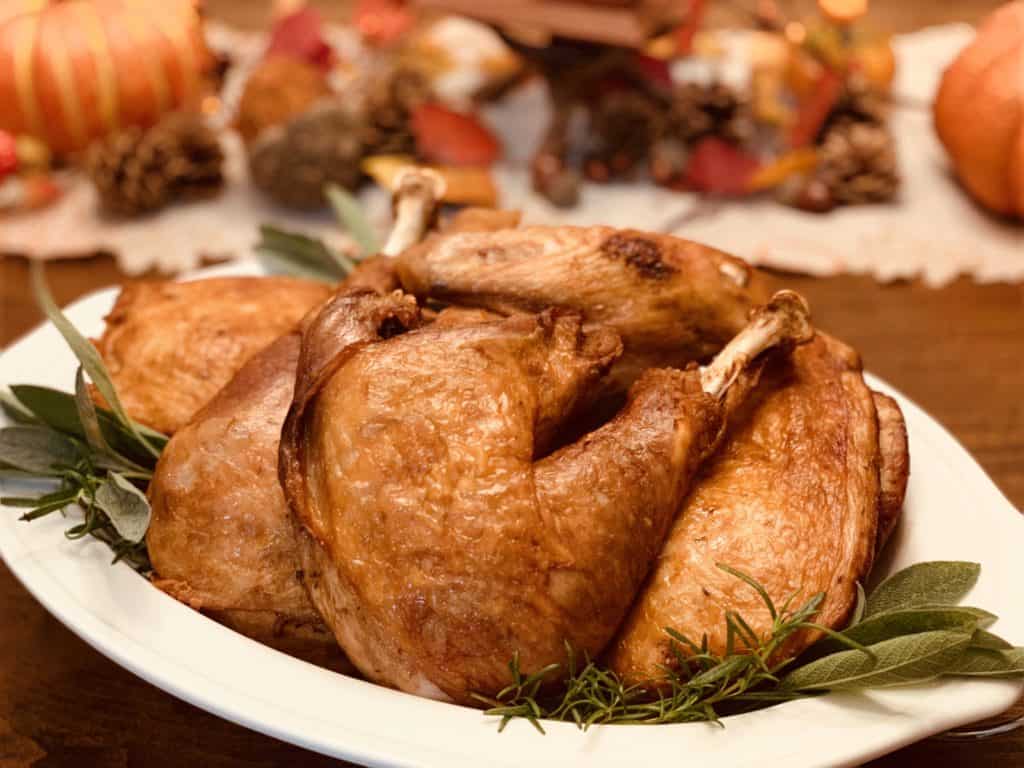 Have an amazing holiday season!