Banana Beet Smoothie packed with antioxidant, vitamins and minerals and only a few basic ingredients required! A healthy way to start the day.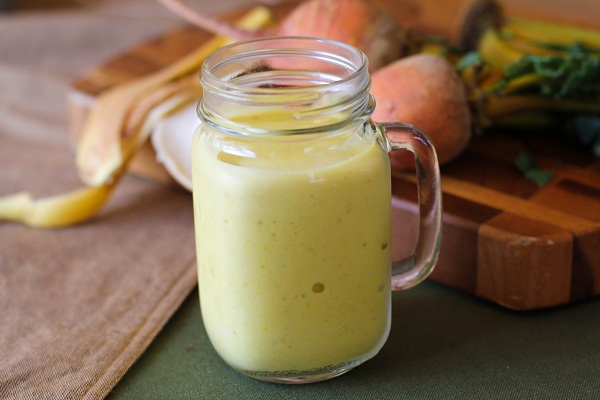 There's an unmistakable pip in my step. I repeat: a pip in my step.
After the long winter, daylight has graced us with its presence, and I just can't sit still. I've got the springtime pip and chances are you have it too.
Have you been blaring your Pandora radio, busting a move while driving, bobbing and weaving through the day like a tween hopped up on skittles and coffee? You're not the only one!
If the extra daylight and warmer weather hasn't been perking you up, this smoothie certainly will. It raises your energy level through the roof! It's full of Vitamins and nutrients…and golden beets, as it turns out.
Golden beets, rolled oats, bananas, almond milk, coconut milk, and a pinch of cinnamon make for a tasty treat and a meal-in-a-glass.
It's alright if you have your reservations regarding a veggie-infused fruit smoothie and it is perfectly fine if you don't do a happy dance over adding oatmeal to a drink, but I promise this is not one of those hold-your-nose-while-you-drink-it smoothies – it's actually good! Creamy, healthful, refreshing. Perfect for kicking your spring fever up another notch.
Quick note: if you get weirded out by textures, simply leave the oats out. I enjoy the texture and flavor (and health benefits!) of oats in my smoothies, but can see how some folks would be averse to the idea.
Put some pip in your step and make yourself a golden beet smoothie! Go get it!
Banana Beet Smoothie
Banana Beet Smoothie with golden beets is packed with antioxidants and fiber!
Instructions
Peel the bananas, cut them in half, put them in a zip-lock bag and stick them in the freezer until completely frozen.

Wash beet well, peel it, and chop it in half.

Bring a small pot of water to a boil.

Add the beet to the boiling water and cook until soft when poked with a fork, about 20 - 25 minutes.

When cooked through, drain the water and allow the beet to cool.

Chop the beet up when it's cool enough to handle, place it in a tupperware container and freeze it for at least 2 hours.

Place all ingredients in a blender and blend until completely smooth. Add extra liquid as necessary – I like my smoothies thick but add almond or coconut milk if necessary.
Nutrition
Serving:
1
of 2
|
Calories:
206
kcal
|
Carbohydrates:
42
g
|
Protein:
4
g
|
Fat:
4
g
|
Fiber:
5
g
|
Sugar:
18
g