Speedy quick and easy vegetarian curry that requires only six ingredients, and 30 minutes of time.
Okay, okay, 8 ingredients if you count oil and salt.
True story: over the weekend, I and a band of curry-loving hooligans went to (what I consider to be) the best Thai food joint in Reno, A Taste of Thai. The way things go down at Thai restaurants in Reno, the spice level scale is 1-5, and you can choose your passion; however, what they don't tell you is you can order off the scale if the 5 is too mild. As we all know, the scale at each restaurant varies, so one man's 5 may be another man's 3 from restaurant to restaurant. I think you see where this is going…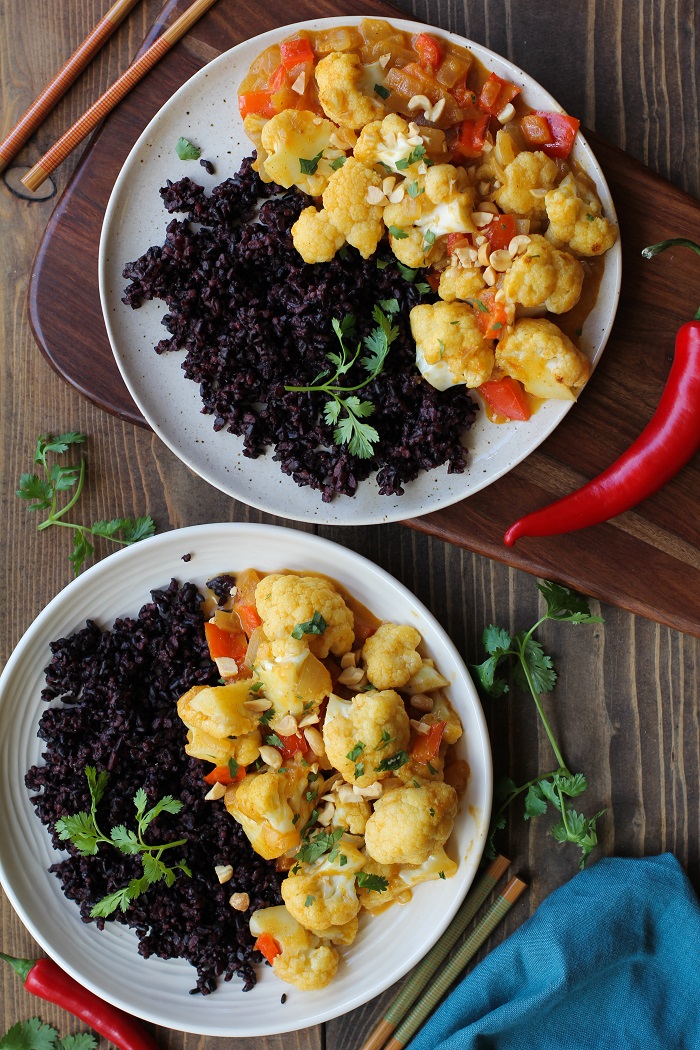 I typically order a 7 wherever I go because girl likes some savage heat. So, true to form, I ordered a 7 on my Panang Curry with chicken at this particular restaurant. The waitress gave me this immediate wide-eyed look like, "Bitch, please…girl, you trippin." <- which should have been a mega sign to recant my 7 and restate a 5, but: rebel. In spite of said look and some follow-up words of caution, I stuck with my 7.
You know how sometimes it takes like half the meal to actually feel the heat? Such was not true in this case. Bite one, and the spice hit my eyeballs, ears, tongue buds, mind, body, and soul like a fuh-lipping freight train. My lips felt like they looked like they had just received a hefty dose of botox (<- does that make a lick of sense?) the remainder of the evening. It hurt just that good.
Moral of the story: when you order a 7 and your waitress gives you a warm, consoling glance like your face just got swiped off in a bear attack, you should probably just order a 5. Maybe even a 3. Ego: in check. Mouth: on fire. Pipes: squeaky clean.
I promise, the curry in this recipe isn't going to make you sweat bullets, blow a gasket, or make you regret every decision you've made up until this point; however, you can totally add heat as desired by adding a habanero or thai chilis to the meal. Those of you who love spice, you know what to do.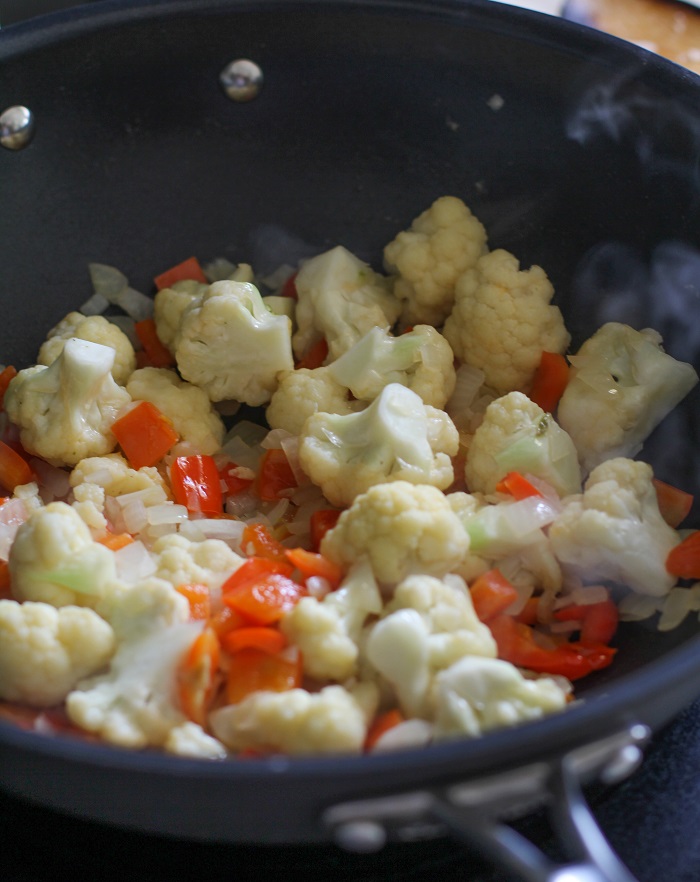 You guys, I could eat this daily. Veggies…coconut milk…aromatic spices? So my jam.
I enjoyed the curry with forbidden (black) rice…don't panic. Don't let it wreck your hair or ruin your day. If you're unfamiliar with forbidden rice, I highly suggest you try it – it has a nutty flavor to it and turns out kinda sticky like white rice. You can also replace it with whatever rice grain you have on-hand, or just walk on the wild side and do the forbidden thing.
Advice & Options for Change-Ups:
I like my veggies al dente, so if you follow the instructions to the T, you should end up with cauliflower that still has a little bit of bite in the center. If you prefer crunchy or softer veggies, alter cook time as necessary.

Need some animal protein? #putaneggonit. You can also add raw chicken or shrimp, just note that doing so will increase the cook time.

I used yellow curry paste for this meal, but you can also use green curry paste or red curry paste. The paste yields a great deal of flavor without having to add a ton of ingredients, and also yields a creamy consistency. I know, I know…making your own curry flavor from scratch by toasting and blending spices is ideal…but when under a time crunch, the paste works like a charm. You can also replace the yellow curry paste with yellow curry powder, just note that the consistency will be a little less creamy and the dish itself won't be quite as flavorful.

Add/substitute vegetables to your heart's desire. I typically add red potato as well, but I left it out of this recipe, as it increases the cook time just a smidgen. Also consider adding garlic, bok choy, hearty leafy greens (such as spinach, kale, or chard), etc.

To prepare this recipe in parts, make the rice ahead of time, and/or chop the veggies ahead of time. Once you start preparing the recipe, it comes together uber quickly, so pre-prep isn't really necessary.

If you like your curry super saucy, you can double the amount of coconut milk and curry paste – this curry doesn't come with an overabundance of sauce.
I added rice vinegar to the recipe because I LOVE a good tang. You can replace the rice vinegar with lime juice, lemon juice, or omit it altogether.
The recipe serves two comfortably, but I legit ate the entire thing to myself…because: volume eater. If you're serving more than two people, double the recipe, and/or add more veggies such as potato.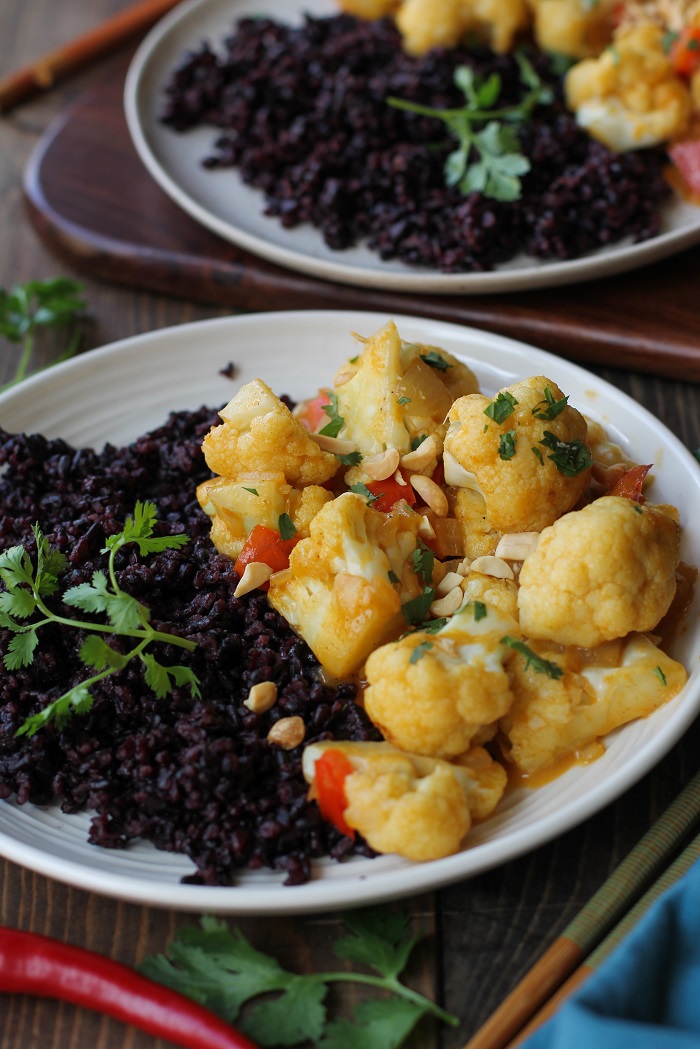 On the daily.
6-Ingredient 30-Minute Yellow Curry
6-Ingredient 30-Minute Yellow Curry is quick and easy to make any night of the week for a simple yet flavorful meatless meal.
Ingredients
3 to 4

tablespoons

yellow curry paste

* to taste

¼

cup

rice vinegar

2

tablespoons

coconut oil or olive oil

1

small yellow onion

finely chopped

1

red bell pepper

chopped

1

medium head cauliflower

chopped into florets
Instructions
Combine the coconut milk, yellow curry paste, and rice vinegar in a small blender. Blend until completely smooth. Set aside until ready to use.

Add the oil, yellow onion, bell pepper, and cauliflower to a large non-stick skillet or wok. Cover, and heat to medium-high. Cook, stirring occasionally, for 8 to 10 minutes. Remove the cover and continue cooking, stirring occasionally, until onion and cauliflower begin to brown, about 8 minutes.

Pour the coconut milk-curry mixture into the skillet and continue cooking until much of the liquid has evaporated, about 3 minutes.
Notes
*You can also use yellow curry powder
Nutrition