30-minute meal, anyone? Vegetarian Pho Soup with hoisin sautéed shiitake mushrooms is quick, easy, and Vietnamese.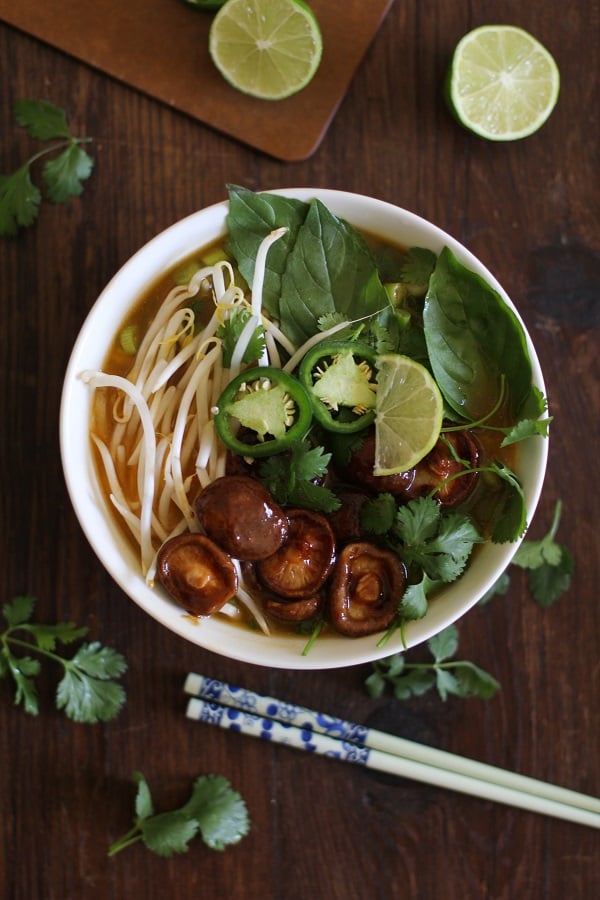 So…this is awkward. Did you know you're supposed to remove the stems from shiitake mushrooms prior to cooking the mushroom caps? Because shiitake mushroom stems are fibrous pieces of leather and they're like eating a stetson?
Yeah, I was absent on shiitake day too.
The first time I made this pho, I pho-ed and photoed including the shiitake stems. Whilst eating the pho, did I stop to think, "wow, these stems are fibrous pieces of leather, and they're like eating a stetson!"? No. Because I eat at such a rate and volume that chewing isn't really something I do.
Nevertheless, I got a tap on the shoulder from Kiersten after all pho was faced and photoed, giving me the stem-ly reminder. What.would.I.do.without.her? I'd continually eat fibrous pieces of stetson-like leather, that's what.
You don't need to twist my arm to convince me to eat massive quantities of Vietnamese food, so after the stem-ly reminder, I happily pho-ed and photoed again. Sans stems. The leathery bits went into the rubbish bin.
Have you pho-ed before? If the answer is no, I'm going to hop on my high horse and corral you into the pho corner until you pho.
Are you sick of the word, "pho" yet? Have you been pronouncing it, "phoh" this entire time in your head? Me too. But it should be "fuh," so you may want to go back and re-read this whole post using the correct pronunciation in order to be culturally mindful. Just pho for thought.
30-Minute Vegetarian Pho Soup will wriggle its way into your heart and home. You can make it after work in a split second. And if you've never sautéed stem-less shiitakes in hoisin sauce, you had better do so, or else: corral.
Get your pho while the gettin's good! Take a cruise over to Oh My Veggies to get my recipe for 30-Minute Vegetarian Pho Soup!