30-Minute Thai Red Curry with Fish made super quick and easy in your skillet! Serve it up with spaghetti squash, zucchini noodles, cauliflower rice or regular rice for an epic meal.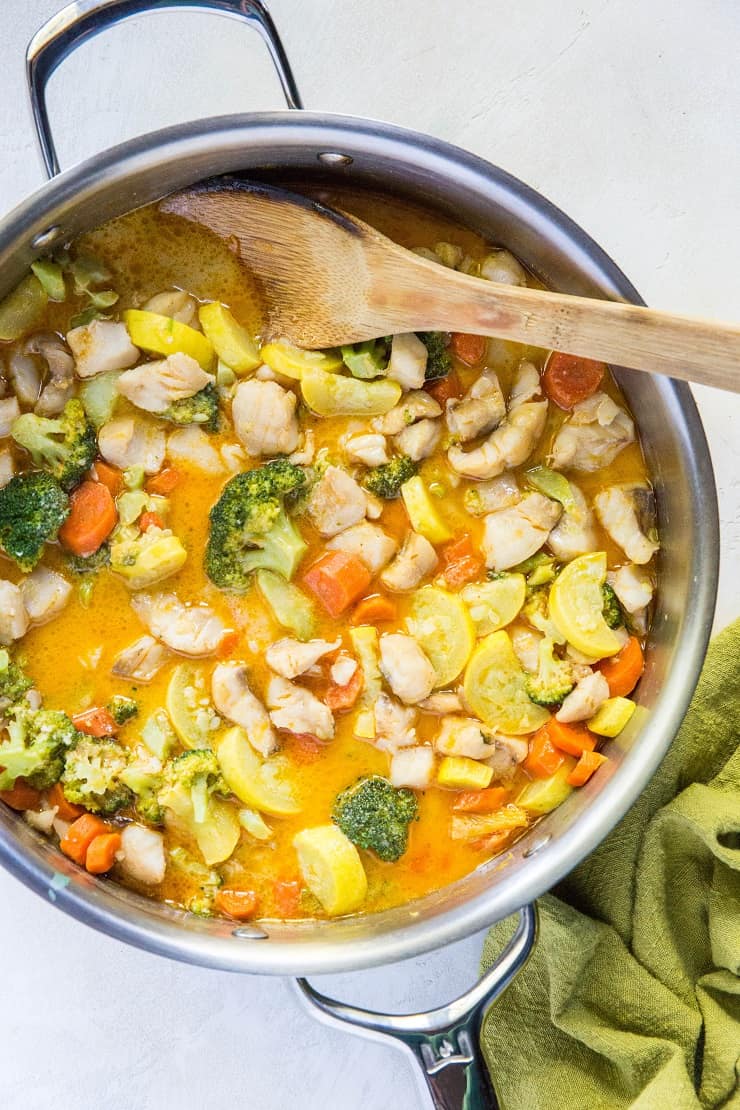 I generally get a massive hankering for Thai curry at least once a week. While I have no qualms about ordering takeout, it recently dawned on me that I can whip out a mean Thai curry in the same amount of time (or less) it takes to order and pick up takeout.
Because I generally have curry essentials on hand (canned coconut milk, curry paste, ginger, fresh vegetables, and a stock of animal protein), I turned over a new leaf to minimize my takeout obsession, and simply make the amazing meal at home. In less than 30 minutes. With super squeaky clean ingredients.
What I love about this Thai Red Curry with Fish, aside from the fact that it's DELICIOUS is I know exactly what goes into it. It is soy-free, refined sugar-free, and gluten-free. I use organic produce and quality animal protein when I cook at home, which makes the meal ultra easy on the ol' GI system.
Fish and seafood tend to be my protein of choice, but I also make this exact recipe with chicken often. I can also enjoy it when spaghetti squash or zucchini noodles instead of rice if I'm feeling a lower carb situation.
Plus, whipping up a healthful, clean, yet insanely flavorful meal is the ultimate win. And we all need wins from time to time, right? RIGHT!
Let's win this!
How to Make 30-Minute Thai Red Curry with Fish:
Begin by preparing the curry sauce. Add the coconut milk, broth, red curry paste, grated ginger, and fish sauce to a large deep skillet. Heat over medium-high and bring to a full boil. Whisk occasionally and allow sauce to cook about 5 minutes.
While sauce is cooking, chop the vegetables and fish.
Add the remaining ingredients (chopped carrots, broccoli, yellow squash, cod, bamboo shoots, and sea salt) to the skillet. Stir well and cover.
Cook, stirring occasionally, until vegetables have reached desired done-ness, about 10 minutes.
Remove cover and allow curry to cook an additional 5 to 8 minutes to thicken.
Taste curry for flavor. Add more curry paste, sea salt, and/or some lime juice or sriracha to taste.
Serve curry over cooked spaghetti squash, zucchini noodles, or steamed rice.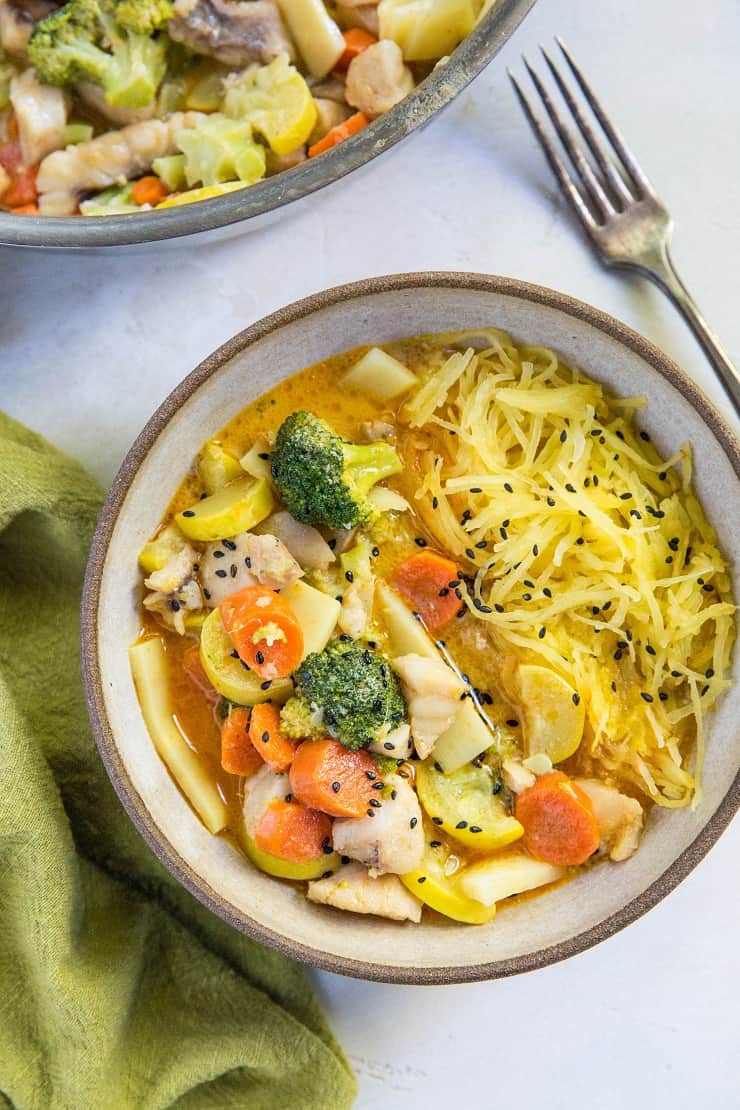 Recipe Adaptations:
Replace red curry paste with green curry paste or 2 tablespoons of yellow curry powder in order to make green curry or yellow curry.

Replace the cod with salmon, halibut, chicken, pork, or shrimp.

Swap out any of the vegetables for veggies of choice. Cauliflower, zucchini, potato, bell pepper, or eggplant work great.
If you like this recipe, you may also enjoy:
That curry in a hurry life…and GO!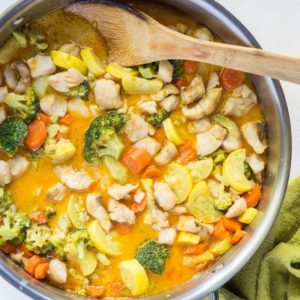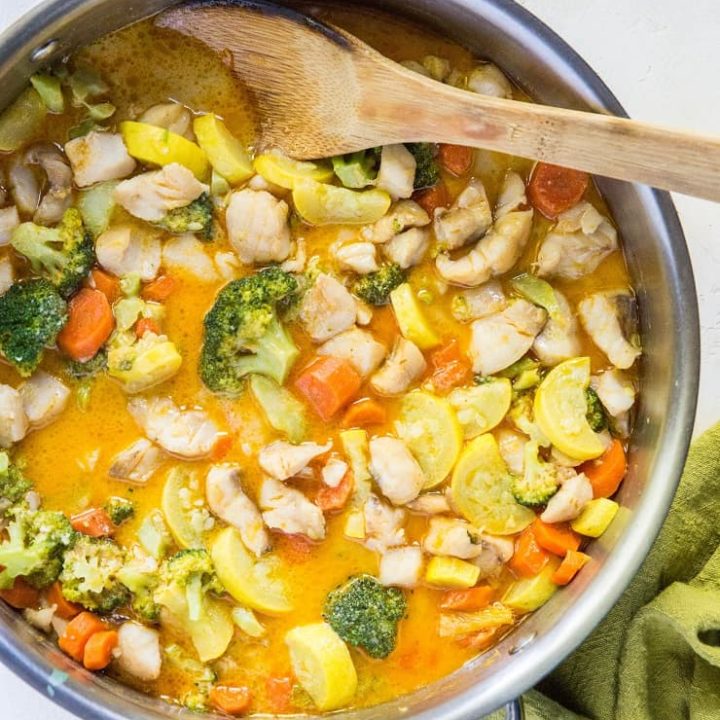 30-Minute Thai Red Curry with Fish
A quick and easy Thai red curry recipe with vegetables and fish
Print
Ingredients
1

(15-ounce) can

full-fat coconut milk

1

cup

chicken broth

2

Tbsp

red curry paste

1

(1-inch) nub

ginger

peeled

2

Tbsp

fish sauce

2

large

carrots

peeled and chopped

1

large crown

broccoli

chopped

1

medium

yellow squash

chopped

1

(8-ounce) can

bamboo shoots

optional

1

to 1 1/2 pounds

cod

or fish of choice, chopped

sea salt

to taste
Instructions
Add the coconut milk, broth, red curry paste, grated ginger, and fish sauce to a large deep skillet. Heat over medium-high and bring to a full boil. Whisk occasionally and allow sauce to cook about 5 minutes. While sauce is cooking, chop the vegetables and fish.

Add the remaining ingredients (chopped carrots, broccoli, yellow squash, cod, bamboo shoots, and sea salt) to the skillet. Stir well and cover. Cook, stirring occasionally, until vegetables have reached desired done-ness, about 10 minutes.

Remove cover and allow curry to cook an additional 5 to 8 minutes to thicken.

Taste curry for flavor. Add more curry paste, sea salt, and/or some lime juice or sriracha to taste.

Serve with choice of vegetable noodles, vegetable rice, or steamed rice