I was asked to participate in the #soyinspired campaign as a member of the Healthy Aperture Blogger Network and PastaFits. I was compensated for my time, and as always, all opinions are my own.
Do you all remember the Muffin Top Movement circa 2003ish, during which muffin tops were the thing? No one cared about the muffin bottoms, and you could even buy a muffin top pan so you could cut to the chase and save yourself the heeeeeeadache of the dreeeeeeadful muffin bottoms?
Yeah…
I'm going to go ahead and say we had it all wrong.
Muffin bottoms are where it's at.
Muffin stems, if you will
Particularly true with these muffins. Especially true with these muffins.
Probably because all the chocolate chips congregate in the midsection (upper stem if you will) of the muff, creating a pocket of melty dark chocolate goo surrounded by pumpkin spice fluff. It's kind of like your tastebuds are touring the lost city of Atlantis on an airboat manned by talking spider monkeys on a river populated by finned unicorns with Channing Tatum as your tour guide and Elton John featuring Eric Clapton playing in the background. It's.just.that.stimulating.
What were we talking about?
Ah yes, muffin bottoms. And how they're dope.
As you can imagine, the recipe development portion of this venture was a real hoot. It involved what I affectionately refer to as the No Batter Left Behind Act, a rubber spatula, and my face. I think you know where I'm going with this.
…It also involved no less than 36 muffins (because: recipe testing), and my face some more. And when I say, "36 muffins," I should clarify that the bottom portion of 18 of said muffins magically disappeared mere seconds after the muffins saw the light of day, because as previously stated, the bottoms are devilish little tempters, and as also previously stated: recipe testing…via my face. Make sense? Muffin top, anyone? I've got 18 to spare.
Anyhoo, you make these muffins in a blender. Shocked? I know, it's just the darndest. But don't put the chocolate chips in the blender with all the ingredients lest you end up with flecked muffins versus studly studs of chocolate goo. The stud muffins are what we're shooting for. Buh dum ching.
Let's talk ingredients:
I made these grain-free using coconut flour…

refined sugar-free using honey…

dairy-free using soy milk…

stoked them out with fresh ginger…

dark chocolate chips, don't panic!
As you know, I try to limit my dairy intake, and use non-dairy milk for all of my bakeables. In participation of the #SoyInspired campaign, I made these muffins with soy milk – have you heard of it? Rumor has it, soy is an excellent source of lean, healthy, no-cholesterol protein, and is a great option for keeping recipes dairy-free for those who are sensitive to dairy. I often steam up soy milk using my milk frother and make soy lattes, have been known to pour it into my morning oatmeal for some added creaminess, and as you can see, I'm fond of it in my muffins (and other baked goods) as well.
Learn more about soy from the Soy Foods Council, and/or follow along the #SoyInspired campaign on Pinterest, Twitter, and Facebook.
A side note about muffin cups – Now, I wouldn't consider myself to be a baker by trade, but what I noticed with these muffins was the foil cups worked better than the paper ones. The muffins stuck a little to the paper cups, which didn't stop me from scraping the papers clean, but for easier access to the muff, I would recommend using the foil cups. In the words of Tay Sway, don't say I didn't say I didn't warn ya.
Paleo Chocolate Chip Pumpkin Muffins – blowing muffin tops out of the water since 2015.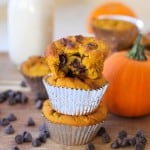 Grain-Free Chocolate Chip Pumpkin Muffins
Print
Ingredients
4

eggs

1

cup

pumpkin puree

3/4

cup

unsweetened soy milk

1/3

cup

coconut oil

1/2

cup

honey or pure maple syrup

2

teaspoons

pure vanilla extract

½

cup

+ 2 tablespoons coconut flour

3/4

cup

tapioca flour

½

teaspoon

sea salt

2

teaspoons

ground cinnamon

¼

teaspoon

allspice

1

teaspoon

fresh ginger

peeled and grated

1/2

cup

dark chocolate chips
Instructions
Preheat the oven to 375 degrees F and line a 12-hole muffin tray with foil liners.

Add all of the ingredients except for the chocolate chips to a blender or food processor. Blend until completely smooth. Stir in the chocolate chips.

Scoop pumpkin muffin batter into the lined muffin tray, filling the holes ¾ of the way up.

Bake on the center rack for 40 to 50 minutes, or until muffins are golden-brown around the edges and have set up.

Allow muffins to cool for at least 30 minutes before unwrapping and devouring them.
Recipe Notes
NOTE: If you're allergic to soy or need to make this recipe paleo, you can use unsweetened almond milk, coconut milk, or cashew milk in place of soy milk
More Healthy Pumpkin Treats: