Sometimes when you have a new recipe idea, it just does not pan out when put into practice. The stars don't align and what you thought would be an excellent recipe turns out to be just the opposite…
I am pleased to say that was not the case for these deviled eggs.  I was amazed at their creamy and sweet flavor with just the right amount of kick. Garrett and I went bonkers over these deviled eggs as though they were dessert, even though neither one of us were huge fans of deviled eggs prior to making these.  So if you are looking for Easter brunch ideas and can't stand mayonnaise like me, this recipe is your new best bud.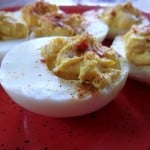 Curried Deviled Eggs
Print
Ingredients
6

eggs

3

tablespoons

plain Greek yogurt

¾

tablespoon

good quality yellow curry powder

Salt to taste

1/8

teaspoon

red pepper flakes

optional

Parprika and turmeric for garnish
Instructions
In a large pot, place the eggs and fill with water so that eggs are well covered. Cover the pot, heat on high and bring to a boil. Boil eggs for 12 to 15 minutes.

Once eggs are finished, transfer them immediately to an ice water bath. This makes it easier to peel the eggs when they are cool.

When eggs have cooled, peel them and cut them in half lengthwise. Scoop the egg yolks into a small mixing bowl and leave the egg whites on a serving plate.

Add Greek yogurt, curry powder, salt and red pepper flakes and stir until the yolks are creamy. Scoop heaping spoonfuls of the yolk mixture back into the egg whites. Garnish with paprika, turmeric and more red pepper flakes.