Never had I ever…
…made ice cream.  Until I made this
My basil plant has been sitting untouched the ENTIRE summer (with the exception of Sweetpea plucking off a leaf or two to put on a burger…no one else I know does this).
What to do with a whole basil plant…what to do with a whole basil plant… You said it in your brain, didn't you? You said, "pesto." I said, "pesto," too…but no one in my house (myself included) jumps out of their chair at pesto.
Everyone in my house (myself included) jumps out of their chair at ice cream. And even better: coconut milk ice cream sweetened naturally with honey. That's something to jump over; that's a use for a whole basil plant.
Had I not made this ice cream, I maybe possibly would have thought basil ice cream sounded strange….too earthy…too herby….too….basil. It's not…none of it. I shake my head at basil ice cream judgement. I nod my head while I strongly urge you to make this exact recipe…you know, if making ice cream is your thing.  Don't let your basil plant sit unattended, un-pruned; and if you don't have a basil plant, the grocery store has basil for ya.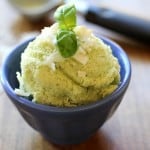 Basil Coconut Ice Cream
Print
Instructions
Heat coconut milk and cream on the stove over medium high in a saucepan until hot and barely bubbling (bring to a low boil). Add honey and salt; mix to dissolve. Add basil leaves, stir and allow them to wilt in the mixture; remove saucepan from heat. Pour mixture into a blender and emulsify until completely creamy and no chunks of basil are visible (if this is not possible in your blender you can strain out the basil pieces with a fine wire strainer/colander if you would like or you can leave the basil pieces in the mixture). Allow mixture to cool 20 minutes; this allows the flavors to infuse. Pour mixture in a large container and refrigerate a few hours until cool.

If using an ice cream maker, follow the instructions on your ice cream maker accordingly (the one I used is the SIMAC Il Gilataio 1600 "The Ice Cream Boy," which sits on the counter...honestly, I'm not sure if these models are still on the market. You just plug it in, turn it on "chill" mode, allow the built-in bowl to get cool, then pour in the ice cream mixture. You then turn on the "churn" setting and turn the timer on for 25 minutes. It works its magic and you have wonderful ice cream by the time dinner is consumed).

You can also try this without an ice cream maker by putting the mixture in a freezer-safe container and stirring with a spoon every hour for roughly 8 – 10 hours. If you try this without an ice cream maker, small ice crystals will form and the consistency will not be as creamy as you'd get when using an ice cream maker, but it will still be damn delicious!
Recipe Notes
Side note: We had leftovers when I made this and we froze them in a Tupperware container. The ice cream gets to be frozen solid so when you go to eat the leftovers, make sure you thaw the ice cream at least 10 minutes before attempting to dig in. Side note #2: Depending on the size of your ice cream maker, you may have to run two batches of ice cream...this just gives you ample reason to eat ice cream multiple nights in a row.?