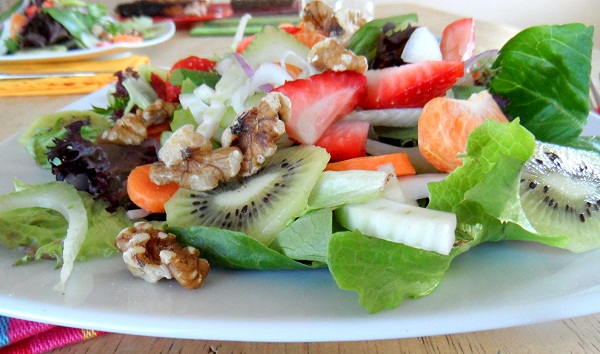 Not that this is related whatsoever to spring veggies and fruit, but a great brew and excellent live music puts an ear reaching grin on my face.  Are you with me? One of my favorite groups, Yonder Mountain String Band is coming to South Lake Tahoe this evening and one of my best friends is visiting all the way from North Carolina. A bluegrass girl, a bluegrass band, some brew and I'm sittin pretty.   As I sip on my Moose Drool (Big Sky Brewing Co. brown ale) and write this post, I'm taking a moment to let my luck wash over me.
That bluegrass girl I was just telling you about from North Carolina (Sandi) spent the whole summer with me in the car as we drove circles and lines all over the good ol U S of A, experiencing some of the country's finest microbrews, most beautiful scenery, meeting all kinds of interesting folk and by golly consumed some of the best homemade ice cream over a 10,000-mile stretch.  Since Sandi flew her bluegrass self to the west coast, we have already made two versions of southern style banana pudding (one of them we healthified, of course), which you may be fortunate enough to see in a future post.  Everyone should have a friend like Sandi. The Sandis of the world make life rich, fun, and give you the much needed breath of fresh air you didn't even know you were craving.
As I revel in my great fortune, I do have something simple, fresh and fulfilling to share with you – a spring green salad, full of this season's in-seasons and enough vitamins to fuel your bluegrass endeavors. So fire up your internet radio, crack open a brew, smile when it makes that airy fizz sound and sing as loud as you can to the music that makes everything more colorful.
Ingredients:
For the salad
3 ounces (1/2 a bag) spring greens
¼ red onion, very thinly sliced
1 large carrot, peeled and chopped
1 small bulb fennel, thinly sliced
2 large ripe kiwis, peeled and chopped
1 mandarin, peeled and separated into pieces
2 large ripe strawberries, stems removed and chopped
½ cup walnuts
For the vinaigrette
¼ cup walnut oil
1/3 cup apple cider vinegar
1 teaspoon honey
½ teaspoon dried oregano
½ teaspoon dried basil
1/8 teaspoon ground ginger
2 teaspoons whole grain mustard
Makes 2 large salads.
To Make:
Place all salad ingredients in a large mixing bowl. In a blender or food processor, add all of the vinaigrette ingredients.  Blend on a high setting until all ingredients are mixed thoroughly and appear creamy.  Add desired amount of vinaigrette to the veggies and fruit.
Toss the salad until there is an even coat of vinaigrette over the veggies and fruit. Serve in heaping portions with walnuts on top.