Cider and Bourbon-spiked creamy pumpkin risotto with prosciutto and goat cheese. This hearty side dish will feed a crowd and wow your taste buds!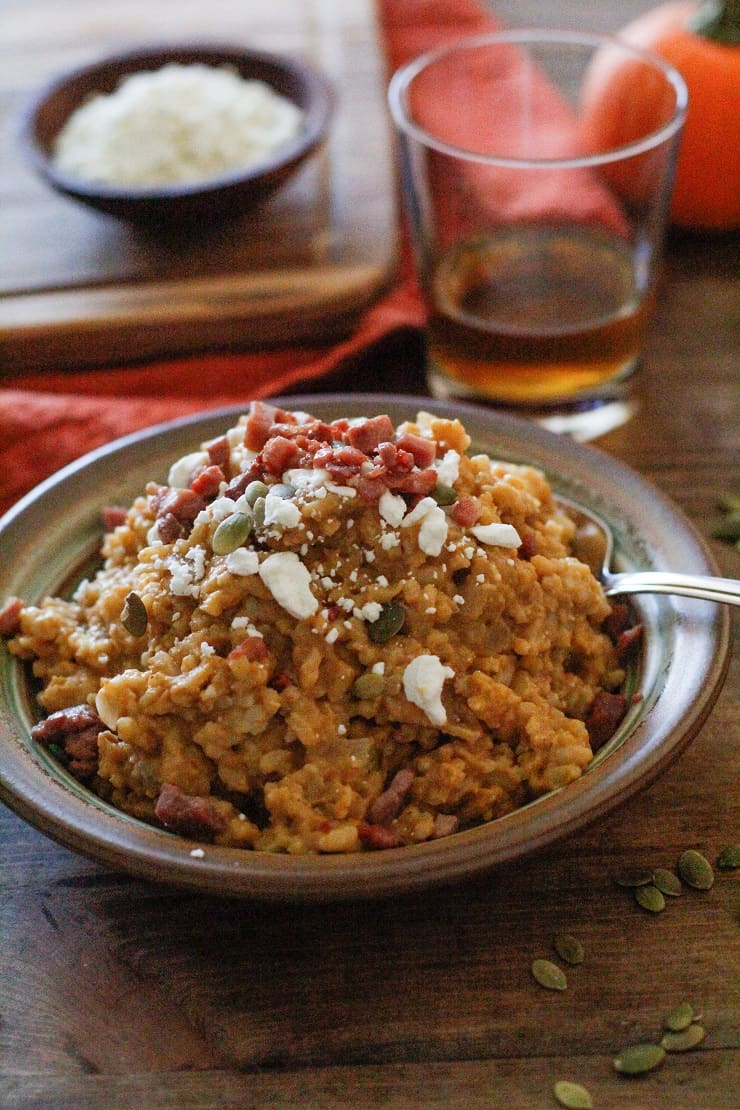 Hypothetical situation: You're bored for the first time in umpteen moons and you need a project. What do you do? Do you go for a little YouTube binge? Paint the ol' fingernails? Detail the whole house? Pluck that one pesky chin hair that has a serious mind of its own, complete with a full-on personality that you may or may not have named? Phone a friend? Grocery shop for the nuclear holocaust? Make a dish that takes a little extra time and focus, and results in something so un-vanilla you barely know what to do with your taste buds? < – Yeeeeeeah, let's do that!
For those times you're looking for something a little deeper and complex in life, a kitchen project is a choice receptacle for your life-energy. For those weeks you want to eat nothing but rice on repeat… For those times you're feeding your friends and family and it happens to be pumpkin season… For those times you're feeling frisky and decide to let the danger manifest itself in the form of food, rather than poorly played out decisions… THIS. This risotto is your answer to any and all of the above.
Flavor talk. In the words of Macklemore, there's layers to this ish, player. I mean, you've got prosciutto and goat cheese flavors, coupled with warm cider and maple flavors, with a pumpkin kick and a bourbon backbone. What does that even mean? You're just going to have to troubleshoot this quandary with your mouth, friends.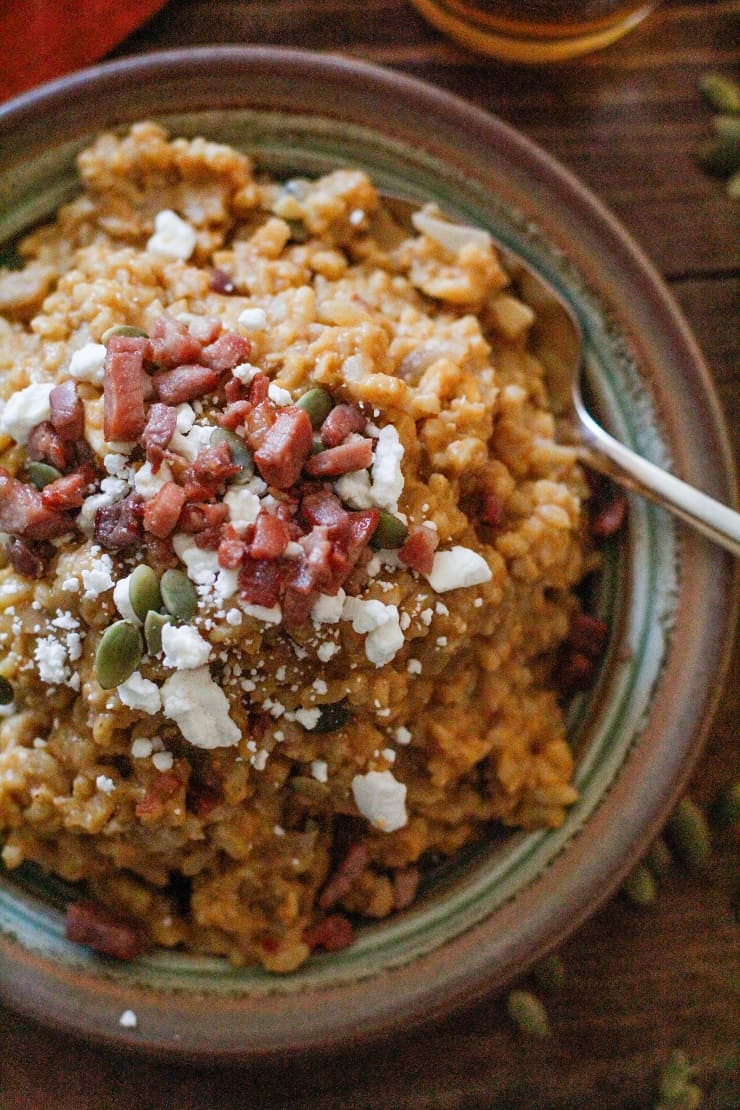 If you've never risotto-ed before, be forewarned, it takes a bit of time and hovering. But it's worth it because what results is the creamiest, dreamiest, poofiest plate of splooge carbs you ever did lay mouth on. It truly is a project. So take your time, and enjoy the process! Perchance sip on some wine or bourbon while you're at it. Winky face.
A note about substitutions: For those of you who prefer the flavor of wine over bourbon, you can swap out the bourbon for white wine. You're going to want some alchy in this risotto because it helps with that depth of flavor we're looking for. Additionally, you can swap 3 slices of thick-cut bacon for the prosciutto, and/or leave out the goat cheese altogether. You can also replace the coconut milk with additional cider or chicken broth – I simply added it for the cream appeal, but it's not super necessary, nor can you taste any coconut flavor.
Yous guys, this recipe makes a crap ton of risotto, so if you're looking to feed a crowd, and/or have leftovers, follow the recipe as listed. If you're looking for more of a meet-and-greet, close encounter with the pumpkin kind, you can split that thur recipe right in half.
Getcho caaaaaahbs!
Pumpkin Risotto with Prosciutto
Pumpkin Risotto with Prosciutto is loaded with unique, hearty flavors for an incredibly rich side dish.
Instructions
Pour the chicken broth, coconut milk, and and apple cider and heat over low - just until the liquid is steamy, but don't bring to a boil.

In a pot or Dutch oven, cook the prosciutto over medium-high heat until crispy, about 3 to 5 minutes. Transfer prosciutto to a bowl, leaving the fat in the pot.

Add the oil and onion to the pot. Saute until onion begins to turn brown, about 10 to 15 minutes. Add the garlic, arborio rice, ground sage, cinnamon, red pepper, and sea salt and saute until fragrant, about 2 to 3 minutes.

Add the bourbon and stir well until the liquid has nearly evaporated. Add in ½ cup of chicken stock/cider mixture and stir until liquid has been absorbed. Repeat with ½ a cup at a time, stirring constantly, until the risotto is creamy but still slightly al-dente.

Stir in the pumpkin puree, maple syrup, and goat cheese. Taste the risotto for flavor, and add sea salt as desired.

Serve risotto with prosciutto mixed in or on top.
Notes
*I used un-spiced apple cider. If you use spiced, taste the arborio before adding any cinnamon. **I used canned pumpkin puree. You can use freshly roasted pumpkin as well.
Nutrition