Sweet potato, black bean, and quinoa chili – a hearty and nutritious vegetarian chili recipe.
Words of wisdom:
1.) Never attempt to blow out a candle while brushing your teeth. I've tried it. It doesn't work. That's an itch you don't need to scratch. Next!
B.) Day-old spring rolls don't follow the same principles as day-old bagles. Day old bagels = edible. Day old spring rolls ≠ edible.
iii.) If it didn't feel good in the past, it's not going to feel good now.  Yes, this applies to trying to remove 400 degree F items from the oven using your bare hands. It will never feel good. Not even if you're Wolverine.
4.) Don't: eat a banana right before spin class. Just. no.
V.) Do: make this chili.
The Roasted Root: Your trusted source for sweet potato, black bean, & quinoa chili, and unsolicited advice.
Lately, I've been simplifying my cooking. Clean meals that can be prepared in under an hour from start to finish have won my affection. The reason for this is equal parts laziness and hunger. Like most 'mericans, I find myself strapped for time during the week and starving when I get home from work. My solution to this has been to streamline my grocery purchasing and make big batches of food on the weekends that can last me through the week.
Which is exactly what happened with this chili. It involves simple ingredients, takes 45 minutes to make, and leaves you with an abundance of leftovers for healthy meals.
Last week, in my post for Crock Pot Shredded Chicken Fajita Chili, I told you about the #ChiliRoundup that Muir Glen Organic and Bob's Red Mill are hosting. They are rallying up chili recipes from all over the web to bring you a variety of comforting winter meals. Using diced tomatoes from Muir Glen, and quinoa and black turtle beans from Bob's Red Mill, I whipped up a super simple and tasty vegetarian chili.
This chili is hearty and nutritious. I added a couple of finely chopped chipotle chilies in adobo sauce to the recipe for a little smoky kick to counterbalance the sweetness of the sweet potato. This simple recipe is packed with flavor and will satisfy both vegetarians and meat eaters.
You can enter the #ChiliRoundup Sweepstakes each week until February 13 for a chance to win a chili lover's prize pack and a crock pot. To view more chili recipes, go to Muir Glen's Chili Roundup.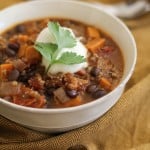 Sweet Potato, Black Bean, and Quinoa Chili
Print
Ingredients
2

tablespoons

olive oil

1

large yellow onion

chopped

1

cups

large sweet potato or yam

chopped into ½" cubes (about 4 worth)

6

cloves

garlic

minced

½

cup

dry quinoa

Bob's Red Mill

1

cup

dry black turtle beans

Bob's Red Mill

4

cups

low-sodium vegetable broth

1 14.5-

ounce

can diced tomatoes

Muir Glen

2

in

chipotle chilis adobo sauce

chopped

2

tablespoons

chili powder

1

tablespoon

ground cumin

2

teaspoons

smoked paprika

2

teaspoons

kosher salt

to taste

For Serving:

Sour Cream

or plain yogurt

Cheese

Cilantro

Green onion

Avocado
Instructions
Pour one cup of dry beans in a large bowl or container and fill with water so that beans are completely covered. Allow beans to soak overnight. Drain water from the beans and set aside until ready to use.

In a large pot or Dutch oven, heat the olive oil to medium.

Add onion and sauté, stirring frequently until onion begins to sweat, 5 minutes.

Add the sweet potato and cook another 5 minutes.

Add the garlic, quinoa, and beans and continue cooking another 2 minutes, stirring everything together.

Pour in the remaining ingredients and stir well. Bring chili to a full boil, cover the pot, and reduce the heat to medium-low. Allow chili to bubble gently for 15 to 20 minutes, until quinoa and sweet potato is cooked.

Remove pot from heat and allow it to sit covered for 10 to 15 minutes before serving. The longer the chili sits, the thicker it will be.

Serve with sour cream, cilantro, and your favorite chili toppings.