Vegetarian yellow curry lentils with haloumi is a marvelous make-ahead meal for your busy workweek!
Hey now. This'll make you lose your britches.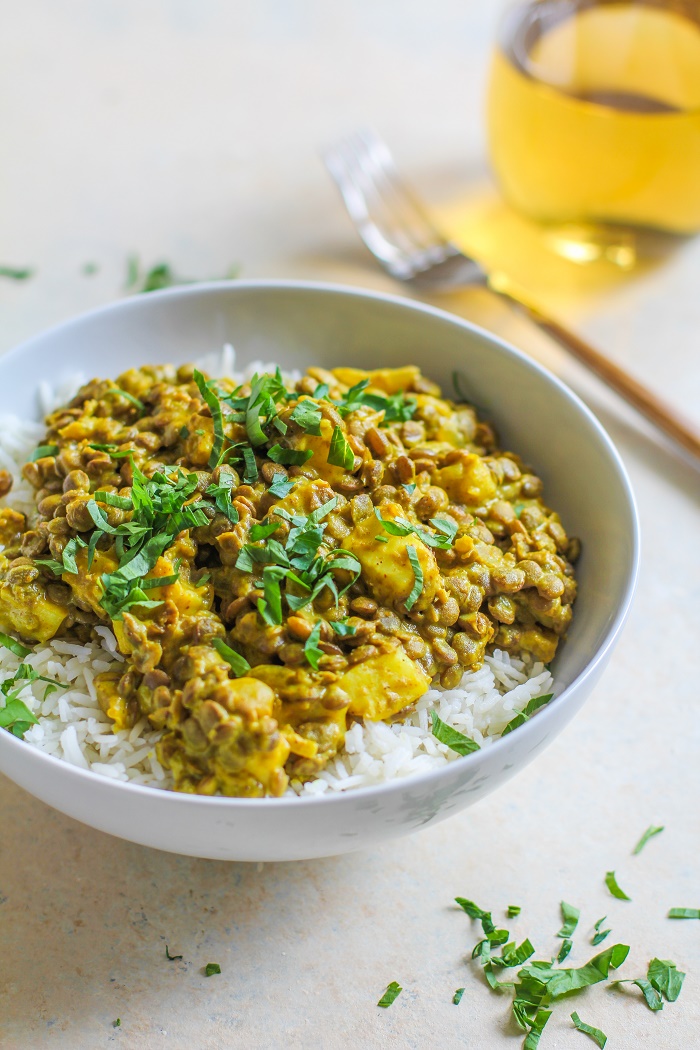 Have you dabbled in the magical land of curry lentils? What about haloumi??
If any combination, permutation, and/or all of the bellow apply to you, drop everything you're doing right meow and make this!
You love lentils

Curry's your jam

You enjoy a good hunk of cheese

You dig rice.

Things that are creamy make you say hey-o!
So basically, all of you'uns should get up on this like an undergrad in cutoff jorts on a mechanical bull.
Sorry bout the visual.
Or, you're welcome?
But seriously, this meal is ridiculously straight-forward and gives you all of the following niceties:
-> Gluten-free
-> Healthy
-> Full of fiber
-> Vegetarian (you can totes add chicken)
-> Super steazy
-> Lightning quick to make
-> An easy go-to any night of the week
If not for the above, do it for the flavor, because this is cuh-ream-y. Don't be afeard of the long grocery list – most of the items in the recipe are spices and you probably own them all already!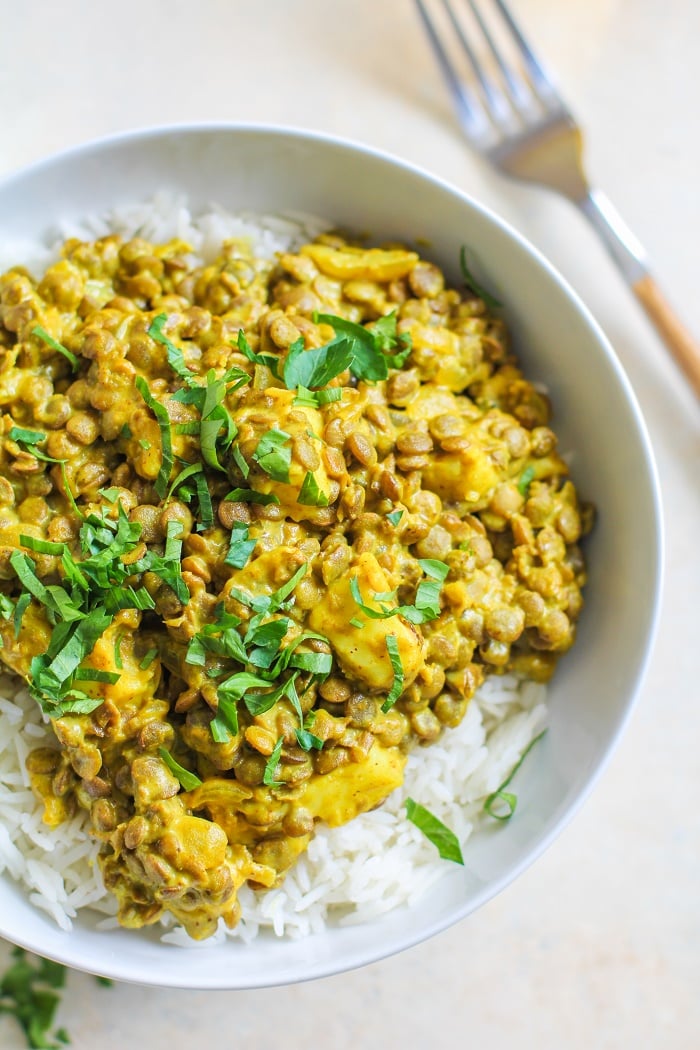 What do we do here to make this thing happen? We cook the lentils and the rice. We saute an onion with some funky fresh flavoful things. We add coconut milk, we add lentils, we add halloumi, we partaaaaaay!
Speaking of halloumi…
Have you even?
Please do!
I didn't even know what halloumi was until recently. I thought it was made out of soy. It's totally not. Halloumi is brined cheese made from a combo of sheep's milk and goat's milk and originates from Greece. Well, it's kind of cheese, but it's kind of not. It's hard-ish, yet soft-ish. You can legit griill it…like ON a grill. Or put it in grilled cheese sandwiches. And you can roast it. You guys, it's like if my soul cheese had a name, it would be called Halloumi.
It's basically the cheese you've always wanted but never knew existed. Discover it with your mouth in order to fully grasp it's power.
Use sparingly, it's expensive.
If you're a fan of meatless curry, be sure to check out my Vegan Red Curry Zucchini Noodle Bowls and 30-Minute Thai Green Curry with Avocado.
Fusion food annnnnd go!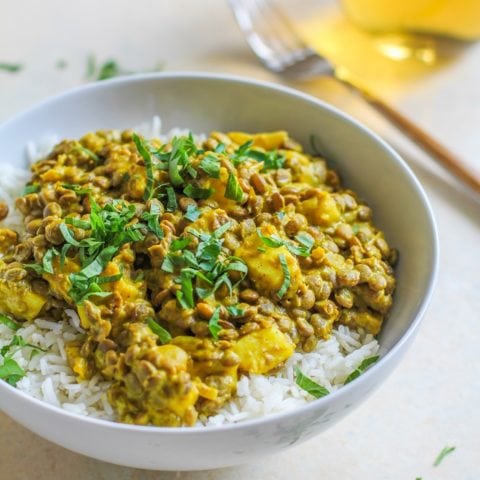 Yellow Curry Lentils and Halloumi
Yellow Curry Lentils and Halloumi is an incredibly flavorful, protein-packed vegetarian dinner recipe that will surely impress all who try it!
Ingredients
Yellow Curry Lentils & Halloumi
1-1/2 cups uncooked green lentils
2 tablespoons coconut oil or olive oil
½ yellow onion, finely chopped
3 cloves garlic, minced
1 tablespoon fresh ginger, peeled and grated
2 teaspoons ground coriander
1 teaspoon ground turmeric
¼ teaspoon cardamom, optional
5 ounces haloumi, chopped into ¼ to ½-inch cubes
For Serving:
Cooked basmati rice
Fresh cilantro, chopped
Instructions
Cook lentils according to package instructions.
While the lentils are cooking, heat the oil in a medium-sized skillet over medium-high heat. Add the onion and saute, stirring occasionally, until translucent, about 5 to 8 minutes. Add the garlic, ginger, and all of the spices and salt. Cook an additional 5 to 8 minutes, until onion is cooked through. Add the coconut milk and bring to a full boil. Reduce the heat slightly but maintain a gentle boil for 10 minutes, until sauce has thickened slightly.
Stir the cooked lentils into the sauce and cook, stirring occasionally for 3 to 5 minutes.
Add the cubed halloumi and cook just until halloumi is hot, about 2 minutes.
Taste the lentil curry and add additional sea salt or spices to taste.
Serve over cooked basmati rice with freshly chopped cilantro.
Nutrition Information
Yield

3
Serving Size

1 grams
Amount Per Serving
Unsaturated Fat

0g