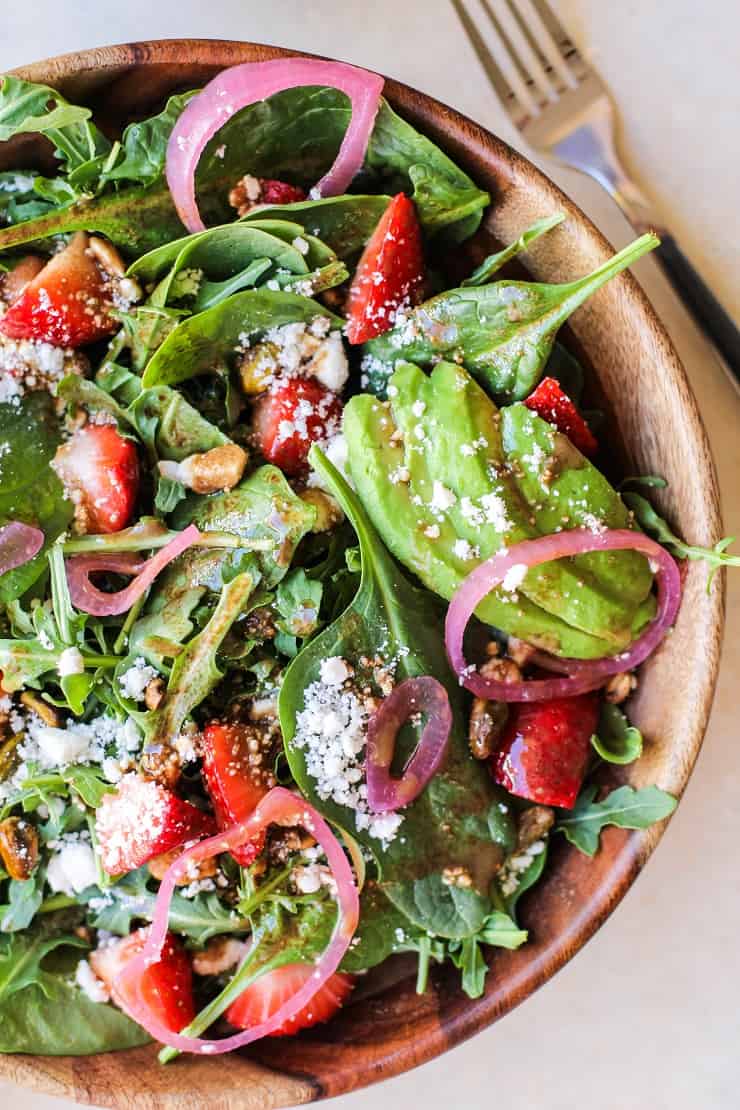 Arugula Strawberry Salad with Pickled Red Onions, Feta, Pistachios, Avocado and Strawberry Vinaigrette is a fresh, ultra flavorful salad perfect for serving as a side dish! Add your favorite protein to turn it into a main entree!
What makes a salad amazing?
Well. I have opinions.
There needs to be a sweet element, a tangy element, a creamy element, lots of bulk, plenty of crunch, and the whole thing needs to be vibrant and pretty.
For me, provided the above mentioned boxes are checked, I am SUPER into salad. If one of more are missing? Foggetaboutit.
This strawberry salad with pickled red onions, feta cheese and homemade strawberry vinaigrette fills all my salad needs with flying colors.
The best part? You can add grilled chicken for a filling, well-balanced meal that takes your taste buds for a real wild ride.
About 17,000 years ago, I posted a recipe for Pickled Red Onions. Have you pickled onions yet? It's fun! And easy. And makes a salad extra pleasy (<- don't punch me). There's just something about the pickled version of an onion that takes the whole experience up a notch.
But don't worry…I know we're all short on time and attention span these days, so if you need to keep your onions un-pickled, I won't judge you.
Let's make this recipe!
Read More

about Arugula Strawberry Salad with Pickled Onions and Strawberry Vinaigrette