Raspberry Baked Steel Cut Oatmeal is full of fiber and complex carbohydrates – an amazing way of staying fueled until lunch!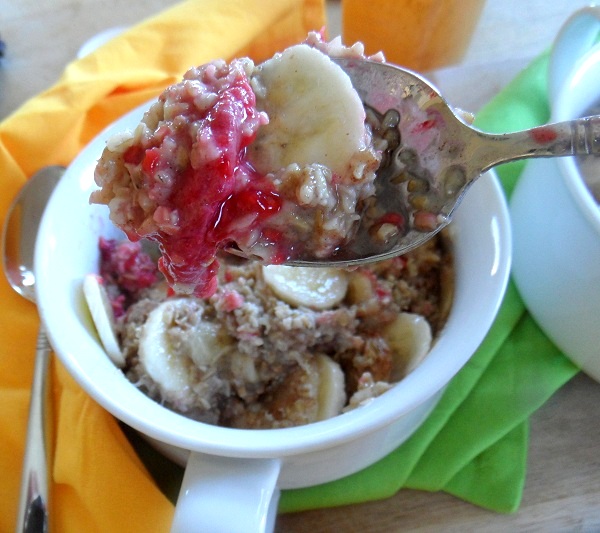 Karma really comes around full circle to bite you in the booty.
No joke. It may take a while, but it does. And it did to me yesterday. 5 times in a half an hour.
Took roughly 6 years to come back to me, but I finally got my karma.
Here's the deal: on a number of occasions, I have been lucky enough to witness someone falling off a treadmill. Kay? Falling off, no joke…it's mean; I laughed, but I saw it happen more than once and it tickled me pink. Pink I tell ya.
My gym got new spinner bikes. Schwinn. Really nice, oiled up…they track rpm, kilometers, time, the whole bit. I love a good spinner bike. But I was so used to the old ones….that had broken rpm meters…that made noise when they'd spin…that had different pedals. Different pedals. This is where karma bit my ass.
I do intervals. 2 minutes up mashing away, 2 minutes down on the booty. Repeat 5 to 7 times, depending on my energy level.
So the new awesome Schwinn spinner bikes have different pedals than my oh-so-accustomed feet are used to. I stumbled on all five intervals that I did during my workout yesterday. All 5. One was pretty bad, the other 4 I tried to pass off like I was stopping for air then re-starting.
Yeah right, I fooled no one. I didn't fall all the way off the bike, but anyone who was viewing my lack of graceful spinning was probably tickled pink. That's okay, they'll get theirs.
Case in point: people are creatures of habit. And muscle memory remembers. Breaking a habit (with the old crappy pedals) can be so tough sometimes that I don't even want to use the new souped up spinner bikes today. No desire. I'll take a wander on a hiking trail instead, mmkay thanks.
So how about some baked oatmeal? It won't make you fall off a treadmill or make you stumble on a new spinner bike, but it may just tickle you pink. I love oats. Oats, oats, oats. I refuse to eat them unbaked now.
I turn my nose up to oats that haven't been baked in the oven. If you like oats, follow me into the land of baked oats. They love you, you'll love them. And after karma comes to get you, this bowl of steel cut will be there to console you. Every time.
Raspberry Baked Steel Cut Oatmeal
A delicious take on baked oatmeal made with steel cut oats! This is the perfect recipe for serving two individuals.
Ingredients
¾

cup

steel cut oats

1

teaspoon

pure vanilla extract

¼

teaspoon

ground cinnamon

1

whole banana

sliced

½

cup

fresh or frozen raspberries

¾

cup

boiling hot water

¼

cup

unsweetened almond milk

+ more for serving

1-1/2

Tbsp

honey

optional
Instructions
Put on a tea kettle to boil water. Preheat the oven to 350 degrees. In an oven-safe bowl, pour oats, vanilla extract and cinnamon. Give the bowl a little shake.

Add slices from half of the banana.

Add the raspberries (I used frozen, nothing fancy). Give 'er a stir.

Pour in the hot water and soy milk. Again, give 'er a little stir.

Bake in the oven for 12 minutes. Remove from oven and allow to cool for 3 minutes.

Drizzle desired amount of honey on top and slice up the remaining half of the banana for on top. If you like your oatmeal runnier, add more soy milk to desired consistency.
Notes
Keep in mind, I tend to use banana as my "sweetener" in oatmeal, so feel free to adapt this recipe to include brown sugar, agave, honey, or your sweet of choice. Cut out the banana if you're not a banana person.
Nutrition
Serving:
1
serving
|
Calories:
329
kcal
|
Carbohydrates:
66
g
|
Protein:
7
g
|
Fat:
4
g
|
Fiber:
8
g
|
Sugar:
16
g