Balsamic Roasted Vegetable Omelettes with zucchini, yellow squash, bell pepper, tomatoes, and feta cheese make for a fresh and flavorful breakfast! Add a slice of avocado toast and you're in for a winning breakfast!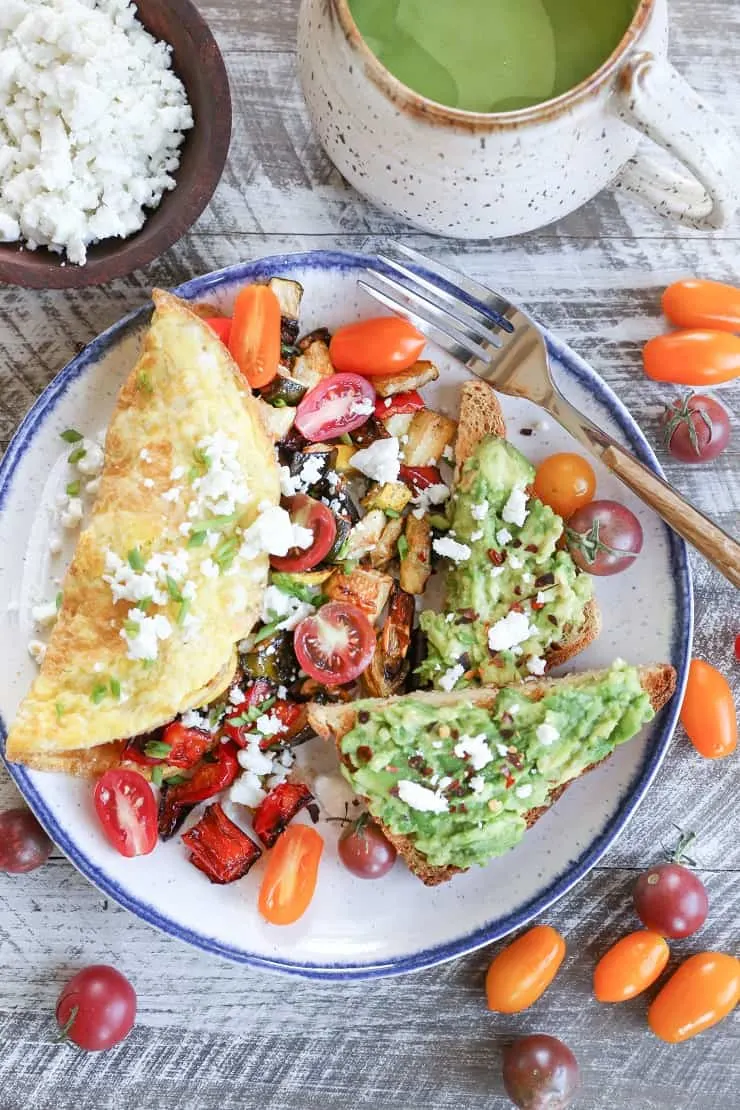 This is the time of year when the true Gemini in me comes out.
I'm in denial that summer is coming to an end because I love long days, warm weather, and the ability to stay outdoors for hours.
HOWEVER, I crave the dark, cold mornings, short days, autumn colors, taking the excuse of bad weather to let the homebody in me reign, get snuggly with my hot beverages, and bake EVERYTHING.
Basically, I want all the summers, all the falls, all at once…it's tough being a Gemini.
The upside to this time of year is we still have tons of summer produce available, with fall produce forthcoming. I've been showing summer love by continuing to make the most out of the seasonal produce, and I've been giving fall props by baking up all sorts of cozy pumpkin treats as well. I know, I know…such a hussy.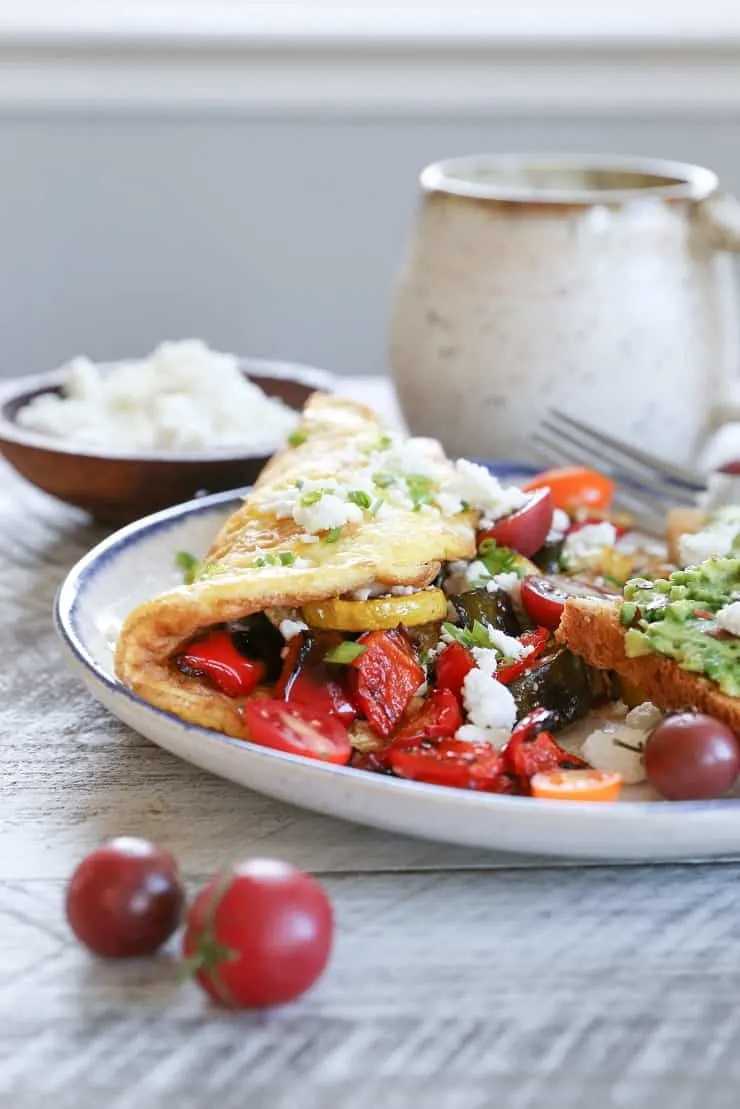 All this to say, I've been enjoying summer squash, bell peppers, and tomatoes in my morning breakfast via veggie scramble or omelette.
Because omelettes typically turn out more visually appealing, I figured I'd show you my go-to breakfast lately – roasted summer vegetables (I've been using zucchini, yellow squash, patty pan squash, pasilla pepper, and red bell pepper for the most part), swaddled in a 2-egg omelette (or scramble) with goat cheese feta, heirloom cherry tomatoes, and a slice of avocado toast.
I'm so obsessed, I've eaten this for 8 out of my last 10 breakfasts, and going strong!
Roasting the vegetables with a splash of balsamic vinegar and a pinch of herbs brings richness of flavor to the meal.
I also find balsamic-roasted vegetable to be ultra comforting…what are your feels on this?
All it takes is about 30 minutes of roast time, during which you can do your morning chore-like things, sip on coffee (or matcha), and prepare the omelette portion of the recipe.
When all's said and done, I stuff the omelette with all the vegetables, sprinkle liberally with goat feta and chives, and plunk down my side avocado toast for the biggest breakfast win of the century.
Seriously, a day that begins like this is surely going to be great!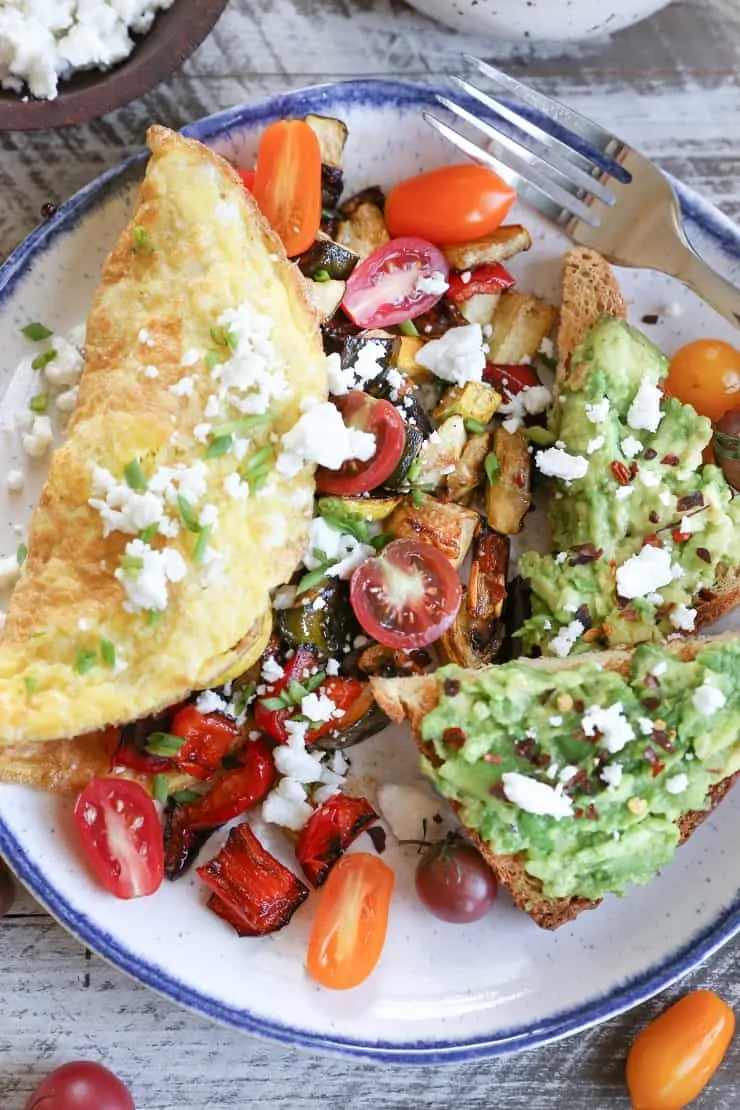 Wanna get rebellious and clever?
Recipe Adaptations:
Incorporate any of your seasonally appropriate vegetable favorites, such as eggplant, sweet potato, onion, beets, turnips, corn, carrots, broccoli, cauliflower, etc.
I don't roast the tomatoes, because I prefer them raw in this particular application, but roasting them would be marvelous, too!
Want to change up the choice of cheese? Skip the toast and add hunks of avocado to the omelette? Go for it!
A note about breakfast & time – I know not everyone has a surplus of time in their priorities bank for breakfast, but you can 200% roast the vegetables ahead of time and simply reheat them in the skillet in the morning.
The omelette itself only takes but 5 minutes to make, so doing a little breakfast food prep is encouraged!
Additional option: You can save this recipe concept for the weekend when there's more time to prepare breakfast, or you can whip it up for dinner! Omelettes don't have to be a breakfast-only affair!
Also check out my Pesto Chicken Omelette and my Roasted Vegetable and Caramelized Onion Omelette.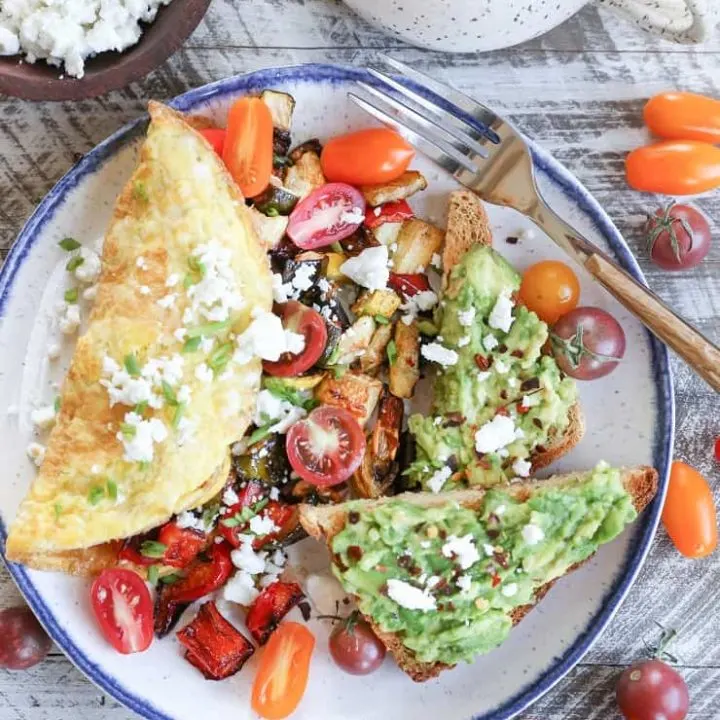 Balsamic Roasted Vegetable Omelettes
A vibrant, nutritious, flavorful breakfast omelette loaded with all the good veggies and feta cheese! Serve it up with avocado toast for an incredible breakfast!
Ingredients
Roasted Summer Vegetables:
1 large zucchini squash, chopped
1 medium yellow squash, chopped
1 red bell pepper, cored and chopped
1 1/2 tablespoons olive oil
1.5 tablespoons balsamic vinegar
1/8 teaspoon sea salt, to taste
To Make the Omelettes:
4 to 6 eggs
1/2 cup heirloom cherry tomatoes
1/4 cup goat milk feta cheese crumbles
4 chives, chopped
Instructions
Roast the Vegetables
Preheat the oven to 400 degrees F.
Spread the vegetables on a large baking sheet. Drizzle with olive oil and balsamic vinegar and sprinkle with sea salt. Use your hands to toss everything together so that the vegetables are well-coated.
Place tray on the center rack of the preheated oven and roast 30 to 40 minutes, or until vegetables reach desired done-ness, giving the vegetables a shake half-way through.
Make the Omelettes:
Heat 1 to 2 teaspoons of olive oil in a small (6-inch) skillet over medium heat (or spray with cooking spray). Whisk together 2 or 3 eggs (depending on how hungry you are) in a bowl with a pinch of sea salt.
Pour the beaten eggs into the hot skillet and cook until the sides firm up and the center begins to set up, about 2 to 3 minutes. Carefully flip and cook an additional 30 seconds to 1 minutes, until omelette reaches desired done-ness.
Load up the omelette with half of the roasted vegetables and sprinkle with feta and chives. Repeat the process for the remaining eggs and roasted vegetables.
Nutrition Information
Yield

2
Serving Size

1 Omelette
Amount Per Serving
Calories

344
Total Fat

24g
Unsaturated Fat

11g
Carbohydrates

15g
Net Carbohydrates

10g
Fiber

5g
Sugar

10g
Protein

19g