Leftover Turkey Soup with root vegetables and mushrooms – an easy and delicious way of using up your leftover Thanksgiving turkey.

Besides the great company and fun activities, one of my favorite parts about the holiday season is all the leftovers.
Opening the refrigerator to already-made gems is a breath of fresh air after a long day. But sometimes all those leftovers are overwhelming…because there's just. too. much. food.
What about holiday leftover recipes that can be frozen and kept for a rainy day? For those who are seeking ideas for holiday leftovers, this soup may prove to be quite the asset.
I used the drippings that collected at the bottom of the turkey pan (most people use the drippings to make gravy) in order to make the broth for this soup. Drippings + water = broth. Presto! You can also make your own broth by placing the turkey bones (or full carcass) in a large pot filled with water and simmer for several hours. Both methods work, both very tasty.
Truth: turkey drippings have a lot of fat along with the flavor. Fret not. Drippings actually have phenomenal health benefits because gelatin from the turkey bones collects in the pan along with the fat and is known to be a powerful digestive aid.
Gelatin has been used to treat Crohn's disease, hyper-acidity, colitis, muscular dystrophy, diabetes and cancer (View Source).
Plus, fat itself aids in absorption of vitamins and minerals, so don't fear the fat; those vegetables you eat are not going to help you much unless they're combined with some form of fat.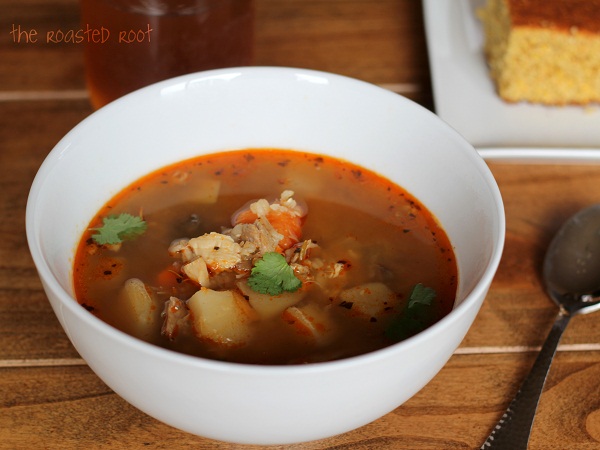 In this sense, the soup recipe I present here is a mega soup. It goes down reaaaaal nice because of all the flavor, works wonders on your gut and is full of vitamins and minerals with all of the root vegetables.
Gelatin is very thick, so I would suggest adding 3 to 4 times as much water. I had a full large jar of drippings, so I added 3.5 jars of water. You can put it in freezer-safe containers, freeze and thaw for the evenings you don't have time to cook.
Taking the waste out of the holiday season can be difficult but this soup takes very little time and resources (you probably have every single ingredient already) and it can be frozen to be used later.
Simply chop up vegetables (or use leftover roasted/steamed vegetables from your holiday dinner; I'm sure you have a roasted sweet potato or five in the ol' fridge), sauté them up with seasoning, add turkey drippings and water (or your homemade turkey stock), walk away, let simmer and you've got excellent soup that can be consumed immediately or frozen to be thawed for a chilly winter evening later.
Turkey & Root Vegetable Soup
This Turkey Soup with root vegetables is a delicious way of using up leftover turkey from holiday celebrations
Ingredients
2

tablespoons

grapeseed oil

1

large yellow onion

chopped

1

large sweet potato

chopped into ½" cubes

1

large parsnip

peeled and chopped into ¼" rounds

4

carrots

peeled and chopped into ¼" rounds

1

turnip

chopped into ½" cubes

8

mushrooms

chopped into eighths

10

cloves

garlic

minced

2

teaspoons

paprika

2

teaspoon

coriander

2

teaspoons

ground ginger

2

teaspoons

rosemary

½

teaspoon

ground cayenne pepper

optional

2

teaspoons

salt

to taste

2.5

cups

turkey drippings

everything in the bottom of the pan

10

cups

water

1

cup

white wine

1

cup

brown rice

3 - 5

cups

chopped leftover turkey

white & dark meat
Instructions
In a large pot, heat the grapeseed oil over medium-high heat.

Sauté the onion and uncooked brown rice until onion is softened, about 3 minutes.

Add the sweet potato, parsnip, carrots and turnip. Continue to sauté until all veggies are softened but not cooked all the way through, about 5 – 8 minutes.

Add the mushrooms and sauté one minute longer before adding all of the spices, the turkey drippings, water and white wine. Bring to a full boil and allow to bubble 1 to 2 minutes before reducing the heat to a simmer.

Cover and cook 45 minutes. Check the soup and add salt/seasonings as necessary. Check the vegetables to be sure they're now cooked all the way through.

Add your leftover turkey meat and continue cooking another 2 minutes to heat up the meat. Serve with your favorite cornbread or dinner roll!
Notes
This soup can be placed in freezer-safe containers and frozen. Thaw by placing sealed container in hot water and re-heat on the stove top.
If you have turkey bones, throw them in with the soup while it's simmering for extra flavor. Discard bones when ready to serve!
Nutrition
Serving:
1
of 10
|
Calories:
336
kcal
|
Carbohydrates:
11
g
|
Protein:
40
g
|
Fat:
10
g
|
Fiber:
2
g
|
Sugar:
3
g