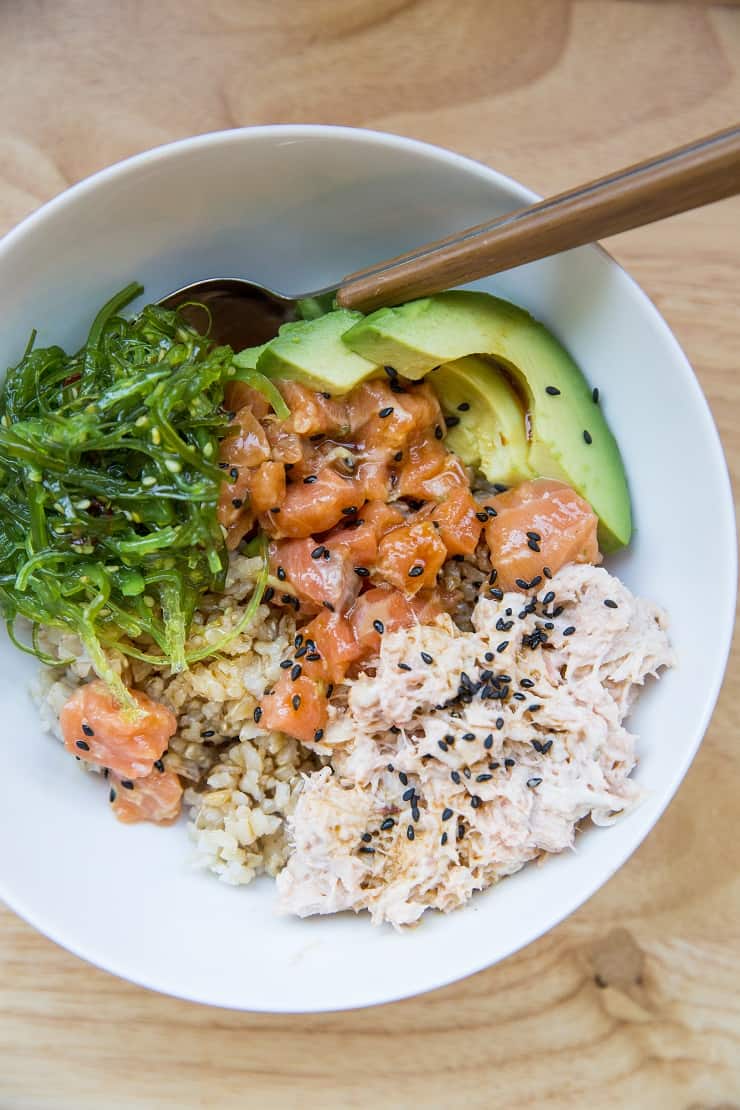 Easy Salmon Poke Bowls with Crab Salad, seaweed salad, brown rice, and avocado. These delicious bowls are packed with flavor and give you a marvelous sushi experience in the comfort of your own home!
If you're into raw fish and haven't tried making poke bowls at home, I assure you, the process is easy and fun!
The only complicated part about making poke bowls is finding the best source for sushi-grade fish near you. Once you find a supplier of sushi-grade fish, the rest is smooth sailing!
I encourage you to read my Salmon Poke Recipe post before proceeding with these poke bowls, as it gives you everything you need to know about making poke safely and deliciously at home.
My favorite poke bowl ingredients are salmon poke, crab salad (which I make homemade using real crab from a jar), seaweed salad (which I buy from my seafood supplier), steamed white or brown rice, and avocado. I like topping it off with sesame seeds and sometimes some green onion.
There is plenty of room for adaptation here, so you can use this as inspiration for all your poke adventures!
Let's dig a little deeper!
What is a Poke Bowl?:
Poke Bowls are big bowls of sushi-grade fish marinated in a tasty sauce with rice, and all sorts of add-ins depending on your personal taste. Poke bowls typically include one to 3 different types of fish or seafood, pickled cucumbers or ginger, edamame, mango, avocado, and a couple of different sauces.
Let's talk more about these ingredients!
Read More

about Salmon Poke Bowls with Crab Salad