Fully-loaded breakfast nachos with sweet potato home fries, black beans, avocado, cheddar and cotija cheeses, sunny side up eggs, and more! A perfect breakfast-for-dinner, and awesome for sharing with friends at your football gatherings.
Disclosure: I was asked to participate in the "#OrganicforAll" campaign as a member of the Healthy Aperture Blogger Network. I received free product for recipe testing and was compensated for my time.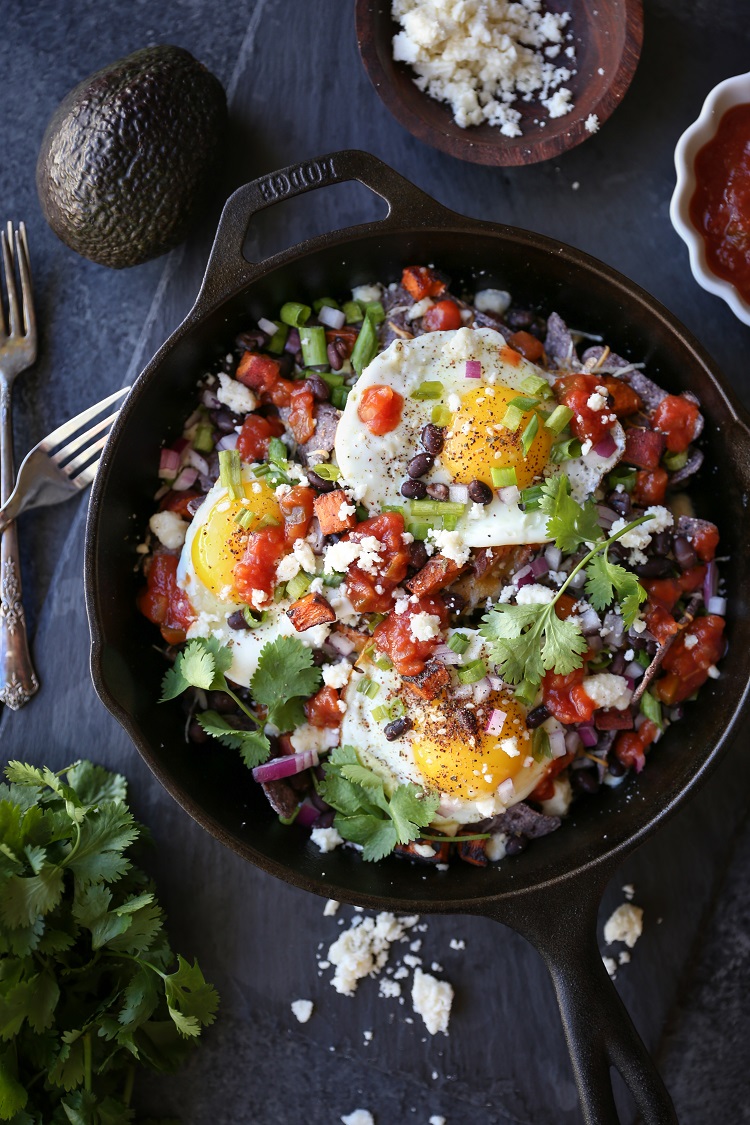 Oh, hello skillet of my dreams.
Question: when you're down to nacho, how do you prepare them? Confession: when I was a small child slash college student, I stuck chips on a plate, bombarded them with shredded cheese, and nuked them in the microwave, guilty.as.charged. I decided recently to do a one-pan sort of situation, cooking whatever meat or veggie I'm nachoing (in this particular crunch fest: sweet potato) in a cast iron skillet before loading up said cast iron skillet with all the nachoables.
These nachos are locked and loaded with some of my favorite add-ins, including sweet potato home fries, black beans, avocado, red onion and green onion, shredded cheese and queso fresco, salsa, and sunny side up eggs. Let's marinate on the sunny side up egg thing. It works, just trust. Simply toss out some forks when you serve up these 'chos and get to yolk-poking.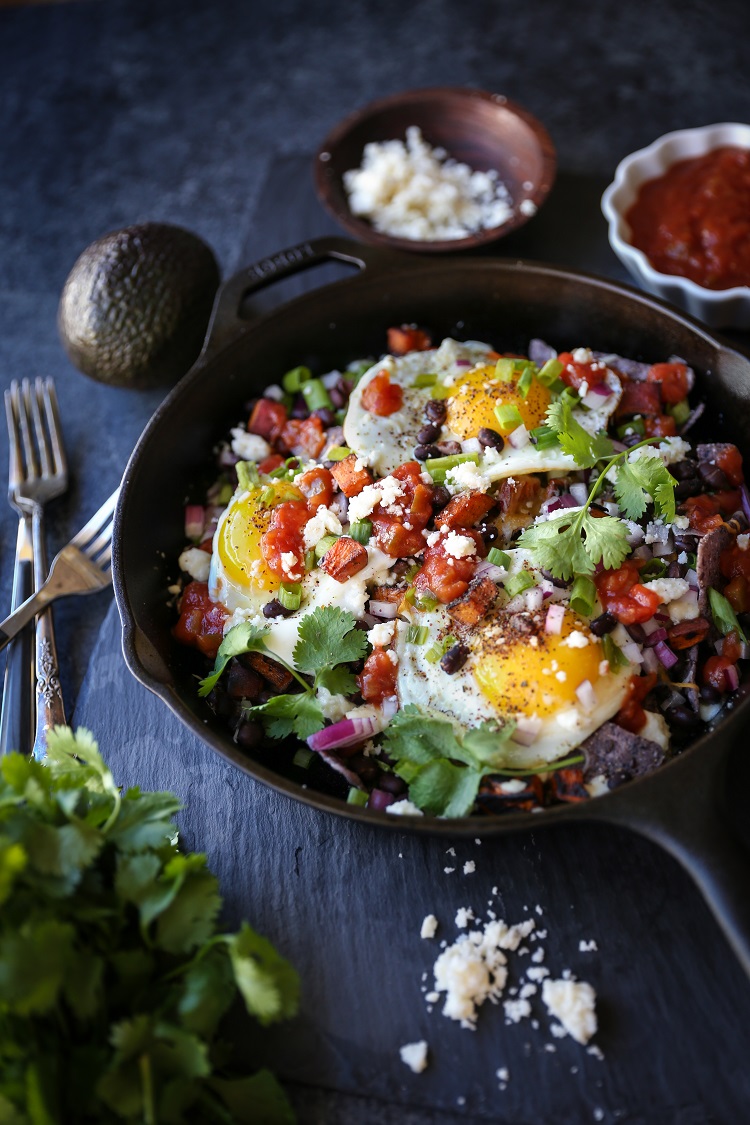 In spite of the fact that these ravishing nachos are engulfed in breakfast-y huevos rancheros flair, I know us well enough to know we're probably making these for dinner. And for breakfast…on the weekend, that is. I realized these facts mid-nacho prep, mostly because a.) I was fantasizing about eating them for dinner, and b.) this recipe requires about 18 more steps than we're willing to put out on an average weekday morning. Case in point: #NachosForLife.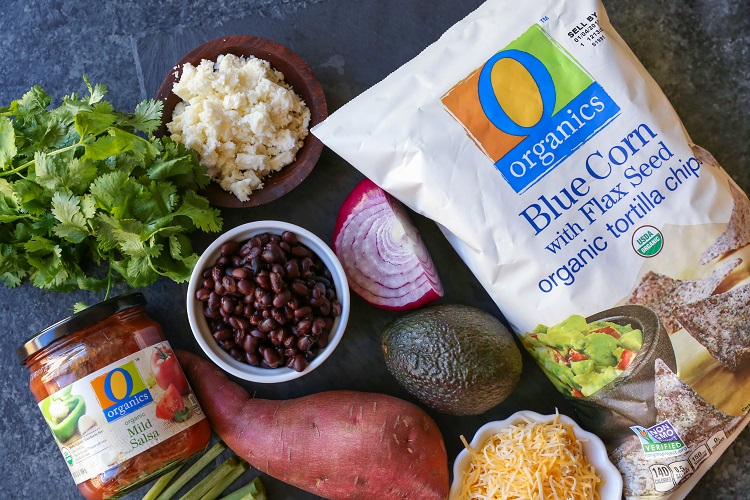 True story – I shop regularly at Safeway, which is in walking distance of my house. Whenever possible, I buy organic with the caveat that I do so on a budget, and the O Organics® brand at Safeway has me covered. From fruit, vegetable, herbs, dairy, meats, snacks, and even kombucha, O Organics makes over 300 perishable and non-perishable organic items available exclusively at Safeway stores in Northern Nevada and California. In addition to their extensive product line, this year, more than 100 new items will be added to the O Organics line, so that there are even more affordable USDA-certified organic options to choose from.
I find the products to be of excellent quality at a super reasonable price, making choosing organic an easy, healthy choice. I used O Organics Blue Corn Tortilla Chips and Mild Salsa in order to compose these nachos. You can check out O Organics at your local Safeway and follow them on Facebook, Twitter, Pinterest, and Instagram.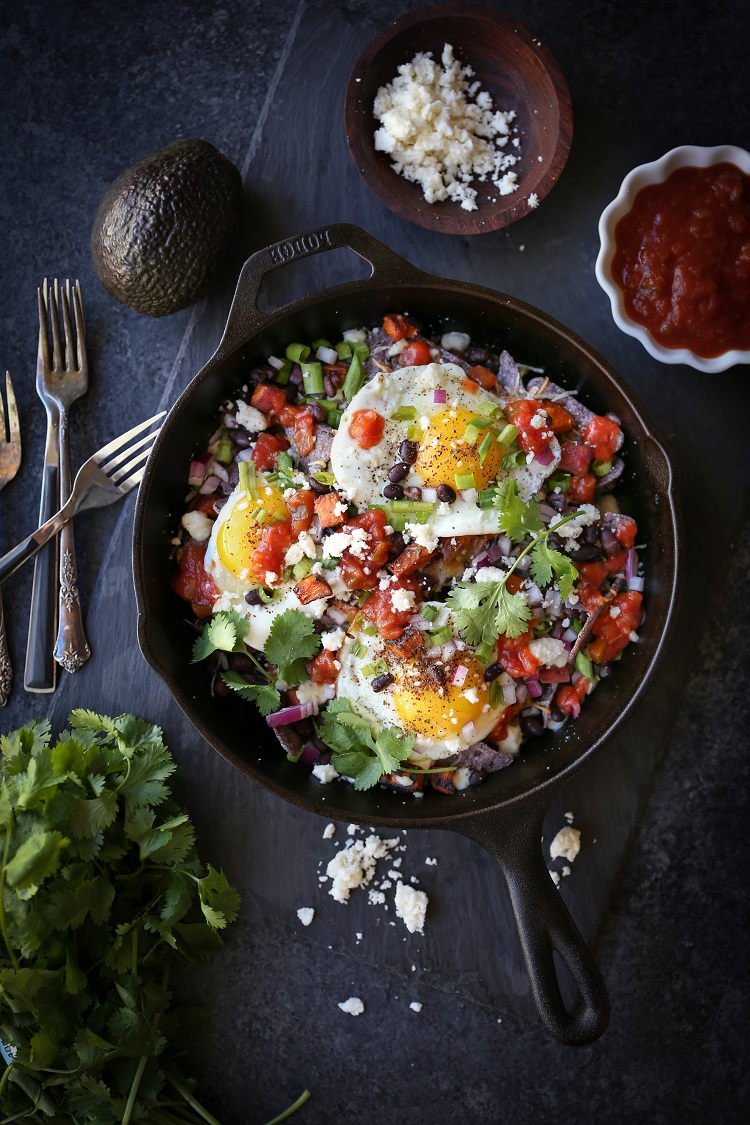 I'm thinking these nachos are perfect for your…
Football gatherings
Weeknight dinner
Weekend breakfast or brunch
Late night party snack
You can change up these nachos to your heart's desire. For instance, you can..
Add grilled steak, rotisserie chicken, bacon, sausage, or chorizo
Drizzle with chipotle sour cream sauce
Use a hot (rather than mild) salsa, and/or add a drizzle of hot sauce
Make personal-sized nachos by using several mini cast iron skillets, rather than one large one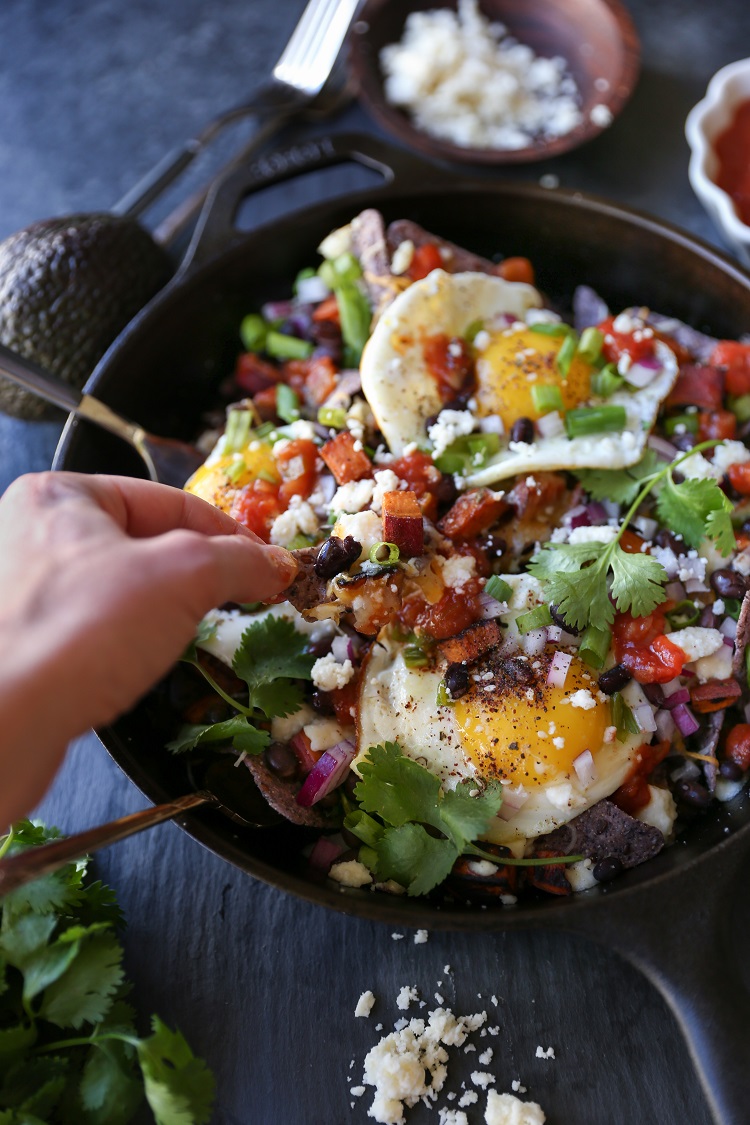 Sweet Potato Huevos Rancheros Nachos
Sweet Potato Huevos Rancheros Nachos takes your breakfast game up several notches! Serve it with your favorite toppings like guacamole, sour cream, and salsa!
Ingredients
For Serving:
½

avocado

peeled and diced

3

green onions

chopped

¼

cup

red onion

finely chopped

1/4

cup

fresh cilantro

chopped, optional

1/4

cup

O Organics Mild Salsa
Instructions
Heat the olive oil in a cast iron skillet over medium-high heat. Add the onion and saute 3 minutes, until onion begins to soften. Add the chopped sweet potato and cook, stirring occasionally, until sweet potato is golden-brown and cooked through, about 12 to 15 minutes. Note: You can cover the skillet and reduce the heat to medium if your sweet potato is taking too long to cook.Transfer the sweet potatoes to a bowl.

Preheat the oven to 400 degrees F.

Add the chips to the cast iron skillet, followed by the cooked sweet potato, black beans, shredded cheese, and queso fresco. Bake in the preheated oven until cheese has melted, about 10 minutes. While the nachos are baking, cook 3 eggs on the stovetop to desired doneness.

Remove nachos from the oven and add the avocado, green onion, red onion, fresh cilantro, and salsa. Serve with sunnyside up eggs on top with additional salsa for dipping.
Nutrition