Roasted spring vegetable Buddha bowls with asparagus, radishes, golden beets, cauliflower, peas, and a creamy dreamy mayo-free avocado-based green goddess dressing. WINNING!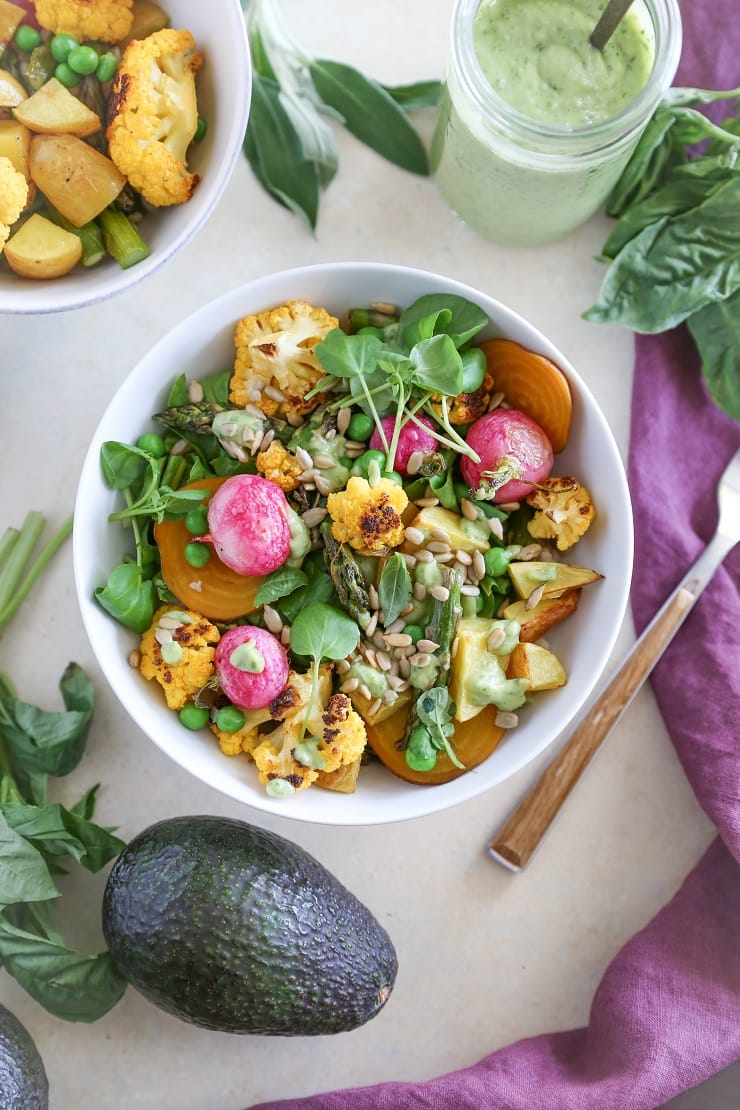 Does anyone else get a kick out of the psychology of food in relationships? You know that dance most couples do come 6pm?
One person doesn't care what they both eat, but the other person does, but he/she doesn't want to make a big deal or cause a scene, so he/she's super unspecific and vague about what he/she wants to eat, so the person who doesn't care chooses because all he/she wants to do is find a solution and eat, and the person who does care gets frustrated and makes a big deal and causes a scene because that's not what he/she wanted, and their partner should know him/her well enough by now, and then there's this passive-aggressive non-argument that leads to irritation for both people until dinner's finally over and Netflix heals all wounds?
I mean, there truly is no bigger first world problem. Except for maybe deciding what to eat for dessert.
This is why the majority of the time, the boyfriend and I eat different meals. And we're 1000% okay with it.
Sure, we eat most of our meals together (we both work from home). We just always eat different food.
From a bird's eye view, dinner preparation for us looks like two people making a cohesive meal together, but what it really is, is two people preparing two different meals…but, together.
For me, life isn't alright unless it includes a ridiculous amount of vegetables and brown rice. For him, life isn't alright unless it includes a ridiculous amount of burger.
We discovered this discrepancy early on in our relationship and quickly decided mealtime wouldn't be a point of contention (don't worry, we have other contentions… we're not perfect).
We'll both eat what makes us happy, and since we both enjoy cooking (and are masters at cooking meals for 1 or 2), the whole thing is NBD.
Is that strange? It may seem inefficient, but we're both resourceful with both food and time. For us, it works pretty seamlessly, and mealtime is fun rather than stressful.
Unless, of course, you leave the man to his own devices and send him to the store for ingredients and he comes home with asparagus and broccoli and nothing else.
Not that that happened three night ago. It totally did. You see? This is why you need to stand up for what you want to eat.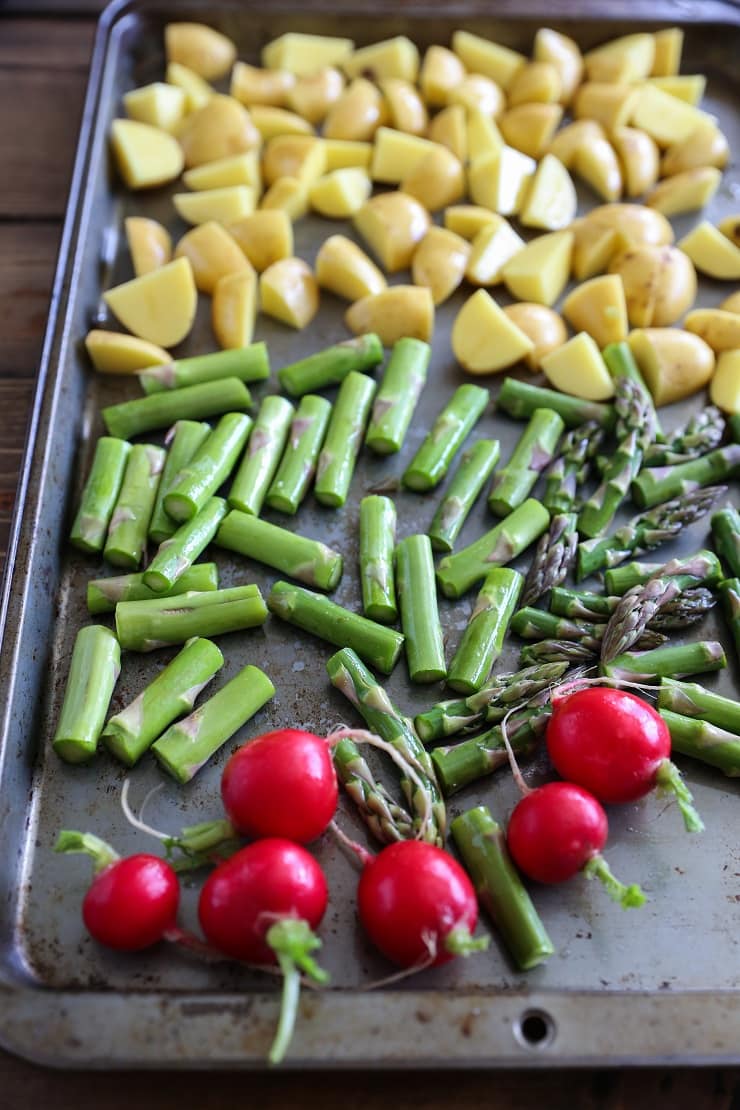 Alright, food psych 101 over. We can talk about this recipe now. It's a perfect example of one of my "hers" meals.
These spring vegetable Buddha bowls are an explosion of Spring for your bowl food dining experience. I roasted up a bunch of asparagus with some radishes, adoooorable little new potatoes, cauliflower (hint: I used an orange cauli), and golden beets.
I topped the vegetable Buddha bowls with peas, microgreens, sunflower seeds, and this ultra amazing avocado green goddess dressing.
A little note about radishes: if you don't enjoy them raw, you may just like them roasted! When roasted, the flavor is milder (they basically lose all that sharp spiciness), and they have the consistency somewhat similar to a potato…just snappier.
I prefer my radishes roasted 100% of the time. You gotta try them. Just add salt.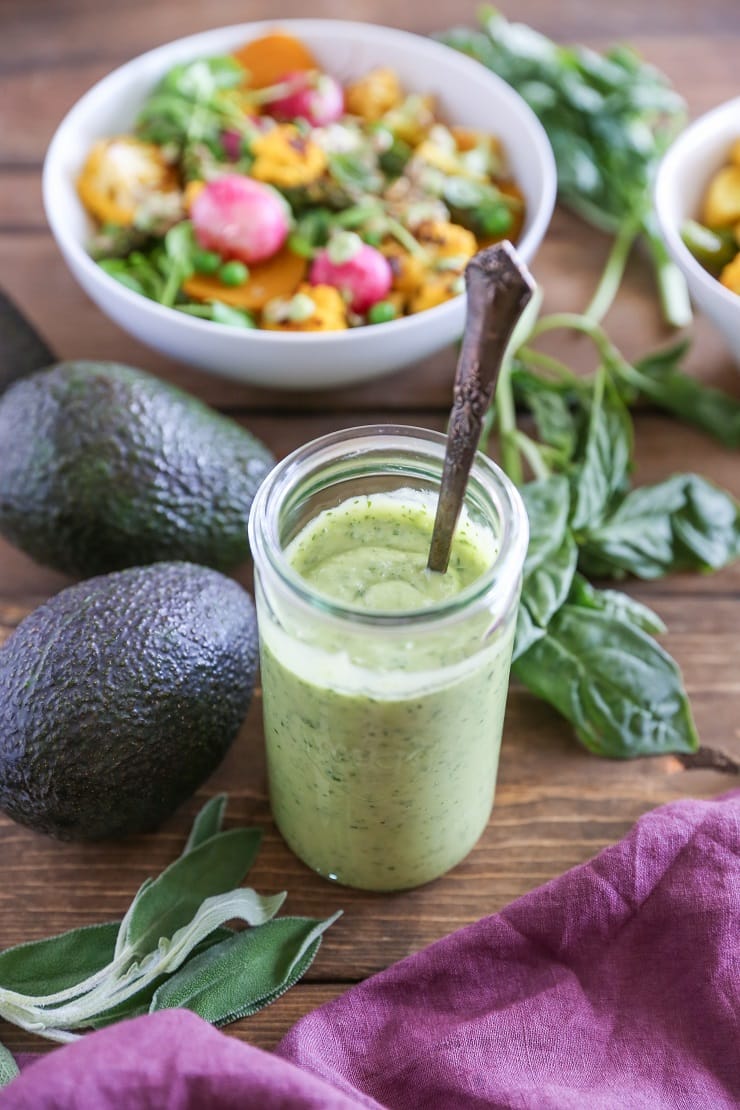 The avocado green goddess dressing in this recipe is a similar concept to the avocado chimichurri dressing I showed you last week in the Shrimp Taco Salad recipe post.
The avocado in this case replaces some of the oil and all of the mayonnaise in the green goddess dressing to bump up the health benefits so that you're getting a high caliber unprocessed fat source.
Plus, it's creamy, dreamy, and delicious!
You can get creative with the herbs you use for the dressing – my favorite combination is basil and sage with a touch of mint.
PROTEIN SOURCE! I didn't do a stellar job of adding one to the recipe. You can add any plant-based protein (chickpeas would be great in this bowl), or animal protein (grilled chicken or salmon FTW) you'd like.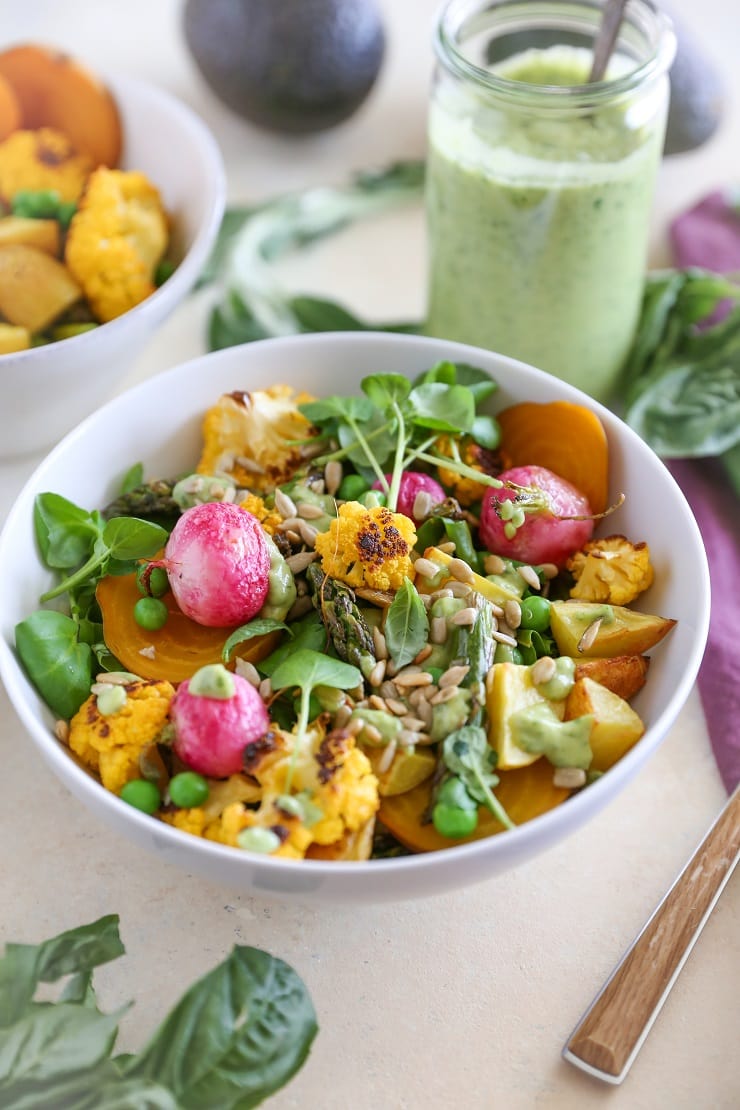 Adaptations? You do you, my friend! Make it a "yours" and "his" thing, a "yours" and "hers" thing…just be sure to make it.
<3
My cookbook,
Paleo Power Bowls
, is now available! CLICK HERE to check it out. Thank you for your support!
If you make this recipe, please feel free to share a photo and tag me at @The.Roasted.Root on Instagram!
Spring Vegetable Buddha Bowls with Avocado Green Goddess Dressing
Fresh, flavorful, vibrant roasted vegetable Buddha Bowls with creamy herby green goddess dressing is an amazing go-to for lunches and dinners!
Ingredients
Buddha Bowls:
2

cups

uncooked brown rice

1

bunch radishes

1

bunch asparagus

trimmed and chopped

1

small head cauliflower

chopped into florets

1/2

pound

fingerling potatoes

chopped

2

medium golden beets

sliced

1

cup

peas
Avocado Green Goddess Dressing:
For Serving:
2

ounces

mixed greens

see note**

1/2

cup

watercress

or microgreens of choice

1/3

cup

sunflower seeds
Instructions
Prepare the Buddha Bowls:
Preheat the oven to 400 degrees F. And cook rice according to package instructions.

Spread the radishes, cauliflower, asparagus, and potatoes over one or two large baking sheets. Drizzle vegetables with olive oil, sprinkle with sea salt, and use your hands to toss everything together to make sure all of the vegetables are coated (Note: you can also add various spices or dried herbs for more flavor - try paprika, dried oregano, thyme, garlic or onion powder, etc).

Place the sliced beets on a long sheet of foil, then wrap them into a foil packet. Place the foil packet on the baking sheet with the other vegetables.

Roast the vegetables for 20 to 30 minutes, stirring once halfway through, or until vegetables are cooked to desired doneness (Note: if you like your beets very soft, leave the foil packet in the oven another 10 minutes).

Divide the cooked rice between 3 or 4 bowls. Add desired amount of mixed greens (or beet greens), followed by roasted vegetables, watercress, and sunflower seeds. Drizzle desired amount of green goddess dressing on top, and enjoy!
Prepare the Green Goddess Dressing:
Add all of the ingredients for the green goddess dressing to a food processor or blender. Process until completely combined and creamy (Note: dressing will be very thick...for a thinner consistency, add 2 to 3 tablespoons of water). Transfer to a sealable container or jar and refrigerate until ready to use.
Notes
*I used ½ cup basil, ⅓ cup sage, and a couple tablespoons of mint. You can also use parsley
The dressing keeps for 5 days in a sealed container
**I chopped up the greens attached to the beets as my source for greens. You can also use baby spinach, kale, chard, spring green mix, etc.
Nutrition