Spring Green Salad with Kiwi, Raspberries, and Date-Balsamic Vinaigrette is a refreshing, crisp healthy salad for any time the craving strikes. Serve it alongside your main entrée or enjoy it for a light lunch.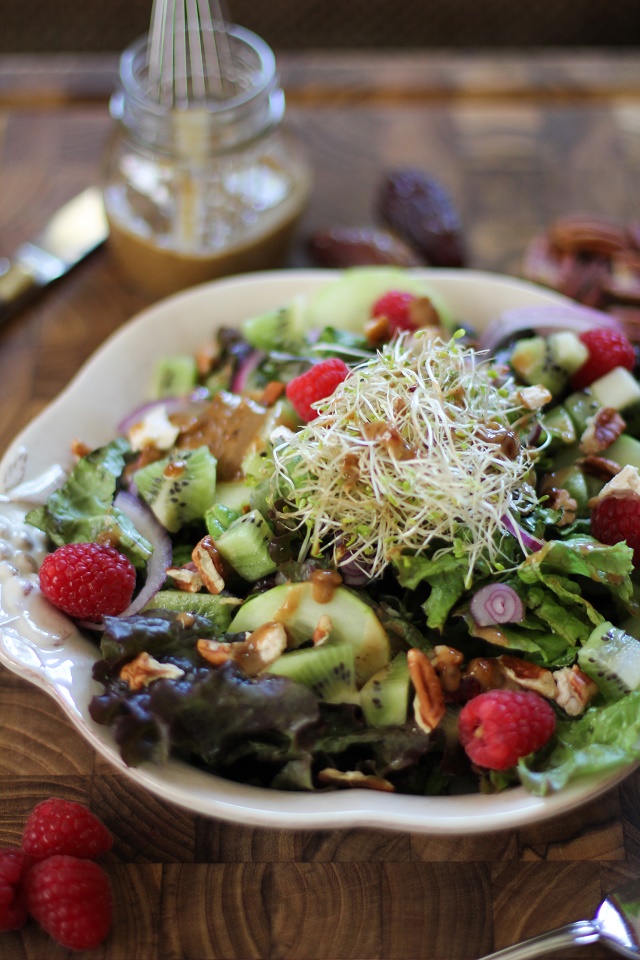 I wanted to name this post, "Basically a Really Rad Salad," because what do you name a salad that is fairly theme-less, but…just…rad…?
I emailed my mother with a photograph of the salad, and said, "Muuuhzah, what in the haystack do you call this?" Her response: "Razmataz Salad."
Thanks, mom.
We did a little back and forth via the emails. Short story longer: we ended up with…drumroll please… the exact title of this post.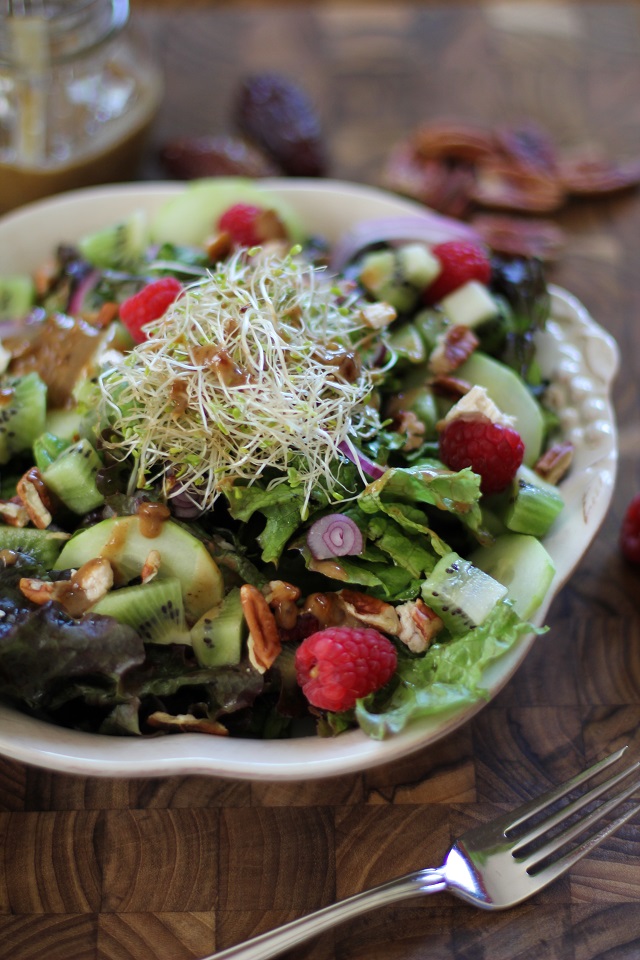 But this salad, though.
It's spring-inspired with field greens, kiwi, and cucumber; summer-ish with raspberries; timeless with pecans, goat cheese, and date-balsamic vinaigrette. So I guess you could call this an In-Between Seasons Radness Salad. Plus, it's a marvelous de-bloater, so there is that. In-Between Seasons De-Bloating Salad of Rad. There we go.
What makes this salad so rad (in my humble opinion) is the combination of cooling cucumber with tart and snappy kiwi and raspberries, along with crunchy pecans, earthy sprouts, creamy goat cheese, tied together with the tangy-sweet date-balsamic dressing. It basically explodes in your mouth the best way a salad possibly can.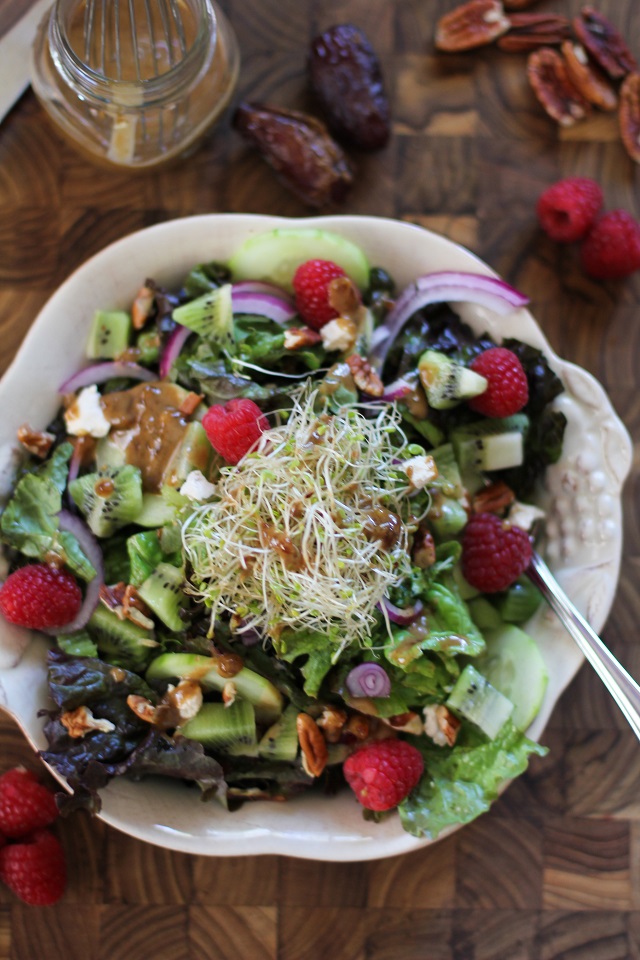 I was inspired to make this salad after going to Outer Aisle in Murphys, CA over the weekend.
They're quite literally a farm-to-table restaurant, as they use ingredients grown on their local farm to prepare their menu items. They have a pretty killer salad bar, complete with all sorts of fresh vegetable, fruit, nut, and seed options, as well as home-pickled veggies and homemade dressings.
When I went through their salad bar (you know, to offset all the wine and ice cream I had been consuming), I selected field greens, roasted red and golden beets, sauerkraut, pumpkin seeds, and a fruit medley of kiwi, apple, and blueberries. I always love adding fruit to salads for a pop of flavor, texture, and – do I daresay it? – moisture.
I could eat this type of all-the-things salad every single day. So I decided to pick up some farm fresh ingredients and make my own all-the-things adventure.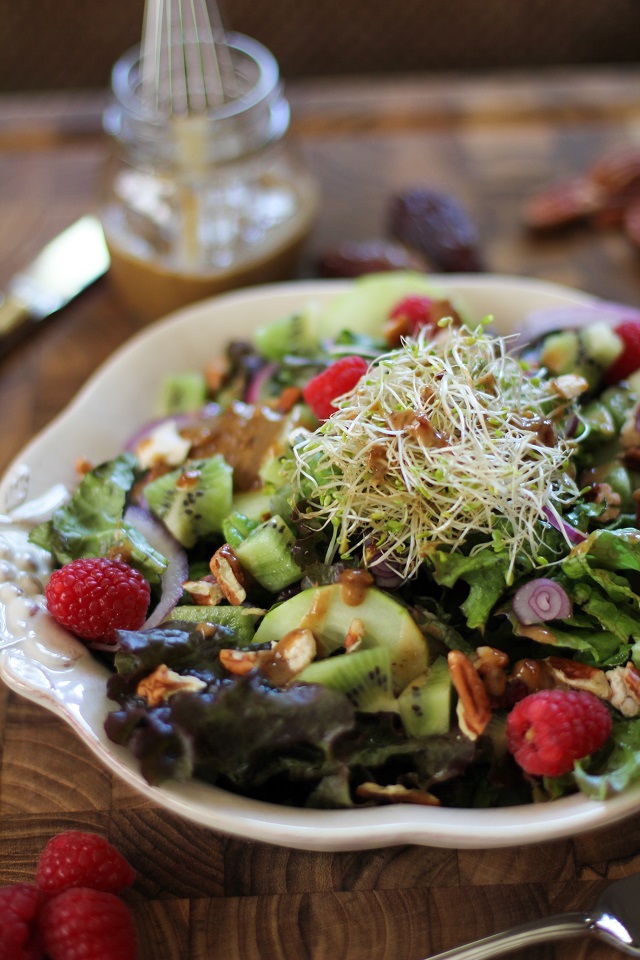 This salad fills you up (provided you eat a lot of it) without making you feel bogged down or like you need a post-meal siesta. It's got all the pep, all the rhythm, all the music, eat it for breakfast, kidding, not kidding, but seriously please do, you'll thank yourself for it, don't make this weekend a repeat of last weekend, just my two cents, I'll stop projecting, over and out.
Get it!
Spring Green Salad with Kiwi, Raspberries, and Date-Balsamic Vinaigrette
Spring Green Salad with Kiwi, Raspberries, and Date-Balsamic Vinaigrette is a celebration of produce in one delicious salad!
Ingredients
5

ounces

spring greens or red leaf lettuce

2

ounces

alfalfa sprouts

¼

cucumber

peeled and thinly sliced

¼

small red onion

thinly sliced

6

ounces

raspberries

2

kiwifruit

peeled and chopped

¼

cup

raw pecans

chopped

¼

cup

goat chevre

crumbled
Date Balsamic Vinaigrette
Instructions
Combine all the ingredients for the date-balsamic vinaigrette in a small blender. Blend until smooth. The dressing will be very thick - you can add a couple tablespoons of water if desired.

In a large salad bowl, combine all of the ingredients for the salad. Toss in desired amount of date-balsamic vinaigrette and serve!
Nutrition
Serving:
1
Serving (of 2)
|
Calories:
475
kcal
|
Carbohydrates:
26
g
|
Protein:
10
g
|
Fat:
38
g
|
Fiber:
11
g
|
Sugar:
11
g