Roasted Eggplant Split Pea Soup is a creamy, delicious and nutritious vegan soup recipe. You'd never guess eggplant could be so amazing in this creamy soup!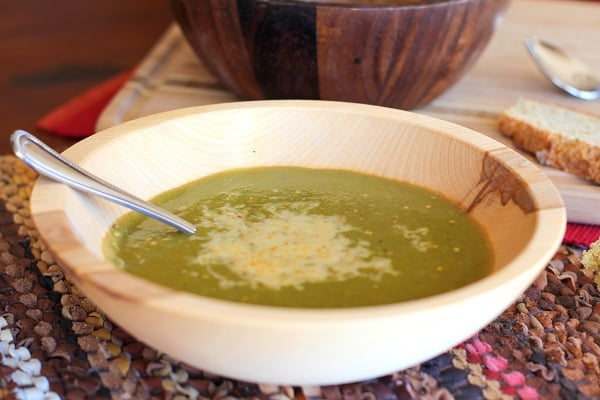 Things have been getting uncomfortable lately. By "things," I mean my jeans.
With the slow wave of my hand, I bid adieu to the delicious treats I consumed over the holiday season, albeit reluctantly. Tight booty jeans on the brink of seam destruction? Say it ain't so! As fun as it was to take a swim in the pool of gluten, sugar and milk, I simply can't keep up the habit because purchasing bigger new jeans is not worth the expense when the acquisition is only to accommodate my growing hips.
Ergo, diving into the roots of this site is both positive and necessary. This site is about roasting. It's about vitamins. It's about minerals. It's about healthy habits, dern it! Not skyrocketing insulin. It's time for a clean out. The foot's been stomped. For me, detox requires a lot of vegetables, fruit and water. And faith. Faith that the desire to curl up in a ball and cry at the trough of my sugar low will eventually end. And it will folks, it certainly will. All it takes is a few pounds of whole foods and the utter refusal to buy new jeans.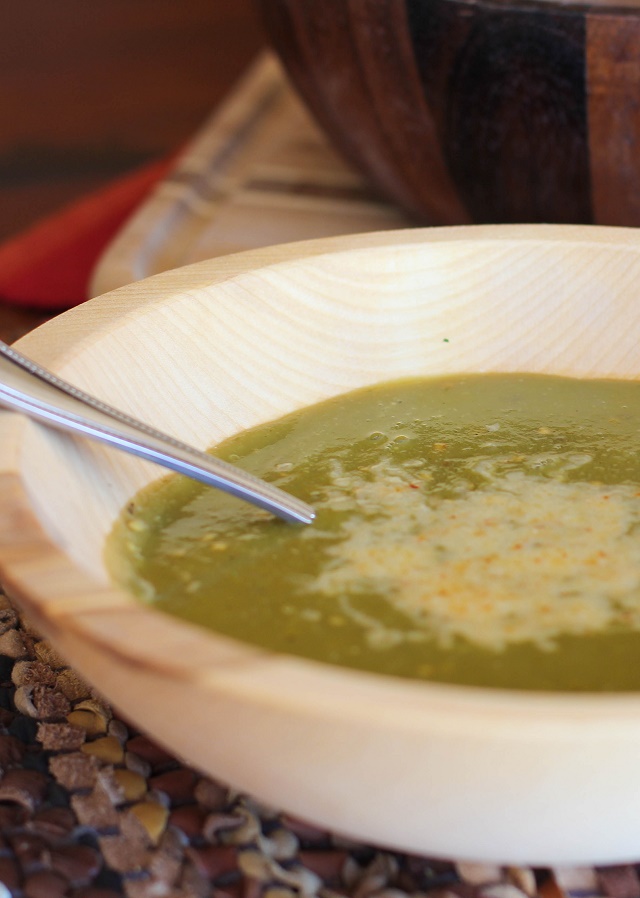 Step 1 to detox: Remove yourself from the problem (empty, empty carbs) or better yet, remove the problem from you (i.e. release your iron grip on the bag of dark chocolate chips into the hands of your boyfriend and look away while he hides it somewhere far, far away). Step 2 to detox: Sweat. Sweat like it's your job. Step 3 to detox: Water. Step 4 to detox: Real food. Step 5 to detox: Grey's Anatomy.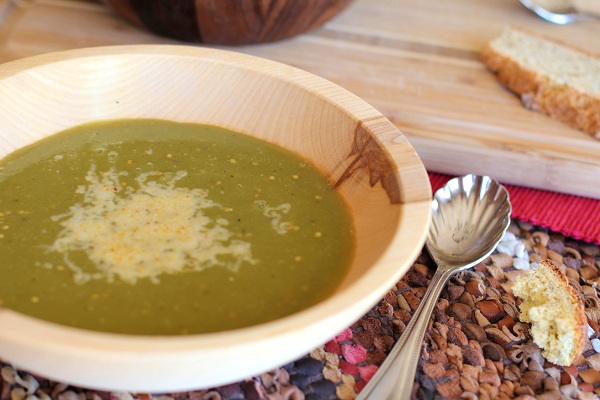 This soup is tasty and filling. It is full of comfort, it is full of what I need to keep a proper-fitting jean. To keep the recipe vegan, simply stick with vegetable broth (and don't sprinkle cheese on top like I did), or to make the recipe hardier, chop up some ham or bacon. The soup satisfies and it gets you back on track after a long, long stretch of offtrackedness.
Roasted Eggplant Split Pea Soup
Creamy split pea and roasted eggplant soup.
Ingredients
2

cups

dry split peas

6

cups

water

2

large eggplants

3

tablespoons

olive oil

separated

1

teaspoon

salt or to taste

2

teaspoon

rubbed sage

1

red onion

3

cups

vegetable broth
Instructions
In a large pot, bring 2 cups of dry split peas and 6 cups of water to a full boil. Add the sage and salt. Reduce the heat to a simmer and cook covered for 40-50 minutes, until peas are soft, soup is thickened and creamy.

Preheat the oven to 400 degrees. Cut the eggplants in half lengthwise, drizzle 2 tablespoons of olive oil and some salt on the flesh. Place the eggplants skin-side up on a baking sheet. Bake for 30 minutes or until the flesh is very soft.

While the eggplant is roasting and split peas are cooking, sauté the onion in 1 tablespoon of olive oil until soft and browned, about 15 minutes.

Add the cooked split peas to a blender and blend until creamy. Transfer the split peas back into the large pot.

Scoop the eggplant flesh into the blender and discard the skin. Add the sautéed onion and a cup of the vegetable broth in with the eggplant and blend until smooth.

Transfer the eggplant mixture into the large pot with the split peas. Add the remaining vegetable stock, bring to a gentle boil and remove from heat. Serve with shredded cheese on top.
Nutrition
Serving:
1
of 4
|
Calories:
379
kcal
|
Carbohydrates:
70
g
|
Protein:
25
g
|
Fat:
10
g
|
Fiber:
25
g
|
Sugar:
10
g