Are you intimidated by crepe making? Don't be! It's all in the wrist.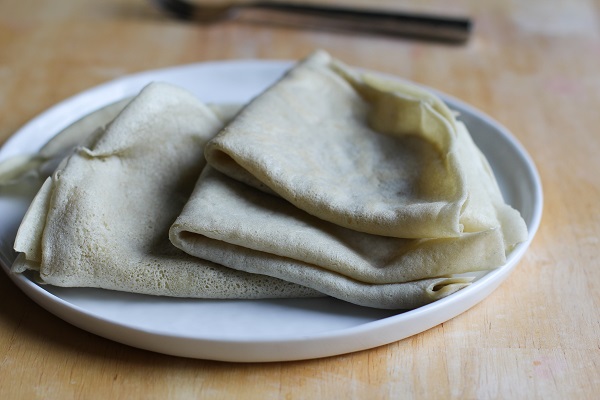 Crepes were a major part of my life growing up. Every weekend, my mom made pancakes, waffles, or crepes for breakfast. When you're a tween, you're far more interested in butter than fresh fruit, so we never got too crazy with toppings – a good shmear of butter and a drizzle of maple syrup was my crepe modus operandi.
But now? Load those suckers up, and let there be cheese puh-lease!
What is your ideal crepe built out of? Ham and cheddar? Peanut butter, banana, and nutella? Fried chicken and mashed potatoes? Balsamic roasted Brussels sprouts with caramelized onions and blue cheese? Fresh raspberries and melted white chocolate? Stop it, you're making me hungry.
Every loves a good crepe. Sweet, savory, folded, or rolled, everyone has a crepe mate. While I've made gluten free crepes using coconut flour a few times, they are delicate to work with and take so long to cook that I haven't bothered to post a recipe for them. BUT, gluten free flour blends have become so amazing, that I figured a blend would make for a much more user-friendly crepe.
I hijacked Stephie's crepe recipe from her Peach and Ricotta Crepes post, and just made some minor adjustments to make the batter gluten free and dairy-free. If gluten and/or dairy is not a going concern for ya, simply follow Stephie's original recipe. And don't forget the peaches and ricotta, because: duh.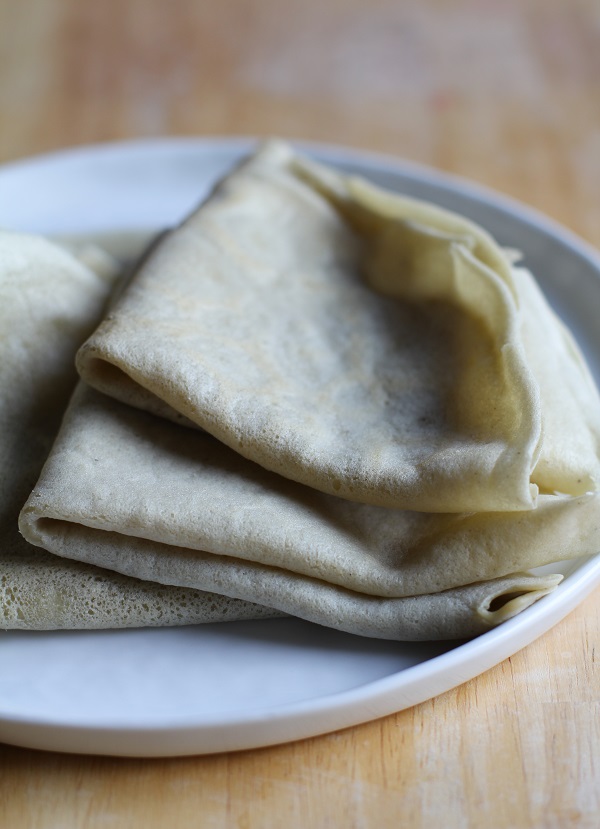 A quick tip for making crepes: let the batter rest in the refrigerator for at least an hour. This helps any chunks of flour dissolve into the batter and allows the air bubbles to dissipate, leaving you with an ultra smooth batter. I typically make crepe batter the night before so that it has the whole night to chill. When cooking the crepes, play with your heat setting (between medium-low and medium) so that the batter doesn't sizzle when you pour it onto the skillet. The first crepe tends to end up in the trash. No big deal…you've got more batter to mess around with.
Of course, the best part about crepe-making is the crepe-stuffing and crepe-topping, followed by the crepe-devouring. I always love seasonal fruit and some sort of sauce for my sweet crepes. Any type of meat and cheese combo does me well for a savory option.
Speaking of seasonal fruit and sauce, you're going so see an off-the-charts bonkers delicious crepe recipe tomorrow. Stay tuned!
Easy Gluten Free Crepes
Gluten-Free Crepes make for an amazing breakfast! Top them with your favorite toppings for a mouth-watering experience.
Ingredients
For the Gluten Free Crepes:
2

eggs

1

cup

unsweetened almond milk

¼

cup

+ 2 tablespoons water

3

tablespoons

grapeseed or olive oil + more for cooking

1

cup

gluten free all-purpose baking flour

Pinch

salt
Instructions
In a mixing bowl, whisk together the wet ingredients. Add the flour and salt and whisk until well-combined and all the lumps are out. (Alternatively, you can add all ingredients for the crepes to a blender, and blend until combined.)

Cover the batter with plastic wrap and refrigerate overnight (or for at least one hour).

Take the crepe batter out of the refrigerator and let it come to room temperature (or close to it).

Heat a medium-sized (9 or 10-inch) skillet to medium-low with just enough oil or butter to lightly coat the surface.

Measure ¼ cup of the batter and pour it onto the center of the hot skillet. Immediately rotate the pan so that the batter is thinly covering the whole surface. Allow batter to cook until the edges begin to pull away from the pan and small air bubbles rise to the surface, about 1 to 2 minutes.

Carefully flip crepe to the other side, cook an additional 30 seconds to 1 minute, and

Repeat for remaining batter.

Top crepes with your favorite toppings and enjoy!
Notes
If you aren't gluten intolerant, you can replace the gluten-free all-purpose flour with an equal amount of regular all-purpose flour. You can also use regular cow's milk in place of almond milk. Annnnd, you can use melted butter in place of grapeseed/olive oil. Options galore!
Nutrition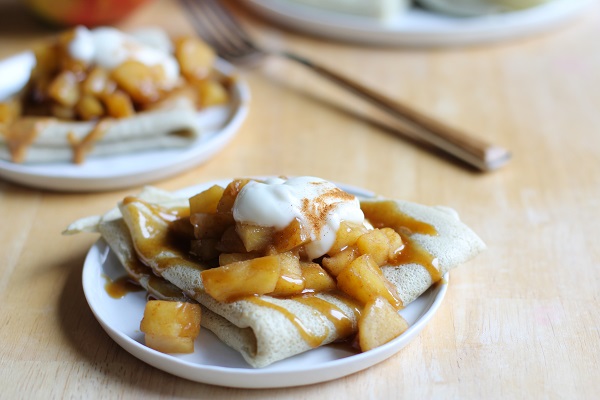 I mean…seriously.