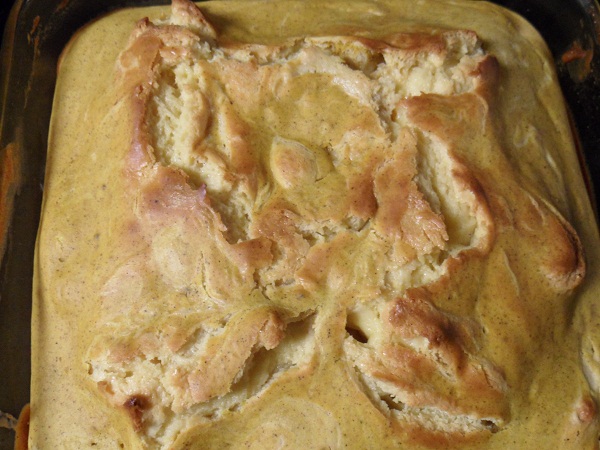 More often than not, I become ingredient-obsessed. For instance, when corn was on sale several weeks back, it crash landed in my soup, eggs, salsa, salad, etc. Who's with me?
Now that grocery stores are stock-piled with colorful, flavorful squash, you can imagine what my current ingredient obsession is (not that I gave it away in this week's title or anything). That's right, it's pumpkin time and oh boy how I love it. Every year, my family goes to Apple Hill, a wonderful little pumpkin and apple mecca. There are store-fronts and tents set up where local farmers sell their fresh produce and prepared foods. I go volume crazy in Apple Hill. And so does the rest of my family, which means the crispers in each of our refrigerators are overflowing as the result of our purchases and we are thereby empowered with good old fashioned commodity bartering capabilities.
I find that squash in general is a very versatile ingredient. Whether it's an acorn, butternut or spaghetti squash, there are a marathon of oppotunities. The same pumpkin (Cinderella pumpkin) I used to bake these brownies also yielded me a pumpkin pie, pancakes, and ice cream. As a value buyer on a budget, this purchase wasn't too shabby!
Now that I fully embrace how worthless all-purpose flour is on the nutrient scale, it is atypical for me to bake with it; however, during the last quarter of the year (the baking quarter we can call it), I really see no other option than to succumb to the tractor-beam hold all-purpose flour has in the texture realm. It is impossibly difficult to get the same texture all-purpose flour (or even whole wheat flour for that matter) achieves with the use of coconut, almond or oat flour as a substitute. Frankly, when you're looking for brownie texture, you're looking for brownie texture, I don't care who you are. So during Baking Quarter, flour may present itself here and there.
Ingredients:
 For white chocolate mixture
3/4 cup flour
1/2 tsp baking powder
1/2 tsp salt
11 ounces Ghirardelli white chocolate chips (one bag)
6 tablespoons butter
1 tsp vanilla extract
2 eggs
1/2 cup brown sugar*
For the pumpkin mixture
3/4 cup flour
1 teaspoon baking powder
1/2 teaspoon salt
1/4 teaspoon cayenne pepper
2 teaspoons cinnamon (I put about 4 teaspoons because I like spicy pumpkin)
1 teaspoon nutmeg
2 tablespoons butter, melted
1 teaspoon vanilla extract
2 cups of pureed pumpkin**
2 eggs
3/4 cup brown sugar***
3/4 cup chopped walnuts (optional)
*Scale up to 1 cup of sugar if desired
**Use pumpkin puree from a can, or make your own. Choose a "pie" pumpkin or ask someone to direct you to the best pumpkin for baking. I used a Cinderella pumpkin from Apple Hill – this is by far the best pumpkin I have worked with – the texture comes out very smooth, moist and buttery, although the actual pumpkin flavor is scaled back, which may be a good thing for some, though a disappointment for me. If you're looking for a strong pumpkin taste, I recommend sticking with a pie pumpkin. Cut your pumpkin in half (from stem to sternum) or in quarters if it is very large. Scoop out the innards using a metal spoon. Place flesh down (rind up) on a baking sheet and bake in the oven at 400 degrees (at lower altitudes, go 350) for an hour or until flesh is very soft and pumpkin juices are seeping out. If the rind begins to brown and shrivel, this is a-okay – it probably means your pumpkin is done. Let it cool and scoop out the pumpkin flesh (throwing away the rind) and using a blender or a food processor, puree the pumpkin well. Add a small amount of milk or water to the puree if the pumpkin is a little dry and does not smooth out well. You can freeze whatever puree you don't use for later applications, though a standard pie pumpkin usually yields the exact amount you will need for this recipe.
***Scale up to 1 cup brown sugar if desired
To bake:
Put the white chocolate chips and butter in a double boiler or carefully heat in a saucepan over low heat until you have a thick, smooth sauce. You can keep this mixture on a low temperature on your burner while you are preparing the rest of the ingredients; though make sure it does not begin to burn (if butter begins to pull away from the white chocolate, no worries, just heat it back up before incorporating it into the rest of the ingredients later).
Preheat oven to 350. Begin by preparing the pumpkin mixture. In a mixing bowl or KitchenAid, combine all dry ingredients. In a separate bowl, beat eggs until frothy, then mix in the honey (or sugar), vanilla extract. Add the pumpkin puree and mix well. If you used pumpkin puree from a can or a pie pumpkin, add 1/4 cup of cream or milk if necessary – this should have a relatively thin consistency.
Now prepare the white chocolate portion. In a mixing bowl (or a KitchenAid if you have one), combine flour, baking powder and salt. Combine the eggs, vanilla and honey (or sugar) and achieve a light, bubbly consistency. Now comes the tricky part: my white chocolate mixture was not at all easy to work with, so here is what I would recommend: use your blender/food processor/KitchenAid to make the batter, because when I mixed everything together by hand, there were clumps of flour that would not dissolve easily into the batter.
To combine dry and wet ingredients, go in halves, starting by pouring half the egg mixture into the flour mixture, then half the white chocolate mixture and so on until everything is smooth. Lay parchment paper in a 9″ square baking pan or butter the sides of the pan. Working swiftly, layer the pumpkin and white chocolate batters in halves, starting with the pumpkin batter. Use a knife or a rubber spatula to swirl the batters together. Place in oven immediately and bake for 40 – 45 minutes until the brownies test clean.