Heyo! How was your week? It's been a rigmarole of one-thing-after-another-edness over in my neck of the woods. With the holidays coming up, I bet you can relate!  So here's the scoop for this week's meal plan: The bummer news is we only have four recipes for you this week, but the grand news is we have a sweet variety of meals that will 200% yield leftovers while 200% leaving you satisfied. Check out these healthy and easy-to-prepare eats from myself, Marcie, Taylor, and Ashley!
As always, have a fun and rambunctious weekend, and a healthy week!
Monday
Minestrone Soup with Quinoa from The Roasted Root.
Prep Ahead: This recipe comes together rather quickly, but if you'd like, you can chop the vegetables ahead of time. You can add chicken for protein.
Tuesday
One Pot Mexican Black Bean Sweet Potato Quinoa from Flavor the Moments.
Prep Ahead: Veggies can be prepped in advance. The meal comes together in 30-40 minutes!
Wednesday
Butternut Squash, Bacon, and Gruyere Pasta from greens & chocolate.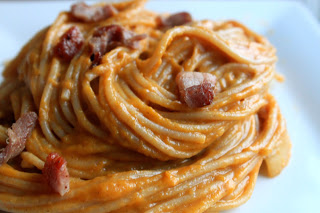 Prep Ahead: Roast the squash and/or make sauce day in advance.
Vegetarian Option: Omit bacon for vegetarian.
Gluten-free Option: Use your favorite store-bought or homemade gluten-free noodles.
Thursday
Sweet Potato and Black Bean Pizza from Cookie Monster Cooking.
Prep Ahead: Black bean puree may be made in advance. Additionally, the sweet potatoes may also be sauteed in advance. Serve with a side salad! If you don't want to buy manchego, another cheese of choice can be used instead (although the manchego is delicious here!).
Click HERE for printable grocery list and meal plan (below)!
Click HERE for customizable grocery list and meal plan (below!)
Previous Meal Plans