Well Happy second day of 2016 to you!
How was your NYE? Did you make any New Years' Resolutions? If you're doing a detoxy-cleanse type of sitch and are in need of dinner recipe ideas, be sure to check out the 63+ Whole30 Dinner Recipes I located from around the web! There's plenty there to whet your whistle and keep you on track.
Now for the first week of January – we have some super clean and tasty eats for you. We start off the week with a salad, followed by some quinoa action, then we stuff the crap out of a spaghetti squash, followed by another duh-lish salad, then finally an easy peasy yet insanely mouth-watering crock pot meal. Pair this week's meals with some Jessica Jones on Netflix and you're slated for a badass start to 2016!
Per usual, you can print out your grocery list to make food prep efficient. Have a wonderful Jan 2!
Monday
Roasted Butternut Squash and Pear Salad with Lentils from The Roasted Root.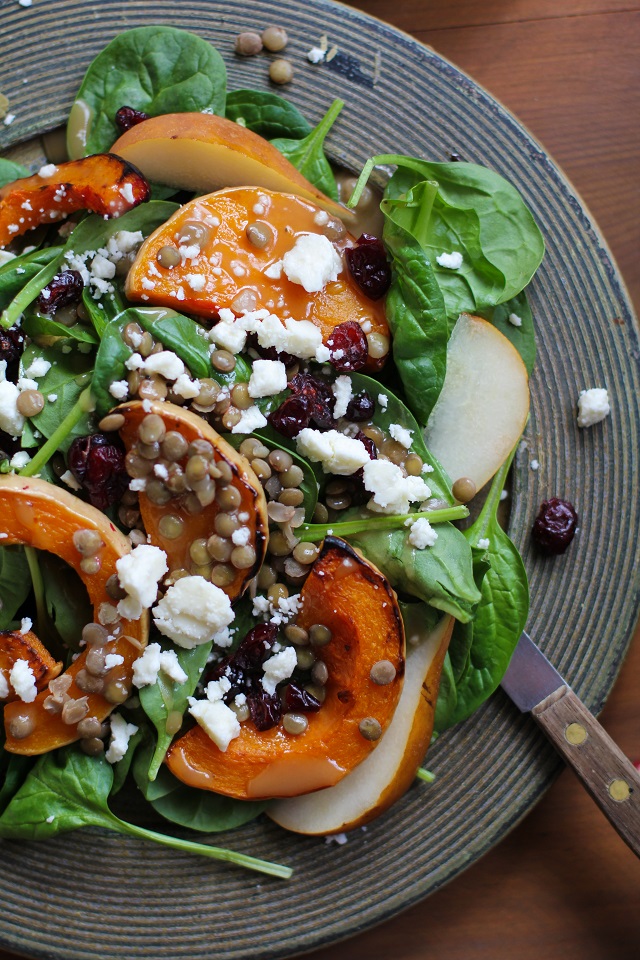 Prep Ahead: The lentils can be cooked ahead of time, and the butternut squash can be roasted ahead of time. To make this recipe vegan, omit the feta.
Tuesday
Citrusy Quinoa Cashew Chicken and Broccoli from Cookie Monster Cooking.
Prep Ahead: The quinoa can be made in advance. For a vegetarian option, omit the chicken breasts and add 1 (15-ounce) can chickpeas (drained and rinsed) at the end of the recipe when you add the cashews and quinoa to the skillet!
Wednesday
Red Lentil Coconut Curry Stuffed Spaghetti Squash from greens & chocolate.
Prep Ahead: You can prep the curry 1-2 days in advance. To make cooking the spaghetti squash quicker, microwave it face down in a baking dish with ~1/2 inch of water in it, for 12-14 minutes on high.
Thursday
Winter Harvest Salad with Wild Rice Cranberries and Citrus from Spoonful of Flavor.
Prep Ahead: Prepare the wild rice in advance to save time.
Friday
Slow Cooker Chicken Salsa Verde Tortilla Soup from Flavor the Moments.
Prep Ahead: The salsa verde sauce may be made in advance and stored in the fridge until you're ready to pop everything into the slow cooker!
Click HERE  to print the grocery list (below):
Click HERE to print the customizable grocery list (below)!:
PREVIOUS HEALTHY MEAL PLANS