Hello from Expo West! I've been in Anaheim touring around the Natural Products Expo with Sarah from Making Thyme from Health. We've been connecting with all sorts of awesome brands and have been eating our way through aisle upon aisle of amazing, healthy food. We head home tomorrow, but in the meantime, you can take a peek at our comings and goings on Instagram and Snapchat (YUP! I just joined…you can find me at theroastedroot)
THIS WEEK!: More tasty eats! Get ready for your week by grocery shopping in advance, and as always, have a fun weekend!
Monday
Crock Pot Barley and Bean Tacos with Avocado Chipotle Cream from Cook Nourish Bliss.
Prep Ahead: The prep work for this meal is minimal, but if desired you can chop the onion in advance!
Tuesday
White Bean Wild Mushroom Gratin from Flavor the Moments.
Prep Ahead: You can make the beans in advance and salsa verde (if using) in advance!
Wednesday
Cilantro Lime Shrimp Quinoa Bowls from Spoonful of Flavor.
Prep Ahead: You can prepare the quinoa, salsa and avocado creama in advance to save time.
Vegetarian options: Omit the shrimp and substitute with a fresh veggie or tofu.
Thursday
Thai Basil Chicken Stir Fry with Ginger Peanut Sauce from The Roasted Root.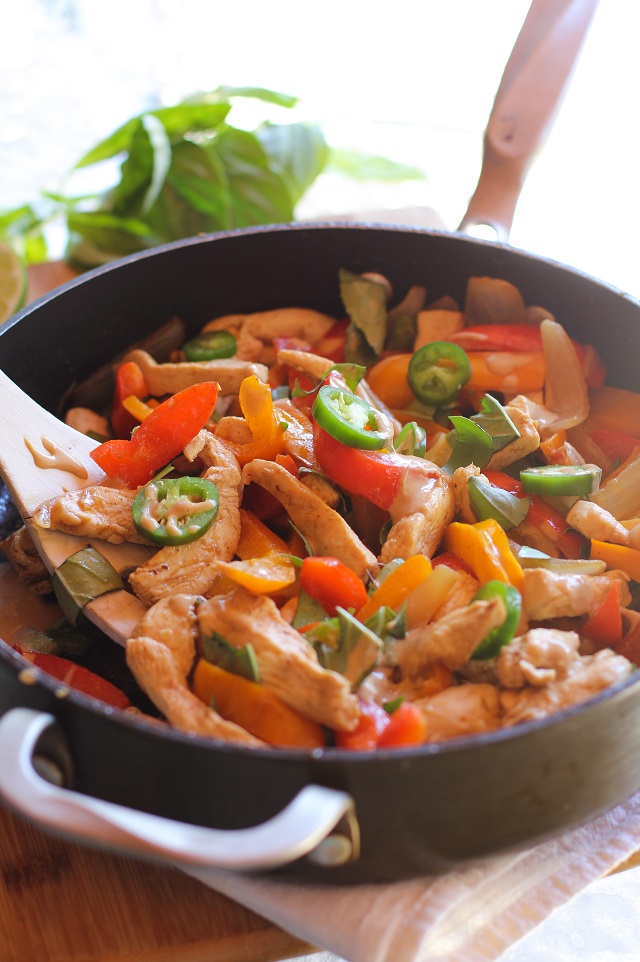 Prep Ahead: If serving with rice, you can cook the rice ahead of time
Friday
Caramelized Onion and Gruyere Grilled Cheese Sandwiches from greens & chocolate.
Prep Ahead: Caramelize the onions a day in advance. Serve with roasted vegetables.
Click HERE to print the grocery list below:
Click HERE to print the customizable weekly menu: