For this week's menu of healthy food, we have all sorts of food in bowls (my favorite) We start the week with a peanut stir fry, follow that up with cashew chicken, move right along to burrito bowls, then pasta, then couscous salad. As always, be sure to check out our printable grocery list below to make shopping a breeze. Have a great weekend!
Monday
Sriracha Peanut Tofu Stir Fry from greens & chocolate.
Prep Ahead: You can press the tofu in advance and combine the ingredients for the sauce in advance. Other than that, this comes together very quickly.
Animal Option: Substitute chicken for tofu.
Tuesday
Cashew Chicken with Peppers and Greens from Spoonful of Flavor.
Prep Ahead: This meal comes together very quickly but you can save time by slicing the peppers and cutting the chicken in advance. Also, make sure you have the rice cooked in advance.
Vegetarian option: You can omit the chicken and replace it with tofu or an additional vegetable such as broccoli.
Wednesday
Shredded Chicken Burrito Bowls from The Roasted Root.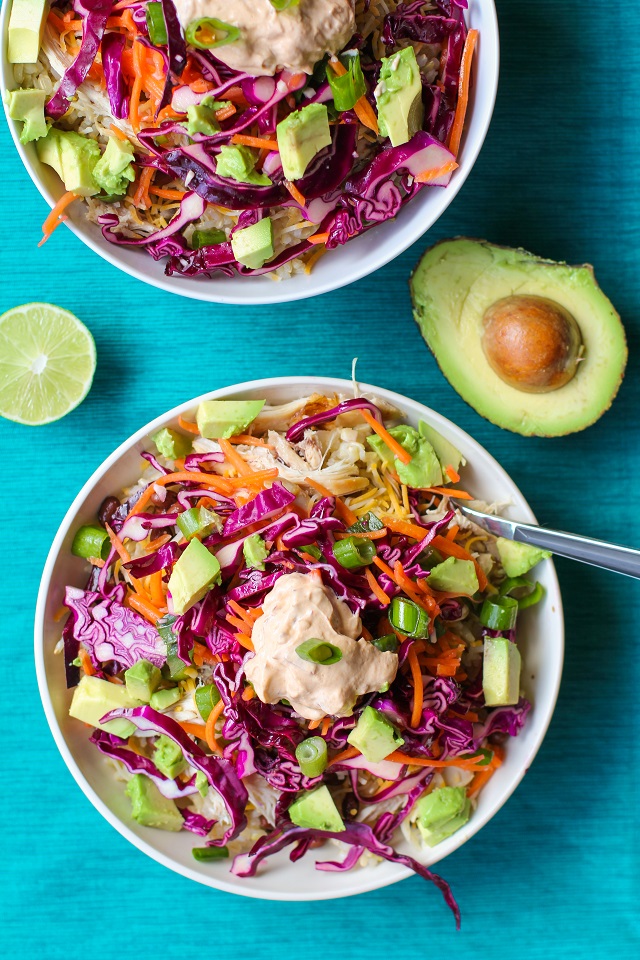 Prep Ahead: The rice, slaw, and chipotle sour cream can be prepared a day ahead of time.
Vegetarian Option: Omit the chicken and add chickpeas or tofu
Thursday
30 Minute Caprese Skillet Pasta from Flavor the Moments.
Prep Ahead: No advance prep needed — this meal comes together in a flash!
Gluten-Free Option: Use gluten-free noodles of choice.
Friday
Mexican Couscous Salad from Cook Nourish Bliss.
Prep Ahead: The entire dish can be made in advance. It keeps well for several days in the fridge!
Gluten-Free Option: Replace couscous with rice or quinoa.
Click HERE to print the grocery list below:
Click HERE to print the customizable menu below:
Click here to view previous -> Healthy Weekly Meal Plans