Cheers to the freaking weekend!
It's Spring here.
We went from consistent snowfall earlier int the winter to a blue skied paradise here in the Sierra Nevada. If it weren't for the fact that we need as much precip we can get after a few years, I'd have no complaints. I'm basically in trail running heaven. Plans for the weekend? A little road ride on the ol' bicicletta, some freelance projects, and a little whisky lullaby (but like in a wahooo it's da weekend sort of way…not as per the song. Anyhoo.).
Here's our healthy meal plan for the week! We've got some super healthy and flavor-packed Thai noodles, that uber awesome Wasabi Vegetable Bowl I showed you recently, a fresh and funky veggie burger, some super comforting superfood veggie soup, and a one-pot pasta primavera meal-i-o that will blow your mind. Do 'er!
Monday
Thai Chicken Noodles from Spoonful of Flavor.
Prep Ahead: You can spiralize the noodles and chop the other veggies in advance.
Tuesday
Wasabi Vegetable Bowls from The Roasted Root.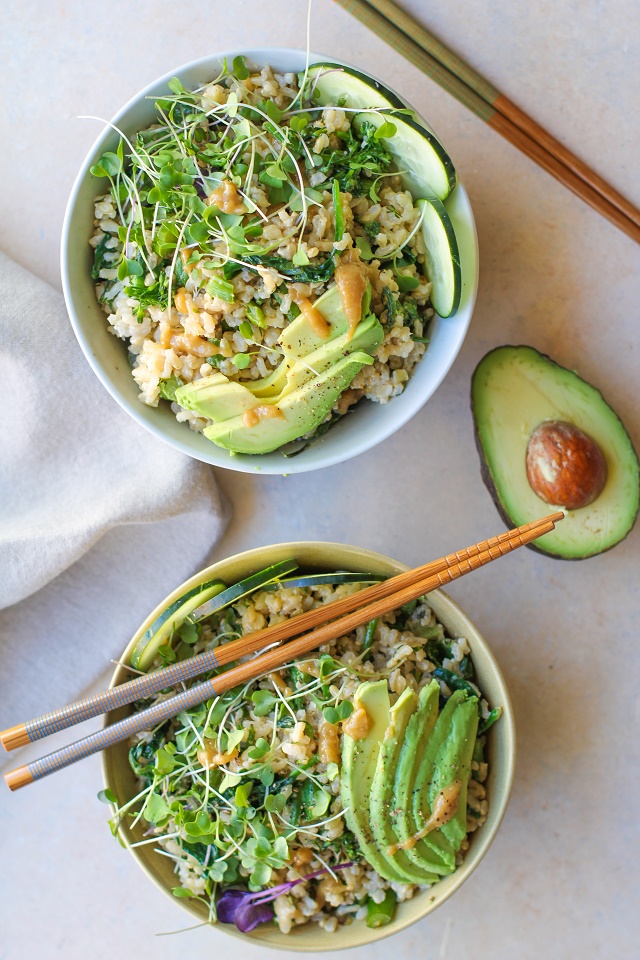 Prep Ahead: Cook the rice a day or two ahead of time, prepare the wasabi sauce, and chop the veggies a day ahead of time.
Protein Option: Add grilled chicken or tofu.
Wednesday
Spicy Black Bean Veggie Burgers with Persimmon Orange Salsa and Avocado Cream from Flavor the Moments.
Prep Ahead: This meal comes together so quickly, but you can make the avocado cream up to a day in advance. Salsa is best the day that it's made.
Thursday
Chard and Lentil Vegetable Soup from Cook Nourish Bliss.
Prep Ahead: The entire dish can be made in advance – it reheats really well! Or, the veggies can be prepped ahead of time. Additionally, another dark leafy green (like spinach or kale) can be subbed for the swiss chard.
Friday
One Pot Tortellini Primavera from greens & chocolate.
Prep Ahead: You can chop all the veggies a day in advance.
Protein Option: You can add cooked chicken at the end.
Click HERE for to print the grocery list below:
Click HERE to print the customizable menu:
Click here to view previous -> Healthy Weekly Meal Plans