Hey hey heeeeeey!
What are you all up to this weekend?  On account of the fact that we don't have any new snow to report in the mountains, I'll be playing a little game called Catch the Eff Up. Performing tasks that have been back burnered for the last week…okay, three weeks….okay, three months. Such as…clean the house, cut the toenails, get on top of the freelance work, website maintenance (fingers crossed I don't break this thing…now you see me, now you do–  $%!*Ctrl Alt Delete. Just kidding).
Anyhoo, there's a sizeable amount of adulting going on in my neck of the woods this weekend. I may watch a fooseball game. You may have heard of it. It's called the Super Bowl.
Get a load of this menu! We're curry-ing, tortellini-ing, spaghetti-ing, stuffing, and chili-ing this week. Have a marvelous time doing your thang, and may your upcoming week be filled with health, happiness, and a helluva lotta food.
Over and out.
Monday
Coconut Chicken Curry from Spoonful of Flavor.
Prep Ahead: Make the rice ahead of time and reheat just prior to serving.
Vegetarian Option: Double the amount of fresh vegetables instead of using chicken.
Tuesday
One Pot Tortellini Primavera from greens & chocolate.
Prep Ahead: You can chop the fresh vegetables a day in advance.
Gluten-Free Option: Replace tortellini with gluten-free noddles of choice.
Wednesday
Spinach and Artichoke Sweet Potato Skins from Cook Nourish Bliss.
Prep Ahead: The sweet potatoes can be cooked in advance so they are ready to go for dinner. Serve with a side salad for a complete meal!
Thursday
Greek Spaghetti Squash from The Roasted Root.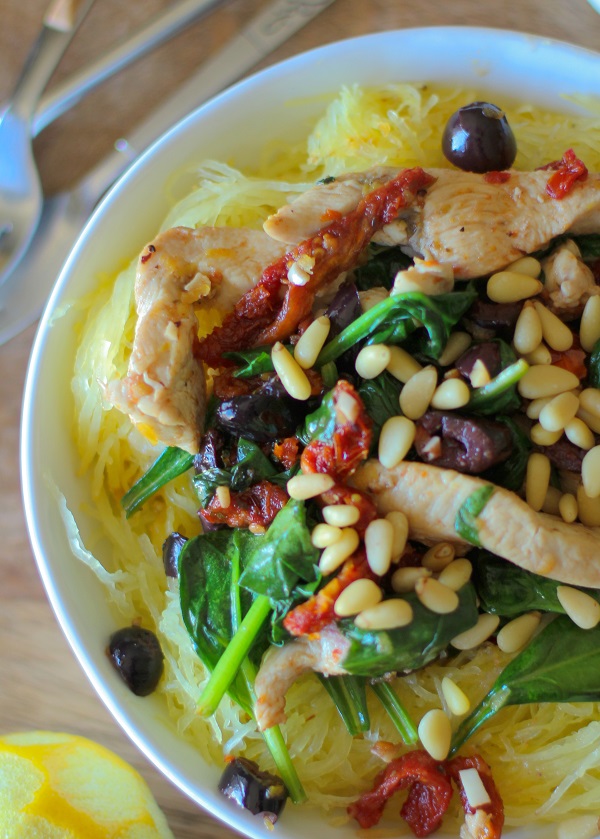 Prep Ahead: The squash can be roasted a day ahead of time. To save some time, you can use cooked chicken, such as rotiserie chicken, instead of raw.
Friday
30-Minute Three Bean Chipotle Quinoa Chili from Flavor the Moments.
Prep Ahead: This meal comes together so quickly that no prep is needed!
Click HERE to print the grocery list below:
Click HERE to print the customizable weekly menu below:
Click here to view previous -> Healthy Weekly Meal Plans