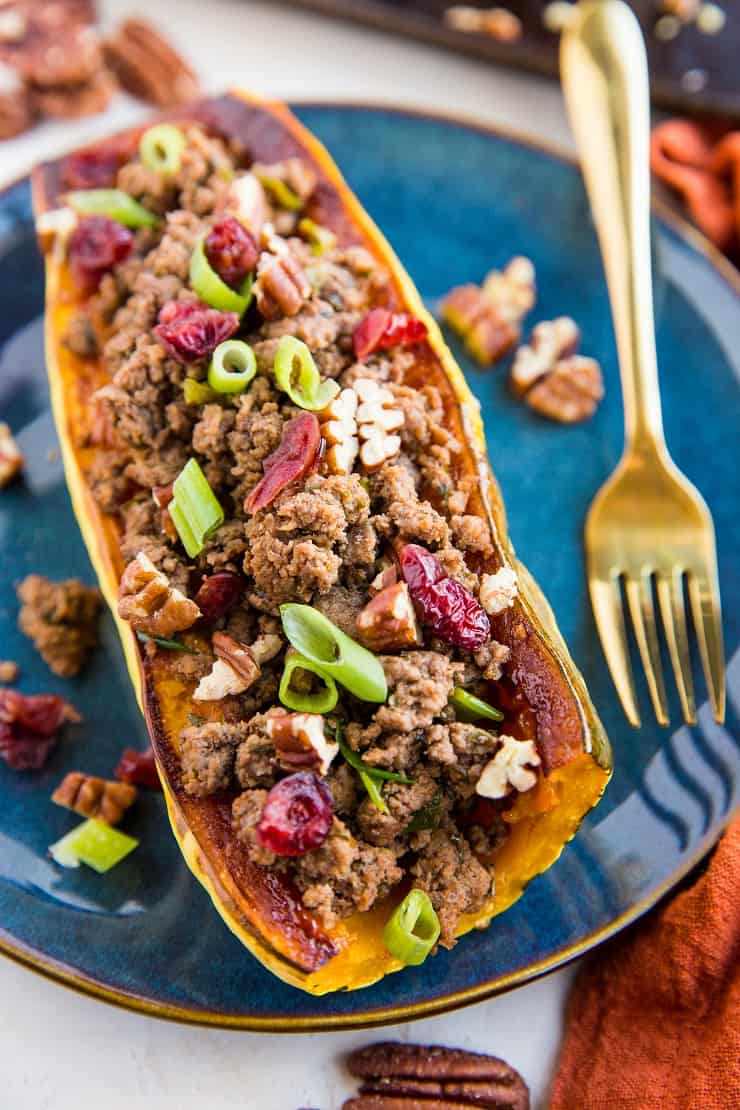 Stuffed Delicata Squash with Ground Beef, cranberries, pecans and green onion is a healthy, filling clean dinner recipe perfect for those looking for a nutritious meal! This easy recipe comes together quickly and is a great option for those following a paleo or whole30 diet.
Stuffed vegetables. Forever the rage!
I recently had a revelation that I could likely eat stuffed squash for dinner every single night during the fall and winter months and never get tired of it.
Just think of all the combinations and permutations one can come up with to create so many different meals out of stuffed squash!
For starters, there are many varieties of winter squash, in addition to all sorts of proteins, grains, legumes, fruit, vegetables, herbs, leafy greens, cheese, nuts, seeds and more!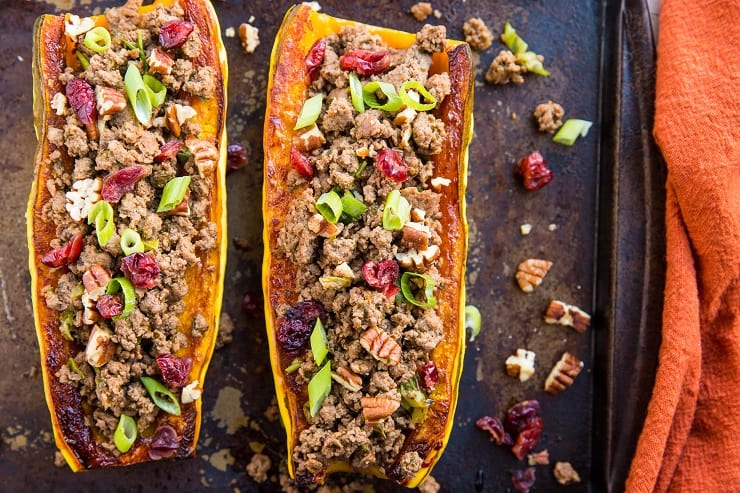 Take, for instance, my Stuffed Acorn Squash with Ground Beef, Brussel Sprouts, and Kale, Spaghetti Squash Burrito Bowls, Turkey Stuffed Butternut Squash, Ground Turkey Stuffed Delicata Squash and my Stuffed Acorn Squash with Quinoa, Pears, and Pecans.
So many possibilities!
There's just so much pleasure to be had with stuffing winter squash with a variety of goofies if you ask me!
The Inspiration For This Recipe:
I've had delicata squash recipes on the brain since I posted my Maple Cinnamon Roasted Delicata Squash a few weeks ago. To me, it tastes like pure sugar mixed with adrenaline.
Read More

about Stuffed Delicata Squash with Ground Beef