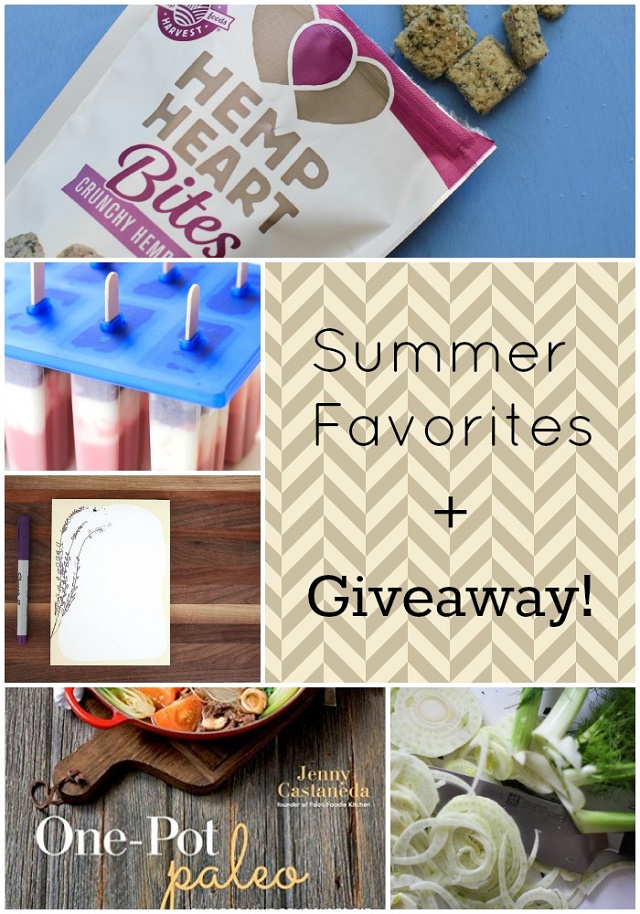 I've been stockpiling favorites since the beginning of summer and have been itching to share them with you. From kitchen odds and ends, fashion accessories, books, music, and food, it's high time I show you the things I've been crunching on. And it's also high time for a giveaway!  I'll give you all the details on the giveaway at the end of the post, but for now, let's talk faves!
Cookbooks
Rawlicious at Home by Angus Crawford & Chelsea Clark // This cookbook includes over 100 raw, vegan, and gluten-free recipes as well as options for paleo-friendly, GAPS, and allergy-free recipes. This book covers all the bases, from breakfast, lunch, and dinner, to desserts and snacks. Eating a raw food diet can be very cleansing, help reset your digestive system, and replenish your body with nutrients. While I love eating raw food year-round, this cookbook is particularly helpful during the summer months.
One-Pot Paleo by  Jenny Castaneda // I'm a huuuuuge fan of meals that require only one pot, pan, dish, or skillet for preparation. This cookbook is basically the health-conscious busy person's dream come true. From everyday cooking to fancy date night meals, this cookbook is filled with straight-forward recipes that are both healthful and simple to make. I'll be posting a recipe from the cookbook soon!
Girly Things:
Wishbone Earrings // I used to change out my earrings every single day and was alllll about the big dangly hoopty loops, but once I came across these little wishbones on Etsy, they're all I've been wearing. I have the rose gold, and they also come in other finishes.
Infinity Necklace // I'm generally a million years late to fashion trends, but I found this little gem on Etsy and have been wearing it non-stop.
Summer Breeze Notepad // My friend, Abby started an Etsy store called Oh Honey and I just think her ideas are so clever!  This cool notepad is on its way to my house and will likely be used for leaving notes and writing grocery lists. Because let's face it: grocery shopping is way more fun when you've listed out your items on a pretty piece of paper with a cool writing pen.
Strange Bikinis // One of my friends makes handmade custom bikinis, people! At a super reasonable price. She started the business as a hobby and it has ballooned into a big ordeal. If you have any desire for a custom-made bikini, I suggest you check Strange Bikinis!
Kitchen Tools:
Popsicle Molds // This is the first summer in all my adult history that I've been making popsicles! I have fond memories of making fruit juice popsicles with my mom as a kid, but recently, I've been all about creamsicle-style popsicles, like these Strawberry Coconut Milk Popsicles and these Beet Berry Popsicles. I've been using these popsicle molds religiously and definitely recommend them to all you popsicle lovers out there. At some point, I'd like to make fudgsicles and some sort of healthy chai concoction. Just.Yum!
Cherry Pitter // With cherry season comes the need for a cherry pitter! I absolutely love eating cherries off the stem but am all about a fun cherry treat as well. In order to expedite the cherry pitting process, I use a cherry pitter.
Knifes! // Knifes, you'uns! I can't even begin to tell you how particular I am about my knives. I've been using the ZWILLING Professional Parer and ZWILLING J.A. Henckles 8-inch Chef's Knife for all of my recipe prep needs.
Glass Straws // Call me ridiculous, but I'm loving these glass straws. They're reusable, and they're perfect for sipping on summer beverages. Moreover, my orthodontist (yup, girl's got braces) recommended I drink anything acidic (including wine) out of a straw in order to avoid staining the ol' pearly whites. For reals. I don't know if I can bring myself to drink wine out of a straw, but he does have a valid point.
Books
Quiet by Susan Cain // Have I told you about this one yet? You may already know about it, but I loved reading this book. Not only did it give me insight into a few of my loved ones, who are super introverted, but also helped me to understand why I work the way I do (big introvert over here!). Also, I love the way Susan Cain writes.
Bossypants by Tina Fey // Probably the most entertaining book I've read since this one. I adore the shows and movies Tina Fey has written, so I picked this book up in the Richmond airport on my way home from Virginia a few weeks back. I literally read 12/16 of the book while in-flight, it was that much of a page-turner. Fey's sense of humor gets me every time. A great read for hard-working women in the modern day.
The Emerald Mile by Kevin Fedarko // This is the book I'm currently reading for a book club. It's an historical account of the boat ride through the Grand Canyon (on the Colorado River) in recorded history, which happened in 1983. The author gives a huge amount of history surrounding the Grand Canyon and much of the Southwestern part of the U.S.. His writing keeps me on the edge of my seat and makes this kind of story super scintillating, which is important for gal like me who gets board of non-fiction a little too easily.
Food
Coconut Oil // You may have noticed, many of my dessert recipes (especially lately) include coconut oil and coconut milk. I love using these two products because they add a burst of flavor and provided the needed fat content to make a recipe turn out.
Pure Maple Syrup // Also an ever-important staple in my home, pure maple syrup is what I use the majority of the time for refined sugar-free recipes. I love using it in no-bake recipes and ice creams because it requires zero cooking and also keeps the texture of the treat soft. Because I use so much of it, I buy it in bulk off amazon.
Manitoba Hemp Hearts // An excellent source of vegan protein and Omega-3 and Omega-6 fatty acids. I love adding hemp hearts to salads, yogurt, oatmeal, smoothies, and no-bake treats, such as the No-Bake Vegan Key Lime Tarts I posted yesterday.
Manitoba Hemp Bites // These hemp bites are my new favorite road trip and trail snack. They're packed with nutrients, are super portable, and are very addicting!
Almond Meal and Coconut Flour // I mean, there's no mystery about it, I'm obsessed with Bob's Red Mill's almond meal and coconut flour for my gluten-free desserts, breads, and pancakes. While I use a variety of gluten-free flours, almond flour and coconut flour are my two favorites. They work excellently in summer no-bake treats and energy bars!
Sabra Hummus, Greek Yogurt Dips, and Salsas // Condiments are basically my favorite part of any meal. I've been sprucing up my wraps, salads, burrito bowls, and even my morning scramble with Sabra's hummuses, greek yogurt dips, and salsas. I've even been known to use their hummus for chicken marinade, and for pancakes like whoa!
Giveaway
The moment you've been waiting for!  The brands that have been supporting this site behind the scenes have been kind enough to sponsor a giveaway of some of my summer favorites. One lucky winner will receive all of the following items:
One-Pot Paleo by Jenny Castaneda
ZWILLING J.A. Henckles 8-inch Chef's Knife
1 (16-ounce) bag Bob's Red Mill Almond Flour
1 (16-ounce) bag Bob's Red Mill Coconut Flour
Variety Pack of Sabra Hummus
Variety Pack of Sabra Greek Yogurt Dips
1 (8-ounce) bag Manitoba Harvest Hemp Hearts
1 (4-ounce) bag Manitoba Harvest Hemp Bites
All you need to do in order to enter the giveaway is leave a comment bellow.
The winner will be selected using a random number generator will be notified via email. The winner will have 24 hours to respond before a new winner is selected. You must be over the age of 18 and a U.S. resident to enter the giveaway. The giveaway ends on Thursday, July 23, 2015 at midnight PST. Please only enter if you're alright with receiving several different packages on various days of the week.
Good luck, and as always, thanks so much for supporting my site, and for supporting the brands that make this space possible!