Taking the classic BLT up a notch, we're making a gluten-free BLAT with roasted portobello mushrooms instead of bread! This hearty lunch recipe is sure to satisfy!

Confession: I sometimes go months without thinking about sandwiches. Like, the entire Sandwich food group gets wiped from my radar, and I simply forget about its existence. Call.me.loca.
Granted, it hasn't always been this way…there was the Italian B.M.T Obsession of 2001 (during which Subway got a great deal of business from me), the Great Peanut Butter and Jelly Binge of 2006 (during which I ate a PB&J almost every single day, because: college), and also the Torrid Reuben Affair of 2009 (from this deli in particular, because I had a crush on both of the owners).
You can imagine once I stopped eating gluten, my sandwich consumption halted, in spite of the fact that yes, gluten-free bread does exist. Let's call a spade a spade: GF bread is just not the same as my formerly coveted jalapeño-cheddar big ass role of glutinous bliss. Nor my highly adored Dutch crunch roll, ciabatta roll, focaccia bread, etc, etc. Sandwich Lane is a dark and dreary place for us roll lovers who eat a gluten-free diet, can I get an amen?
Although hopeful, I've made concessions with the fact that my Sandwich Life is anything but sultry. Howeves, I do have a pluthera of sandwich roll replacements in my arsenal, albeit not as interesting at the Jalapeno-Cheddar Big Ass Roll of Glutinous Bliss. Things like Grain-Free Biscuits, Gluten-Free Irish Soda Bread, store-bought sliced bread, roasted eggplant rounds, and of course:
Das portobello mushroom.
Recently, I had a big ol' craving for a meaty portobello mushroom and figured a flavor-packed open-faced sandwich would be pretty trick. I had a big juicy heirloom tomato that needed to be used up, had just made a batch of basil pesto sauce, and had the usual supply of avocado and bacon on hand.
I roasted the mushrooms in the oven (they take no more than 20 minutes!) in order to use them in place of bread for an open-faced sandwich.
The key to a great BLAT is great T and B…A nice juicy heirloom tomato brings so much flavor and meatiness to the sandwich, as does a hearty, thick slice of quality bacon. And because I can't leave a traditional recipe well enough alone, I like to replace the L with more vitamin-ous greens, such as spinach or baby arugula.
The avocado, you'uns…it really makes a dreamy bite. It's the A to my BLAT. LITRALLY.
Topping this whole dang shindig with pesto made for a super satisfying meal. All it took was one portobello cap-worth of BLAT, and my hunger was completely satiated. For those of you who like to grab hold of a sandwich and really sink your teeth in, you can top these open-facers with an additional portobello cap.

BLAT!
Roasted Portobello Mushroom BLAT with Pesto Sauce
Print
Ingredients
Roasted Portobello Mushrooms
For the BLAT Sandwiches:
8

slices

thick-cut bacon*

1

large or 2 medium heirloom tomatoes

1

large ripe avocado

peeled and sliced

4

cups

baby arugula
Instructions
Roast the Portobellos:
Preheat oven to 400 degrees F and line a baking sheet with foil.

Remove stems from portobello mushrooms, brush with oil, and sprinkle with sea salt and Cajun seasoning. Place mushrooms on the foil-lined baking sheet gill-side up and roast 10 minutes. Flip and roast another 8 to 10 minutes.
Make Open-Faced BLATs:
Cook the bacon over medium-high heat in a skillet until crispy, about 5 minutes

Add a handful of baby arugula to each portobello mushroom cap, followed by thick slices of avocado, cooked bacon, heirloom tomato, and desired amount of pesto sauce. Serve open-faced or with an additional roasted portobello mushroom cap on top.
More sandwiches for your digestion:
Roasted Eggplant Pesto Sandwich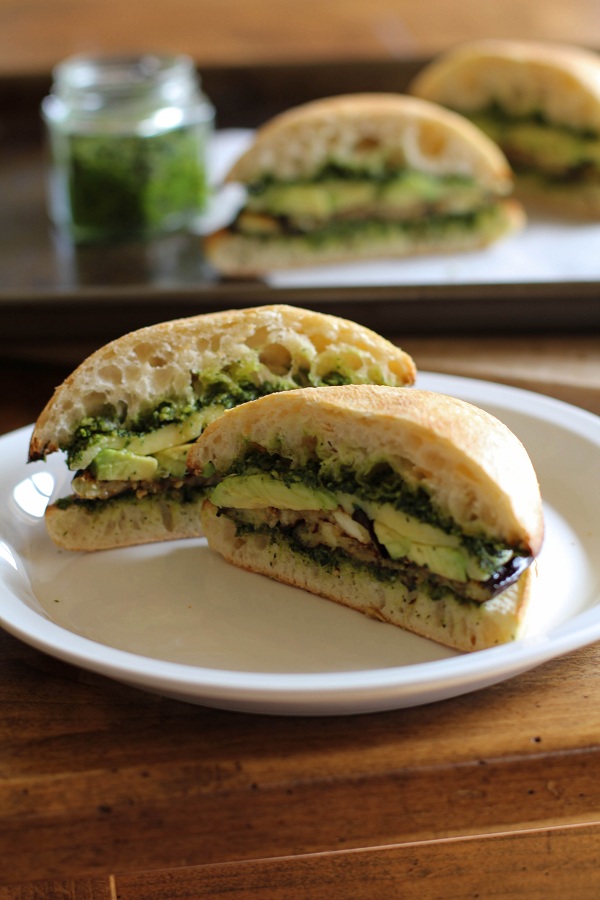 Sweet Potato, Walnut, and Havarti Grilled Cheese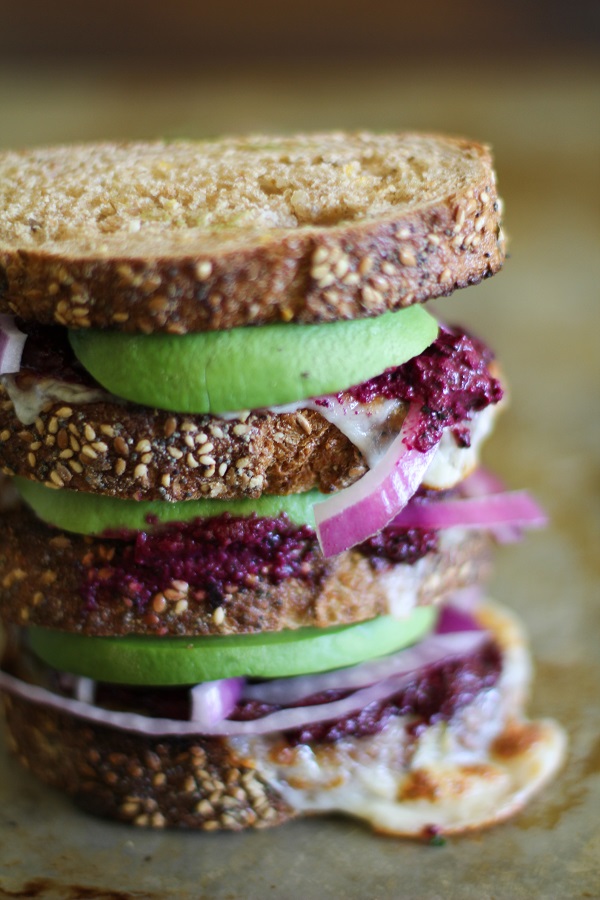 Bacon, Egg, and Avocado Mole Breakfast Biscuits