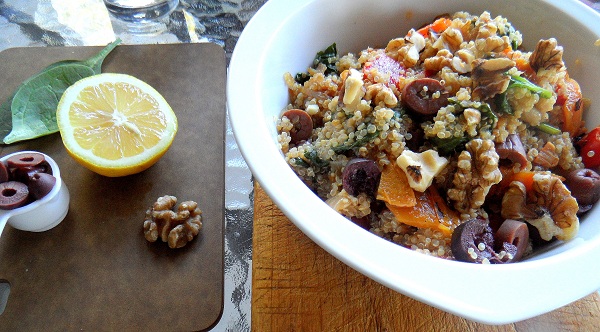 Put your I-do-what-I-want cap on for this recipe! It's kinda Mediterranean, but kinda not. Kinda rustic, kinda zesty and is packed with protein and flavor!  After making the Roasted Tomato & Carrot Quinoa Salad a while back, I was so pleased that I got on a quinoa kick.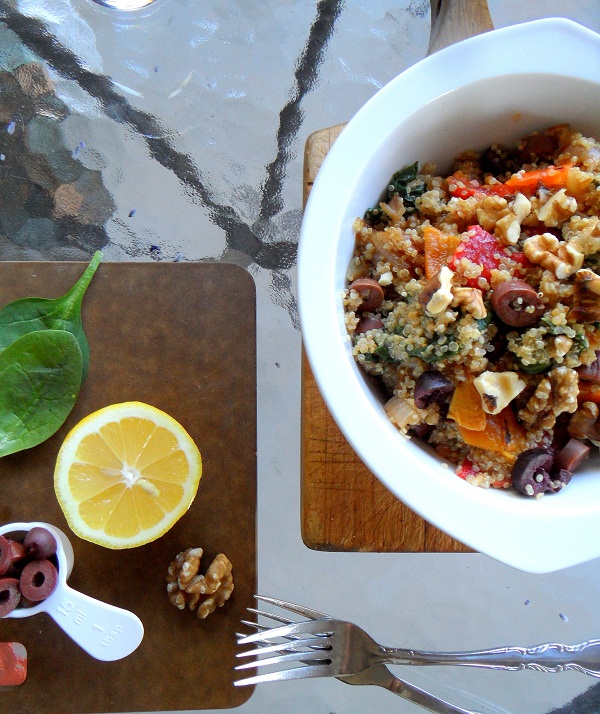 I discovered this recipe by looking in the cupboards instead of going to the grocery store, which is very atypical for me. Sometimes I forget about all the wonderful food gems that are already in the house waiting to be assigned a purpose. From a short treasure hunt, I found an un-opened jar of pitted kalamata olives, a bag of yellow onions, and in the refrigerator, there was a jar of roasted bell peppers (in balsamic vinegar) along with most of a bag of baby spinach, plus pounds and pounds of walnuts in the freezer. We always have oil, vinegar, lemons and salad dressings on hand so these went in too.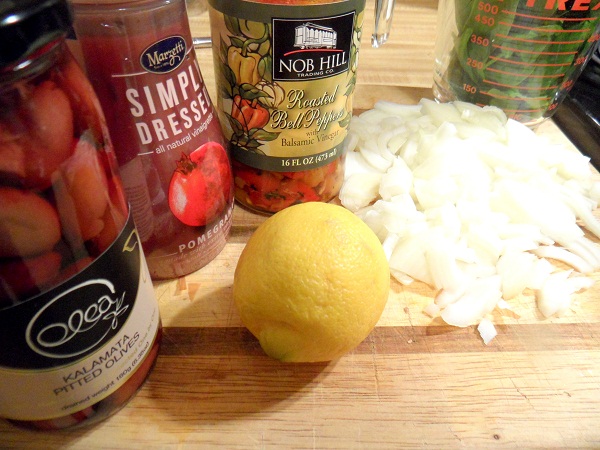 All these flavors and textures were combined and packaged in Tupperware for a lovely little picnic near the beach.  This is a definite throw-it-together-post-work piece, as it can be completed from start to finish in less than 30 minutes and makes a great side dish or even a light entre. It provides nutrients, it provides leftovers. Take a look in your pantry and tell me what ingredients you have that you'd stick with quinoa!
Ingredients:
For the Quinoa Salad
1-1/2 cups quinoa
3 cups water
Dash of salt
3 cups baby spinach
1 yellow onion, coarsely chopped
2 tablespoons olive oil
1/8 cup chicken stock or water
3 cloves garlic, minced
1-1/2 cups roasted bell peppers*, coarsely chopped
¾ cup pitted kalamata olives, chopped into thirds
½ cup walnuts, chopped
*I used jarred roasted yellow and red bell peppers in balsamic vinegar. I did not pat them dry so they went into the recipe with a little vinegar on them for flavor.  If you prefer roasting your own bell peppers, I would choose three different colors, chop them in thirds and roast them lightly oiled with salt and pepper, skin up in the oven on 425 degrees for about 10 minutes then flip them over, roasting an additional 8 to 10 minutes. Check for desired level of tenderness and continue baking if they are not tender to your satisfaction.  Once peppers are finished roasting, allow them to cool, then chop them into bite-sizes.
For the dressing
½ lemon, juiced
3 tablespoons your favorite pomegranate/raspberry vinaigrette (or 1 tablespoon honey)
2 tablespoons apple cider vinegar
2 tablespoons grapeseed oil
¼ teaspoon salt (or to taste)
To Make:
Begin by preparing your quinoa. I find a 2:1 ratio or water to quinoa works best for me when I prepare quinoa, but some use a 1.5 to 1 ratio.  I read a tip that rinsing the quinoa, soaking it for 10 minutes then straining it before cooking makes it very light and fluffy. Sometimes I do this step, but sometimes I skip it if I'm pressed for time.  If you have never tried rinsing and soaking first, try it and see which way you prefer.
Bring 3 cups of water to a boil and add a dash of salt. Add 1.5 cups of quinoa to the water and return to a full boil. Allow the quinoa to boil for about 30 seconds before reducing the heat to low. Cover the quinoa and allow it to simmer for 12 to 15 minutes until all of the water is absorbed.  No peaking. Fluff the quinoa with a fork and remove it from the heat, add the spinach to the quinoa, give it a stir and cover it to allow the spinach to wilt.
While the quinoa is cooking, sauté onion on medium high in 2 tablespoons of olive oil in a large skillet (you'll be adding ingredients to the skillet later, so make sure it's big). Caramelize the onions for 15 – 20 minutes. I give the onions a little help by adding small amounts of liquid (chicken/vegetable stock or water) periodically, allowing the liquid to burn off before adding more.  Add garlic 3 minutes before onion is finished sautéing.
In a bowl, combine the ingredients for the dressing (lemon juice, pomegranate vinairgrette, apple cider vinegar, grapeseed oil). Stir well and set aside.
Once quinoa is cooked and the spinach inside the pot with the quinoa is wilty, transfer the quinoa/spinach, dressing, olives, roasted bell peppers to the pan with the sautéed onion. Stir everything over medium heat, about 30 seconds to combine and warm.  Serve salad warm or cold. Perfect to make ahead for a picnic or bbq – simply put in a Tupperware container and let sit in the refrigerator until you're ready to serve.