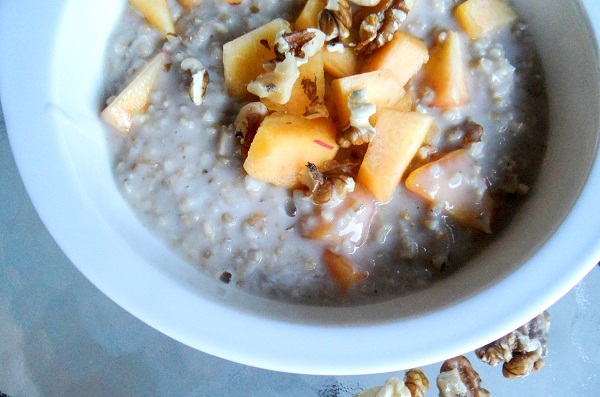 I entered a contest, guys.  The Bob's Red Mill Spar for the Spurtle 2 contest. Each entrant must use Bob's Red Mill steel cut oats in an either sweet or savory recipe that is prepared on the stovetop in 30 minutes or less. To get the full details and to vote for me, see my video on the contest page – it's a really fun contest put on by a SUPER cool company.  Check out my video (which serves as my entry into the competition) and if you enjoy it, please like it on facebook, share it, tweet it, shout it from the mountain tops, show it to your mom, throw me some props into the world wide web and I'd be ever so appreciative 😉
Seriously, it took me two glasses of wine before I could step in front of the camera (whoa there, judgy judgerton, I shot the video at night; it's was high time for wine 😉 and began nervously eating peanuts pacing back and forth prior to filming. It turns out making a youtube video can do a number on your nerves.  I won't get into the amount of "what the — 's" and more nervous eating that had to happen before I could even figure out how to get the video from camera to computer. Tech savvy? I think not. There may have been more nervous eating while editing  too. Thankfully I had an entire pot of Peaches & Coconut Cream Steel Cut Oatmeal to guide me through the process in a somewhat graceful manner.
Okay, try the oatmeal. It's peach season….they're ripe and drippy and they belong in your steaming bowl of oatmeal. The recipe is creamy, sweet, nutty, has no refined sugar or dairy and is oh so wonderful for your health.  If I win the contest and get sent to Scotland, you're coming with me and we're eating poridge to our heart's delight! What you would make in 30 minutes or less with Bob's Red Mill steel cut oats?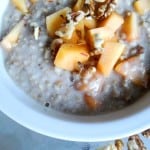 Peaches & Coconut Cream Steel Cut Oatmeal
Print
Ingredients
3

cups

water

¼

tsp

salt

1

cup

Bob's Red Mill steel cut oats

3

tablespoons

honey

½

cup

chopped walnuts

2

tsp

pure vanilla extract

1

large ripe peach

peeled and chopped
Instructions
Bring 3 cups of water to a boil in a saucepan. Add the salt and the steel cut oats. Return to a boil and immediately reduce the heat to medium low. Cover and allow the oats to simmer for 10 to 25 minutes (10 for more al dente oatmeal, 25 for creamier oatmeal). Remove cover and stir oats about every 3 minutes.

Once oats are cooked to desired texture, add the coconut milk, honey and chopped walnuts. Remove the oatmeal from the heat, add the vanilla extract and the chopped peaches. Mix everything together and serve in heaping portions!