When was the last time you grilled something so good it made your head spin?
Like something silly good that for the three days following your epic grill sesh, you did nothing but talk about your recent barbecue success with a twinkle in your eye?
Last weekend, I had one of those magical grill nights. You know the kind I'm talking about. Where everything was prepared easily and slowly, chicken and ribs, asparagus and salad, a big porter and pistachio ice cream, and the best weather just.ever.
My idea of a perfect weekend is having a lazy morning, eating a huuuuge late breakfast with all the coffees, going for a long mountain bike ride, soaking up any remaining sunlight at the beach while drinking a beer, followed by a slow and relaxing evening grilling meat and veggies…while drinking beer. Possibly followed by a walk around the block, because…beer carbs.
Lookit those grill marks!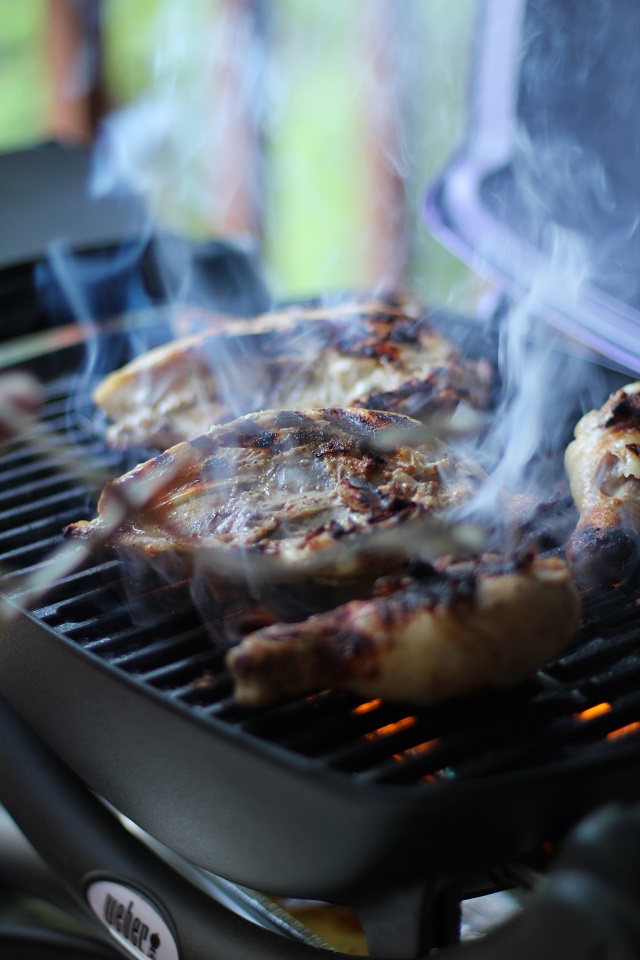 During the summer, I always keep my eyes peeled for simple yet interesting marinades for grilling meat. Remembering my sister's long stint of baking chicken using Italian dressing years and years ago, I put her idea to use by marinating some bone-in chicken pieces in Caesar dressing. For this recipe, I used Tessemae's new Caesar dressing. I love this dressing because it tastes fresh and herby and contains zero canola oil, mayonnaise (or dairy), soy, or cane sugar. It's paleo-friendly, gluten-free, and vegan (no anchovies, peeps!). So basically, it's the quality of homemade dressing all bottled up and ready for your use.
I made a fully-loaded kale caesar salad with my caesar grilled chicken, incorporating cherry tomatoes, avocado, roasted chickpeas, and goat cheese. It's one of those all-the-things-salads. You've got protein, vitamins, fiber, healthy fats, plus all the texture and flavor – the cream, the sweet, the heat, the crunch, the I could-eat-this-salad-every-day appeal.
I also made these Caesar grilled chicken wraps using spinach, avo, cherry 'maters, grated cheese, and a healthy squirt of dressing.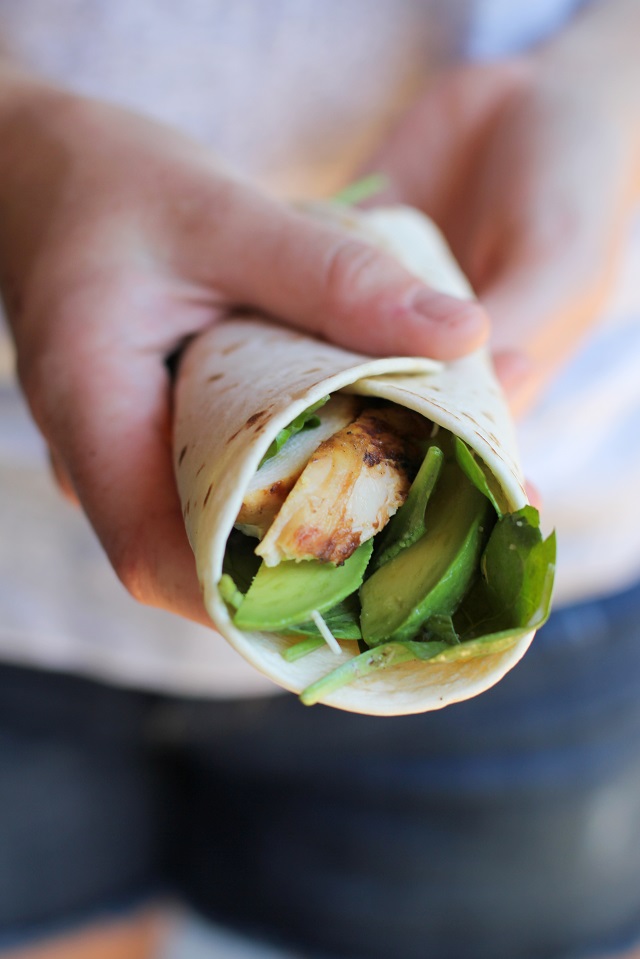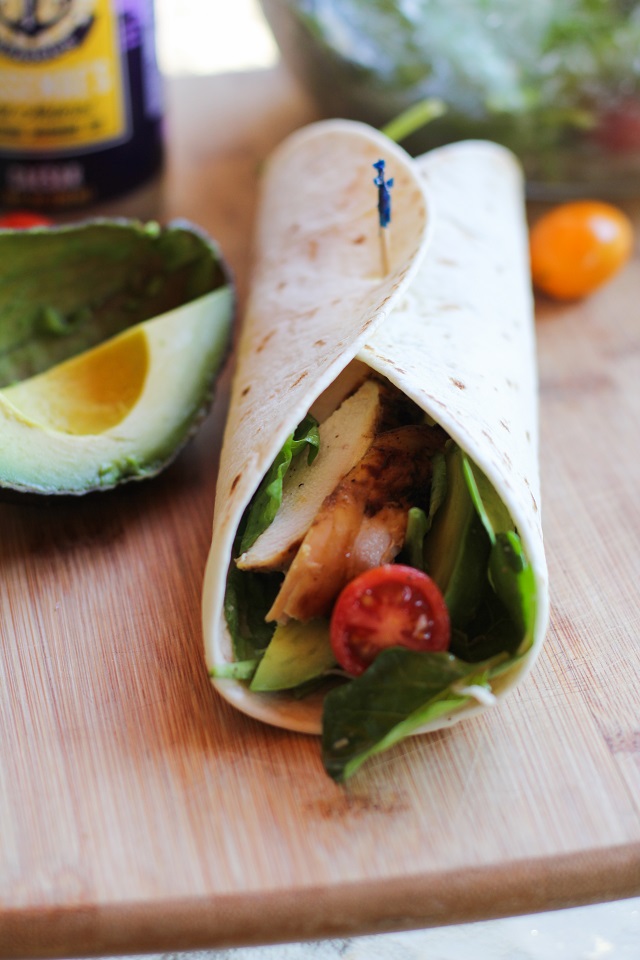 Get your weekend!
Grilled Chicken Kale Caesar Salad with Avocado and Goat Cheese
Print
Ingredients
Caesar-Marinated Grilled Chicken:
2

pounds

bone-in chicken pieces

1

cup

Tessamae's Caesar Dressing
Kale Caesar Salad:
2

leaves

large heads lacinato kale

thinly sliced

1

ripe avocado

peeled and sliced

2

cup

heirloom cherry tomatoes

1/3

cup

goat chevre

Caesar dressing to taste
Instructions
Prepare the Grilled Chicken:
Place the chicken pieces in a large zip lock bag along with the caesar dressing. Shake the bag to coat all of the chicken in dressing. Refrigerate at least 15 minutes, up to 12 hours.

Preheat your grill to medium-high. Place chicken pieces on the hot grill, skin-side down on grill and cook until dark grill marks appear, about 5 minutes for drumsticks and 10 minutes for thighs and breasts. Flip and continue cooking until dark grill marks appear, about another 5 minutes for drumsticks and 10 minutes for thighs and breasts. Flip again and continue cooking until chicken reaches an internal temperature of 165 degrees F.

Transfer chicken to a cutting board. When cool enough to handle, chop or shred into pieces.
Prepare the Salad:
Add all ingredients for the salad (including chopped chicken) to a large serving bowl. Drizzle in desired amount of Caesar dressing and toss well to coat everything.

Serve and enjoy.
This post is sponsored by Tessemae's, and all opinions are my own. Thank you for supporting the brands that support this site.