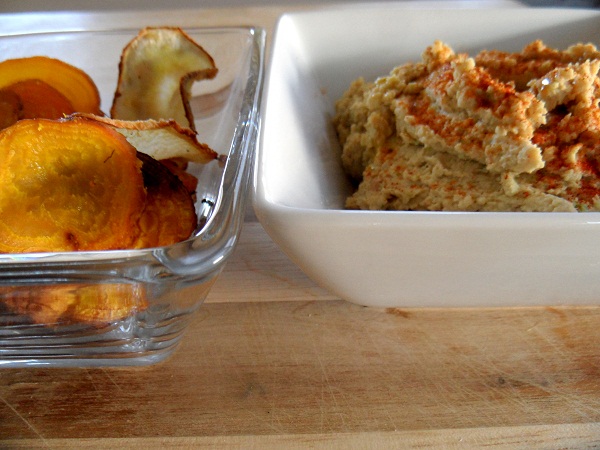 The versatility of hummus is one of the many reasons I like it so much.  In addition to simple raw chopped vegetables as a gateway to bring hummus to my pallet, I enjoy spreading hummus on a healthy panini sandwich or using a flatbread to scoop it up. I have had a jar of tahini burning a hole in my refrigerator, so it was high time for a zesty hummus with a little kick.  It literally takes minutes to make this recipe and with all of the flavor possibilities, it's a wonder why I don't make it more often!
What are you favorite hummus flavors and where do you put it?
Ingredients:
For the Hummus
1 can chickpeas (15 ounces), drained except for about 1 tablespoon of the liquid
2 cloves garlic, roasted
1 tablespoon lemon juice
¼ cup tahini (sesame paste)
1 jalapeño, roasted
Few squirts sriracha (optional)
Salt to taste
Turmeric, paprika and olive oil for sprinkling on top
For the Beet and Turnip Chips
1 large golden beet
1 large turnip
1/8 cup olive oil
Salt to taste
2 tablespoons garlic powder
To make:
Make the beet and turnip chips first, following this method.  While the chips are baking in the oven, prepare the hummus.
Wrap the cloves of garlic in foil. Using tongs, roast the jalapeño and wrapped garlic over a flame (I used my gas stove) until the flesh is blackened, soft and hot.  When cool enough to handle, remove the stem and seeds from the jalapeño.
Place all ingredients (including jalapeño flesh) in a blender or food processor, and blend until ingredients are combined and there are no more chunks.
You may need to use a rubber spatula to stir around the ingredients in order to blend them well.  Spoon hummus into a serving bowl. Drizzle olive oil on top and sprinkle paprika and turmeric.  Serve with beet and turnip chips.