Rich, decadent dark chocolate peanut butter brownies – a delicious gluten-free treat worthy of Bradley Cooper's praise.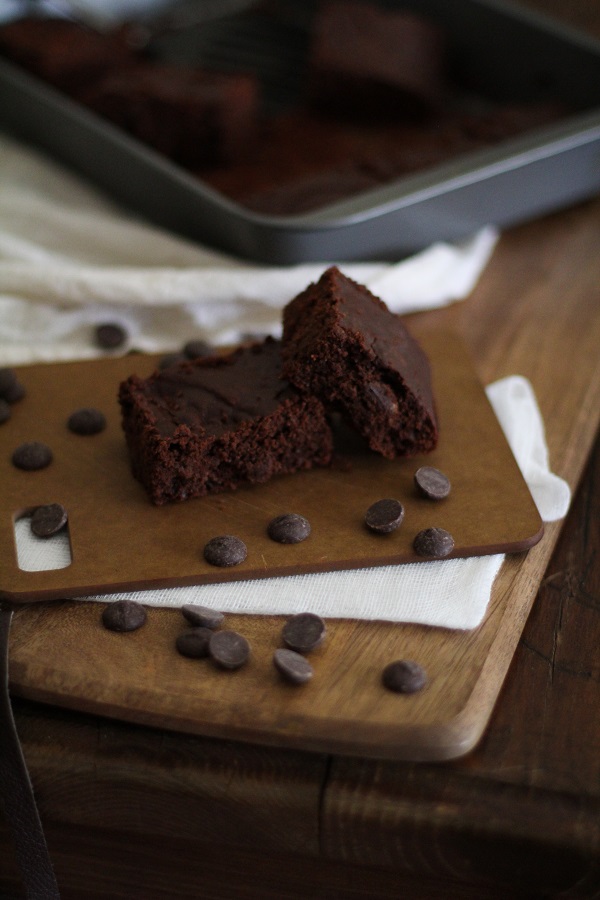 7 Signs You're Eating too Much Chocolate:
You wake up wondering why your belly is aching and upon finding chocolate wrapper evidence still sitting on your counter, you're all: "it must be the cauliflower I ate last night."
You notice melted chocolate on your chest. It got there because you were eating chocolate…off of your chest.
Your trail mix is chocolate-less. Because you ate all the chocolate out of it. And now you're left with nuts and raisins. Boring!
You refer to chocolate by its percentage of cacao. "Would you like some 86%?" "I'm not a huge fan of the 60, but the 72 is divine, try it!" "I haven't had anything less than 50 since I was a tween" < – – – you should definitely use this one in the proper context.
You google the words, "side effects of eating too much chocolate," expecting to get a less-than-obvious answer.
There is something in your life known as a Chocolate Budget. It refers to the amount of money you're allowed to spend on chocolate each month.
Do you remember when I told you the 7 signs you are eating too much peanut butter? After that episode, I took a 2-month-long peanut butter hiatus. Which I broke with these brownies. I broke it hard.
The phrase, "Dark Chocolate Peanut Butter Brownies," is hypnotic to me. In a way that makes me lose my words. I always have words. But not here and now. Not when chocolate, peanut butter, and brownie are in the room. That's like sitting Bradley Cooper in a chair next to me. Why would you do that? Why, Bradley, why??
This recipe is actually not new to you at all! I made it two years ago and felt an urge with the power of a freight train to re-make it when Kare at Oh My Veggies included it with her 15 Healthy Desserts for Valentine's Day last week. Were the brownies as awesome as I remembered them? I had to know. So I made them on my lunch break, no joke. And awesome they were.
So in honor Valentine's Day approaching coupled with the fact that in all reality, you can never eat too much peanut butter, chocolate, or brownie, you should make these. We'll call them Bradley Cooper Brownies. Done!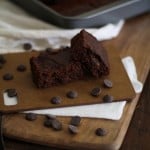 Dark Chocolate Peanut Butter Brownies (gluten free)
* For this to truly be gluten free, use oat flour that came from gluten-free rolled oats - or grind your own flour from gf oats
Print
Instructions
Preheat oven to 350 degrees and lightly oil a 9 x 13" baking pan.

In a small saucepan, gently heat coconut oil, coconut milk, agave, vanilla extract, peanut butter and cocoa powder on a medium-low heat setting. The mixture will be very thick, so it will take a bit of muscle to mix it all together. Don't allow the mixture to get very hot because you'll be adding eggs to it. Remove the saucepan from the burner as soon as the ingredients are combined. Add the eggs, and whisk together until all ingredients are well incorporated.

In a mixing bowl, add the oat flour, chocolate chips, baking powder and salt and stir together. Pour in the chocolate/peanut butter mixture and mix until completely smooth.

Pour the Bradley Cooper Brownie batter into the baking pan and spread it evenly. Bake for 18 to 22 minutes or until brownies test clean.