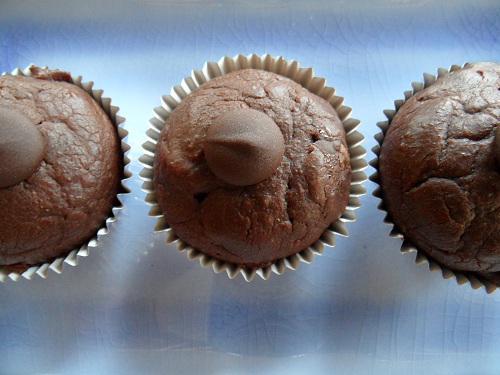 Enough is enough.  In less than a week, we have made five different variations of the oat flour brownie.  Last night, we divided the recipe into thirds so that we could add variety without having an obscene amount of brownies in the house.  The result: an obscene amount of brownies in the house.  Anyone want some?  No, really…please take them.
Garrett got a third of the batter to experiment with and I got two-thirds.  That's sharing for ya! 😉 I did not photograph Garrett's recipe for the "his and hers" comparison, but his version of the brownies was my favorite.  "His" was a straight-forward dark chocolate chip and walnut (which made the brownies super dense and rich) brownie with raspberries baked in on top.  "Hers V. 1" was a peanut butter concoction baked in a mini muffins tray and "Hers V. 2" you will be seeing later (but not too soon).
I have to admit, all three versions we created yesterday evening blow the chipotle brownies from last week out of the water.  I do love spice in my chocolate, but the new renditions turned out decadently.  Historically, I have had reservations about anything "mini" because much of the time I am unsatisfied with the way "minis" bake.  I was definitely hesitant to put the reputation of my peanut butter brownie on the line, but I think the chocolate chips and the added oil from the peanut butter is really what saved these little guys from baking too dry.  They turned out well!  Dense, gooey, flavorful, the right combination of salty and sweet: the way any great brownie should be!  I will caution you – if it's the "bites" you want, even a third of a recipe makes a ton of minis so be prepared for these critters taking over your kitchen if you make a full batch.  If it's just the "brownie" part you're interested in, just go ahead and bake the recipe in a small casserole dish lined with parchment paper – saves you from an invasion of miniature baked goods.
So here goes V. 1: Dark chocolate peanut butter bites – baked using oat flour and agave
Ingredients:
To Bake:
Preheat oven to 350 degrees and spray a mini muffin tray (or line a small casserole dish with parchment paper).  In a small saucepan, gently heat coconut oil, coconut milk, agave, vanilla extract, peanut butter and cocoa powder on a medium-low heat setting.  The mixture will be very thick, so it will take a bit of muscle to mix it all together. Don't allow the mixture to get very hot because you'll be adding eggs to it. Remove the saucepan from the burner as soon as the ingredients are combined. Add the eggs, and whisk together until all ingredients are well incorporated.
In a mixing bowl or KitchenAid, add the oat flour, chocolate chips, baking powder and salt and stir together.  Pour in the chocolate/peanut butter mixture and mix until completely smooth.
Pour the batter into the mini muffin tray, careful not to over-fill…about ¾ of the way up allows for plenty of room to allow the brownies to rise.  Bake for 12 minutes or until a toothpick tests clean for the minis.  You can also use a lightly-oiled 9 x 13 casserole dish, bake for 22 to 25 minutes.  Garnish each brownie bite with a dark chocolate chip and allow them to cool about 10 minutes.  These little guys should pop right out of the mini muffin tray, but if they need a little help, run the blade of a knife along the edges of the brownies to loosen them free.